I launched my "Zero to 1000 Instagram Followers Real Quick" ebook less than 3 weeks ago with the hope that 10 people would purchase it in the first month (I mean, even then I was biting my nails and hoping and praying).
Turns out, 10 people didn't want the book. 100s did. HUNDREDS! (and it's continuing to sell). It kinda makes me tear up, knowing that something I created is in the hands of 100s of people who literally live all over the world. I'm talking Singapore, Australia, India, UK, Canada, China, USA, Mexico, South Africa, Nigeria, Panama, Greece, Lithuania, New Zealand, and so many more countries.
It is blowing my mind.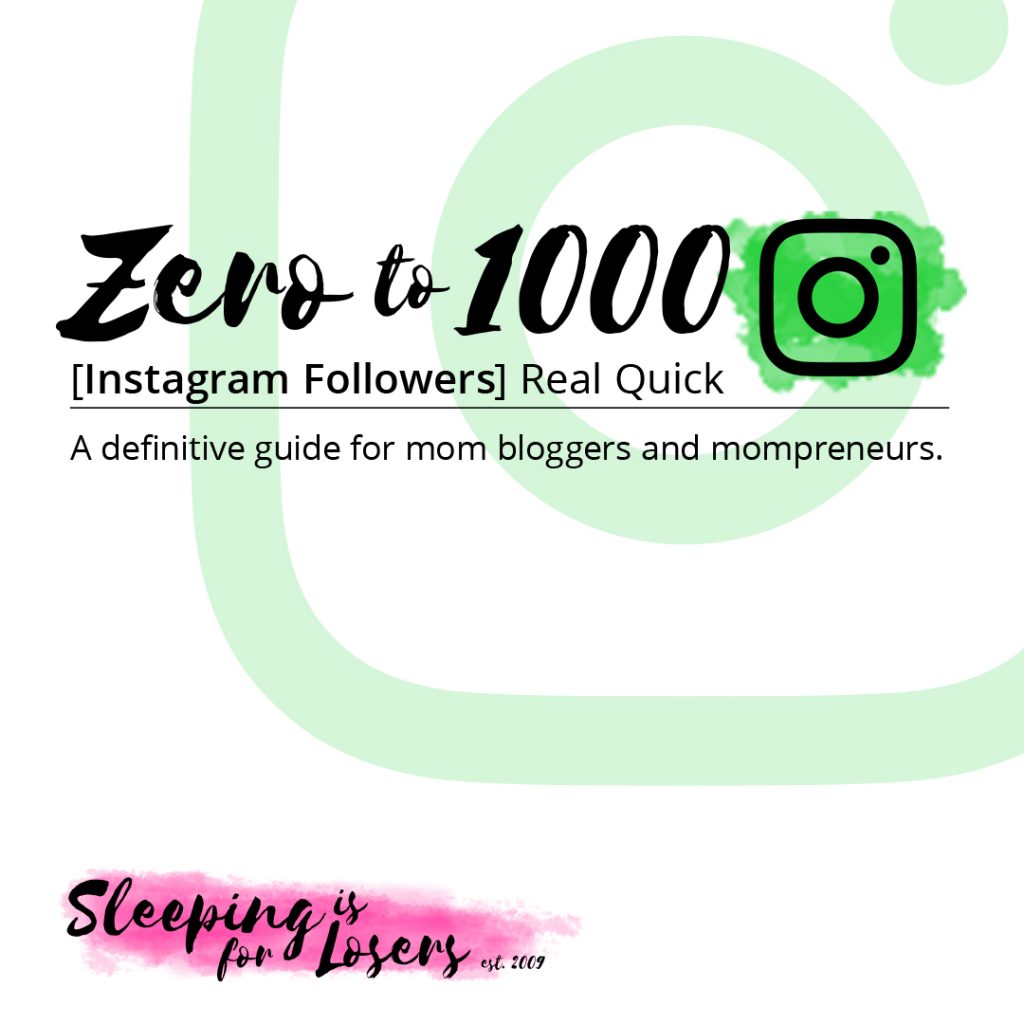 So because I know some of you are interested in launching your own ebook, I thought I would share some of the lessons I learned & hopefully inspire you to do the same:
1. You don't need a massive following to make sales.
You need a targeted following. (Which is what I have been preaching all along so I'm glad could prove myself right…lol). Focus on building an audience of the exact people who would benefit from your product/knowledge, not just huge vanity numbers that make you feel good. I chose to build my audience in 2 ways – via an email list (one that I wish I had started wayyyyyyy sooner!) and on social media (specifically Instagram). I built in the most organic way I know how: by being myself…and it was the right move for me. People who follow me know exactly who I am, what I'm about and the quality of information that I provide. This REALLY is crucial if you ever want to sell a digital product.
2. Having a specific title really helps.
YES, it is likely that I would have sold even more if I had titled my ebook "Get Instagram Followers FAST" or "Make Tons of Money Off Instagram" but I really wanted to focus my book on people who were struggling to find any growth and felt like they just needed a way to gain confidence and traction. To do that, I included the words "mom blogger" and "mompreneur" right on the cover page. While the advice in the book is truly applicable to ANYONE (including males!), I wanted a specific group of people to know that this ebook was created with THEM in mind! The title of the book addresses that right off the bat and ensures that the people who purchase are really the ones who could benefit from the information.
3. An E-Book is the perfect way to enter the online digital product market.
It is lower priced (more on that in a minute), it feels "safe" for people to purchase and it really helps you build authority with an audience. I am so glad I went this route because it has allowed me to figure out what my audience likes, some marketing/sales techniques that work well, and what I can do to build going forward. It also is a low-cost investment as you grow your online presence. You can certainly pay a designer to create the book but you can also lay it out in Word or create cover art using a free (or very cheap) online graphics program…other than TIME, an ebook does not require huge monetary investment that you – quite frankly – may not make back.
4. A sales page right on your own website is the best (FREE) way to sell your book.
Here's a look at my sales page. If you have WordPress then I highly suggest installing WooCommerce which will allow you to sell right on your own site via PayPal. If not, consider GumRoad. Either way, creating a sales page that addresses what people want to know about your book and shows them why they need to purchase is the best thing you could do! There are plenty of people who pay for a stand alone sales page so I want to be very clear that making your own FREE sales page is super easy and totally doable (I made mine in about 2 hours). A flashy sales page will not make sales for you – a well-written sales page will. Focus on that!
5. Price it right.
I priced my ebook for under $10. It's jam packed with actionable content that really works but it's a downloadable PDF, not a print book that will sit on a bookshelf.
Yes, it's worth making money off your hard work and knowledge, but really think about what your audience can afford or is willing to pay for your product. I took the time to really look at what people were charging for their digital products (including ebooks and courses) and who was buying them. The pattern I saw was that people in my audience (mom bloggers & mompreneurs for the most  part) were not interested in anything over $100…and even that price point was a stretch. No matter how valuable you believe your product to be, over-charging is the fastest way to ensure people do not purchase.
6. Social proof is everything.
Without being prompted, people started posting their results on Instagram for all their followers to see. I would screenshot that (after asking) and share it with my audience on Instagram and Facebook (sometimes Twitter too). And that's when sales really exploded! Showing potential customers that something ACTUALLY WORKS is one of the best marketing tools (and it's free!). I did reach out to purchasers a few weeks after they purchased and even more amazing results came pouring in for me to share…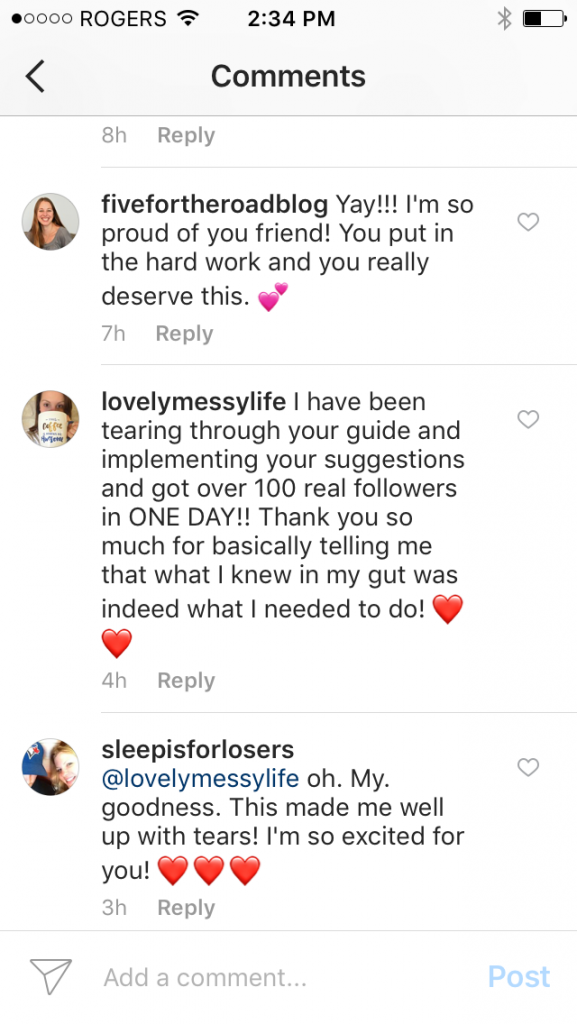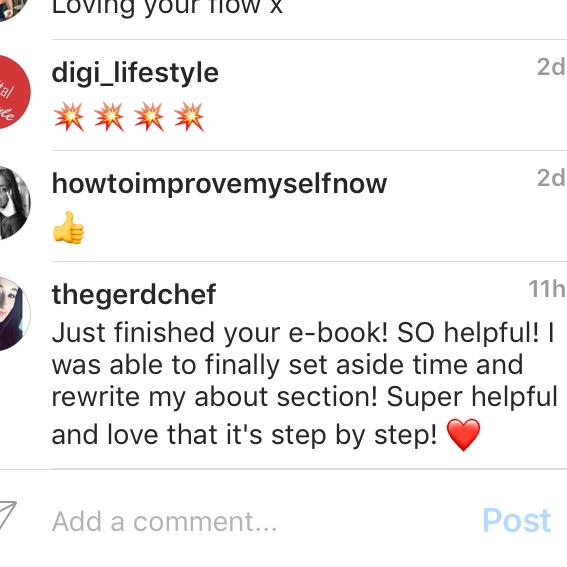 7. Keep it evergreen.
Let that ebook sit on your site (I put an "ad" for it in my sidebar) so you can continue to make sales. Take a look to the right of this post – that's my evergreen ad and it gets clicks (and sales!) almost every day. Don't be afraid to continually remind people that your book is there to help them…especially in ways that are subtle and non-invasive (such as placing an ad in your sidebar) but consistent.
8. Stay true to what feels good to you.
There are tons of ways to sell online but remember that you need to do you – sell in a way that feels as authentic as possible (not tricky or slimy). I personally used social media to help me "sell" because that's where my audience is. I also would ask people to check out my book and buy it if it would be useful to them. That language felt good to me – it was pressure-filled or aggressive. If people don't want to purchase, they don't have to and it certainly doesn't mean I won't answer their questions or give them as much value as I possibly can! Knowing that I was actually helping others and solving their problems was the best thing I did during the "launch".
9. Realize that sales will slow down.
There will be a burst of activity that will feel AWESOME and then it will slow down. Be ok with that! Prepare yourself for that! Regroup, retarget, resell! 🙂
10. Build on the momentum.
Start to create your next ebook, course or project almost immediately. Yes it will feel good to see sales rolling in, but don't wait too long to take your next steps in building your online expertise.  And while you're at it, ask people for input while they're still digging into your first digital product. Their insights (while still fresh) will be golden! Be really open to criticism (not everyone will love what you did) and save each and every good email, tweet and comment you get. They'll really be great for lifting you up when you're in the weeds and wondering if you can do it all over again!
At this point (about 4 weeks after releasing the e-book) I am still making sales each week. It has been a roller coaster ride but I am SO PROUD of the work I did in putting out the book and SO EXCITED to build from here.
I guess what I'm trying to get across is that if you are thinking of creating an ebook or digital product, get out of your own way and just do it! Get it up and ready for sale, create a sales page, and start selling. If I had known how "easy" (we'll use that term loosely) it was to enter the digital product realm with a low risk, low cost ebook, I would have done it so much sooner.
Now the big question to you is: what's holding you back? Let me know in the comments and I'll do my best to help you out!