I work alone all day so believe me when I say that the podcasts I'm about to let you in on totally give me life.
Now perhaps I'm going to sound like an old lady by touting my love for podcasts all over the interweb, but the past few months of working in the silence of my house have drawn me to podcasts in a way I was never drawn to before. I think the comfort of hearing other people talk is a big part of it, but what I'm really loving is all the freaking good content that you can absorb while you're working, working out, relaxing before bed, or trying to ignore your kids (that's my fav!).
I'm going to share my favourites with you – the ones that are on my iPhone and accompany me on the treadmill each morning (yes, I workout. yes, I don't look like I work out nearly as much as I do. yes, it's not fair and super frustrating.), keep me company during the day and give me that brain food when I need a break or some encouragement.
I highly suggest that you download a few episode of these podcasts and give yourself the chance to learn something new, hear someone else's story, and become an old lady listener like me:)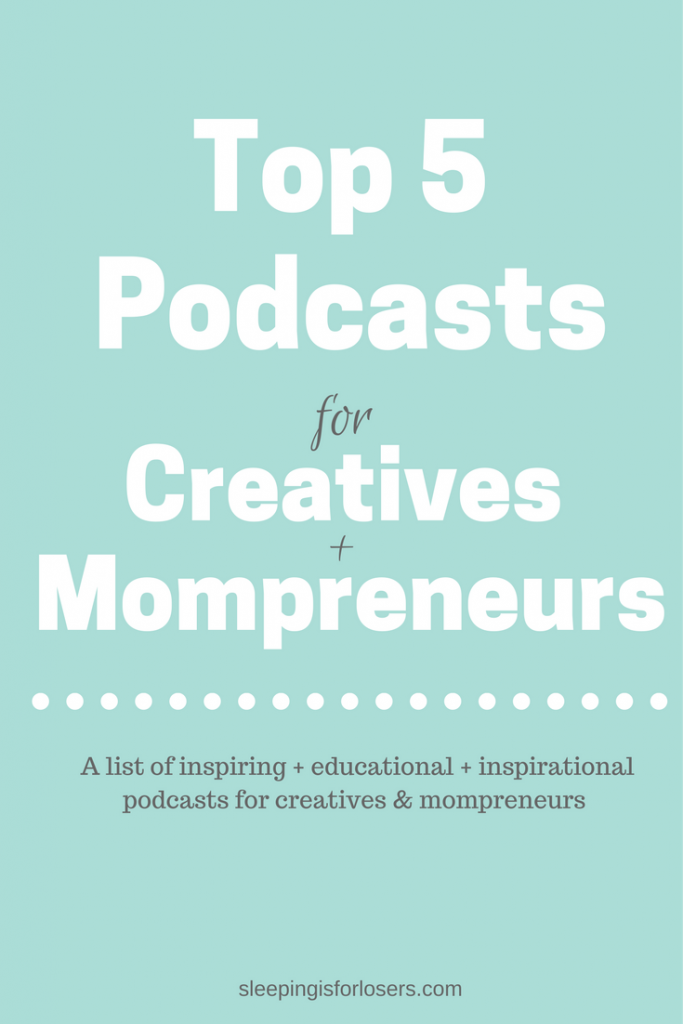 Mariah Coz is my hero. She is young, super successful, and built it all herself. In her podcast, that she co-hosts with Megan Minns, she gives crazy actionable advice for people who are creating products for the digital space. Truthfully, I usually end up listening to each episode 2 or 3 times just because they are so jam packed with advice and tips.
This duo is a powerhouse so it's no wonder that the podcast was named one of the best business podcasts by Inc. Magazine. They end each episode by asking their guest what they think the next "big thing" is going to be, and without a doubt this is my favourite part! (For the record, I say VIDEO, VIDEO, VIDEO!).
Favourite episode: #23: How to Build Relationships In Your Niche 
James Wedmore is an entrepreneur I really look up to but it's this podcast (that he hosts with Phoebe Mroczek) that has made me like him even more.
This podcast really focuses on mindset, focus, habits, productivity – all the 'behind the scenes' stuff we need in order to be successful but so rarely talk about. There is an ease to their conversation that makes you feel like you're part of the discussion, not just being talked at. And while some of the mindset discussions don't fully jive with my personal beliefs, I have never listened to an episode and not taken something important and actionable away from it.
Favourite episode: #53: Becoming a Leader in a Crowded Market
I had a subscription to Oxygen magazine for well over 6 years, so to say I was a fan of Lori Harder would be an understatement. She comes from a fitness background and looks amazing all the time, but her podcast is sooooooooooo much more than fitness. She tackles topics from beauty to creating your own roadmap for success with ease and every thing feels really natural and fun in this interview-style podcast. I really enjoy her stance on self care and being true to who you are (especially when you are the "brand" in your business). I often listen when I need a little boost or some pep in my step:)
Favourite episode: #83: Use Gratitude to Change Your Life
Some podcasts are all about the host (their thoughts, their experiences, their opinions) and some are all about the guests. The School of Greatness is definitely the latter – and it's what make the podcast great!
Lewis Howes is well known in his own right but during his podcast he lets his guests shine and it makes for such compelling content. Learning from the greatest of the great and the richest of the rich is so important for anyone who is growing or building their own business – and if they're successful, chances are they've been a guest on The School of Greatness. Listen for the inspiration but also for the nuggets of wisdom that are dropped all over the episodes.
Favourite episode: #278: Lisa Nichols on The Key to Abundance
This is a workshop style podcast, which is so different from others I have listened to but it totally works. Think of it like a master class for female creatives and entrepreneurs with some of the smartest and successful women out there.
I am so drawn to Jenna Kutcher, the host, and her conversational delivery. She really draws you in and makes you feel like you could be her best friend And despite the fact that she is growing an empire over in Wisconsin, she still manages to be relatable and engaging, as do her guests. If you are in your 20s or early 30s this is a fantastic podcast for you!
Favourite episode: #2: Creating an Unforgettable Brand with Jen Olmstead
BONUS! (I had to add one more!)
I want to give a disclaimer on this one because while I LOVE Chalene Johnson (I own the original TurboJam, y'all) the episodes of Build Your Tribe are a little short for me. I like a good 45 minutes – 1 hour where the topic is really discussed and dissected, and most of Chalene's episodes are 10-20 minutes.
That being said, Chalene offers a ton of fantastic marketing information and ideas that can really get your wheels turning. She also showcases the successes of others (which I LOVE!) and is a champion and cheerleader for people building success on their own terms. If you need a quick pick-me-up, then this is the podcast for you (especially good for car rides!).
Favourite episode: The Changing Economy of Free