I used to have a job that I found dreadfully boring. I would have hours and hours of time with little or nothing to do while I waited for decisions to be made or paint to dry [not literally but, sheesh, it sure felt like it].
It was during these times that I found and fell madly in love with TED Talks. To be honest, I'm not entirely sure I had ever watched a TED Talk before. In fact, I wasn't overly fond of what I assumed was hokey, rah-rah, 'you can do it' cheerleading with little substance or actionable steps.
But once I listened to Gever Tulley's TED Talk (see the link below), I was just a little bit [ok, a lot a bit] hooked.
Here's the thing. Parenting is really hard. REALLY, REALLY HARD. And while so many of us spend time focussing on improving ourselves at work through additional reading or courses, how much could we benefit from improving our ability to parent and handle our children through the same time of learning. Going to the experts, learning from research, and simply opening our minds to the possibility that there is a better or different way to raise our children.
That's actually how I view the following 5 parenting-focussed TED Talks: they're like my parenting homework/therapy/mastermind group. I don't always agree with everything I see/hear, and I certainly don't implement everything they speak about, but I do feel better equipped to either support my choices or make necessary changes in the way I'm raising my kids.
So if you're like me and you need a little bit of a push, some parenting inspiration, or a challenge to stretch your mind and think a bit differently, than these are for you: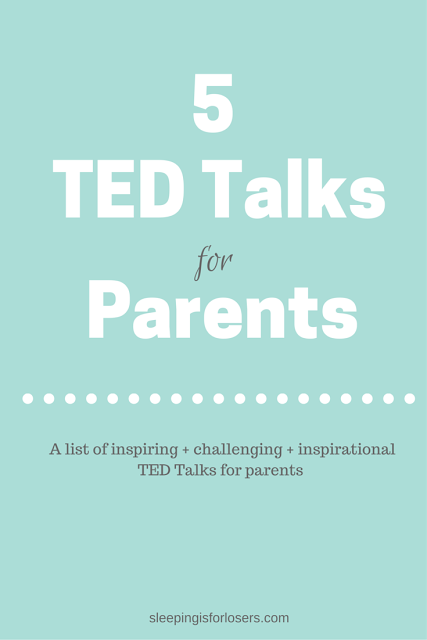 The parenting section of the bookstore is overwhelming—it's "a giant, candy-colored monument to our collective panic," as writer Jennifer Senior puts it. Why is parenthood filled with so much anxiety? Because the goal of modern, middle-class parents—to raise happy children—is so elusive. In this honest talk, she offers some kinder and more achievable aims.
In his humorous and uplifting style, Gever Tulley debunks classic myths of childhood safety. With rampant fear mongering, is it any wonder that children are actually over-protected? Instead, Tulley believes the most effective way to keep children safe is to give them a little taste of danger.
A pioneer in research on play, Dr. Stuart Brown says humor, games, roughhousing, flirtation and fantasy are more than just fun. Plenty of play in childhood makes for happy, smart adults — and keeping it up can make us smarter at any age.
Babble.com publishers Rufus Griscom and Alisa Volkman, in a lively tag-team, expose 4 facts that parents never, ever admit — and why they should. Funny and honest, for parents and nonparents alike.
Bruce Feiler has a radical idea: To deal with the stress of modern family life, go agile. Inspired by agile software programming, Feiler introduces family practices which encourage flexibility, bottom-up idea flow, constant feedback and accountability. One surprising feature: kids pick their own punishments.