Since I've had kids there has been a true shift in the way I approach "beauty". To be honest, I used to spend an hour getting ready every single morning pre-kids. Now I have about 15 minutes to be work-ready in the morning. Big shift, right? And on top of that, so many things have changed about the way I look post-children. 
However, I remain firm in my belief that when we feel good about how we look we feel better about life in general. That may be oversimplifying things but looking polished and put together- whether you are going to work or are at-home with your kids- can truly elevate your mood and help you feel more powerful and in control about so many other areas of your life.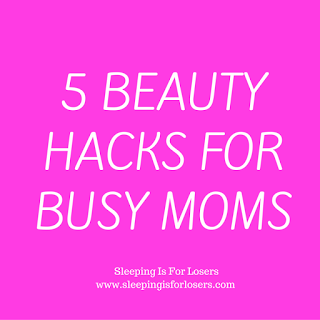 Luckily, through trial and (lots and lots and lots) error, I have found some beauty hacks that are perfect for busy moms who need to carve out a bit of time for looking their best!
Hack #1: Make your own liquid liner

I love the look of liquid liner, even occasionally for an office look. However, liquid liner is expensive and is not something I always want to invest in. My solution? Light the tip of your regular drug store liner on fire (I love this liner from Rimmel!)! Stay with me here: using a lighter, gently hold the tip of your regular eye pencil over the flame for about 5 seconds, or until it becomes very soft. Warning: allow the tip of the eye pencil to cool for about 10 seconds (or until you can touch it without it burning your finger) and carefully line your eye as you would with a liquid liner. The look is spot on and creates a quick and cheap liquid liner look!
Hack #2: The pony curl

Love the beachy waves look? Me too! But it can be a time-consuming process, especially if you have long hair like mine. The solution? Do an ultra-fast 3 minute curl. Here's what it takes: Create a high pony. Curl 6 sections. Spray generously with a medium hold hairspray (like this one). Wait 2 minutes. Take out of ponytail. Voila.  Bouncy, beachy curls that took you no time at all! Tousle them up and walk out the door feeling like the beach babe you are:)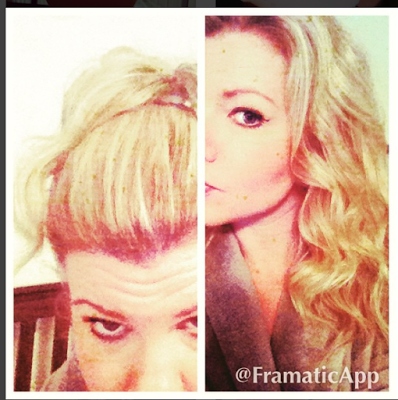 Hack #3: Eyeshadow on your brows
I have light brows and light hair, but I truly believe that my brows look best when they are a medium brown colour. They give good definition to my face and really frame my eyes. So, I fill in my brows with my secret weapon: brown eyeshadow. I started using this hack because I couldn't find a brow pencil that was the right shade for my brows. Eyeshadow comes in so many shades and at so many price points, it's pretty much a no-brainer  (love Benefit's World Famous Neutrals from Sephora) (BONUS: they look good on your eyelids too!). Invest in a good angled eyebrow brush and you're laughing! One note: DO NOT purchase eyeshadow with any shimmer if you plan on using it to fill in your brows. No one wants sparkly brows!
Hack #4: Shellac your nails

This is a bit of an investment but one that I think is well worth it. I go to the nail salon for shellac nails once every two-three weeks. Why? Shellac has major staying power, it makes my nails look polished and professional and (quite truthfully) it makes me feel good about how my hands look with very little effort. In an attempt to save money, however, I do not get a full manicure each time I go and opt instead for a shellac polish change on my lunch hour. But in the end getting a regular polish on my nails is so worth it if not just for how it makes me feel but for how often others notice and make mention of how good my nails look!When you're feeling like a harried mom most of the time, those little things do matter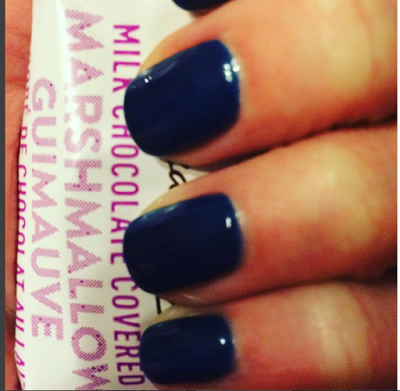 Hack #5: Use Baby Powder as Dry Shampoo

It's crazy, but it works!!! Especially if you have light hair like me, baby powder is the perfect dry shampoo alternative. WAY less expensive, delicious smelling (you know you love baby powder as much as me) and almost always on had if you're a parent, it's my day 2 hair go-to! Shake some into your hand, rub it right on your roots (make sure you dig right into the layers of your hair and not just the top of your head) and watch that baby powder soak up the oil! I personally have not used a dry shampoo on the market that works better than baby powder – scouts honour!
Ok, mamas, time to spill! Got a good beauty hack for us moms? Share it in the comments below!