I really don't want this summer to end.
You're probably nodding your head, but this summer has felt extra special for me in so many ways. Maybe it has been the amazing number of super hot days we have experienced, but I feel like this summer has been a rich time of connecting with my family and friends.
As August is upon us and summer starts to wind down, I want to hold onto summer more than ever.
I have written about this before, but so much of my life has changed since becoming a mom. One of the biggest changes has been my friendships. Many of my pre-kid friends didn't join me in motherhood for quite a few years. As a result, I felt very alone in this whole 'mom life'. It took many years [and some failed attempts, if I'm being honest] to cultivate new friendships.
Having friends that understand who you are, what struggles you are facing, and what being a working mom is all about can be extraordinarily tough,  but I feel so lucky to have met a group of moms who just seem to get the struggle of the juggle.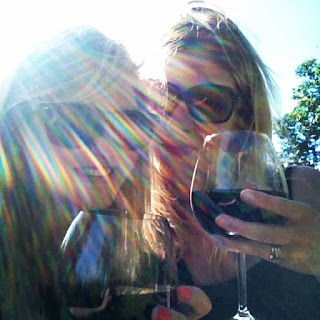 The best part? They all live on my street! [I know! I know! So lucky!].  We met at the bus stop our kids were all assigned to, but those daily interactions have led to really significant friendships that go beyond the surface level of the daily "how are you doing". I count myself as one of the lucky ones who gets to have true friends in her every day life.
Taking the opportunity to get together with our mom friends to eat, laugh and hang out is such an important part of that illusive balance we are all searching for. There's something so cathartic about letting yourself go and completely relaxing with others.
Each month my friends and I take turns hosting a "mom's night out". While we don't go crazy with planned activities, we sure do try to make the monthly experience something special. We don't get out much [rather, I don't get out much] so the time we have to hang out kid-free is something we all hold very sacred.
This month, it was my turn to host our "mom's night out" and I wanted it to be an evening that helped us hold on to summer a little longer and really enjoy the warm temperatures, bright evenings and the beauty of the summer months!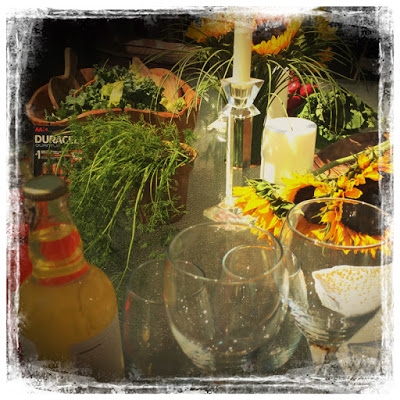 You know what? It was an absolute smashing success!
But what I think really helped was that I didn't make the evening difficult for myself. With a clear focus on holding onto summer, and holding onto friendships that I hold so dear, it was simple and fun to put together our mom's night out.
I want you to have the same experience with your best girlfriends. To do that, here are my tips for hosting the perfect mom's night out in your own backyard (with some serious help from Duracell Quantum batteries, helping all of us #powermoresummer):
Host it at home
Although it's fun to go out, there's nothing like the comfort of home when you're hanging out with friends. I love creating a relaxed setting so I chose my own backyard – where better to take advantage of the extra warm temperatures and tons of sunlight we have been enjoying here in Canada. You don't need a fancy backyard [I certainly don't have one!], you just need a table, some chairs and enough  space to sit comfortably. Truth be told, I have previously dragged my kitchen table out into my backyard when my current outdoor furniture just wouldn't do. Hosting at home also saves you money (big bonus!) and gives you the opportunity to make quick changes or grab extra snacks on the fly.
Create a theme
I never want anyone to go all out when it comes to planning a get-together for friends, but a theme is an easy way to create a special night. For my mom's night out, I wanted a rustic theme. Nothing too fancy or elegant, but something that was still pretty and inviting for the girls.
My rustic inspiration was the European tradition of dining al fresco on a patio with friends, food and wine.  It might have a little to do with my European obsession [I've never been, can you believe it?!?], but also a lot to do with my love of gatherings that feel natural – nothing too polished, fussy, or pretentious. I want all my mom friends to arrive, kick back, have fun and stay as late as their eyes will stay open.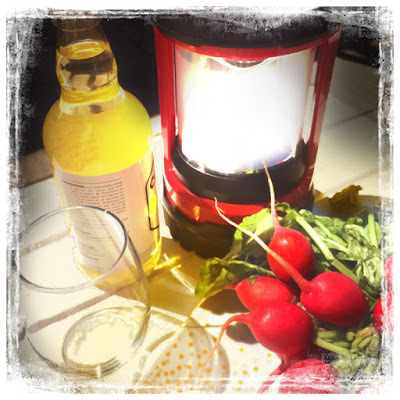 Shop your home for decor
Listen, if you're hosting a memorable mom's night you don't need to break the bank. Save your pennies and shop your home for decor. Everything I used to create my rustic al fresco themed table actually came from right inside my home. And let me tell you, it was an absolute hit!
I decided to focus on three main components for the table: wood, glass, greenery.
To take care of the wood and glass, I used a rustic wooden bowl & serving spoons (that I had purchased about 7 years ago and never used…eep!), a wooden serving dish that I picked up at a local thrift store, glass candle holders, and crystal drinking glasses [there's no need to save your best stuff for a super special occasion, am I right?].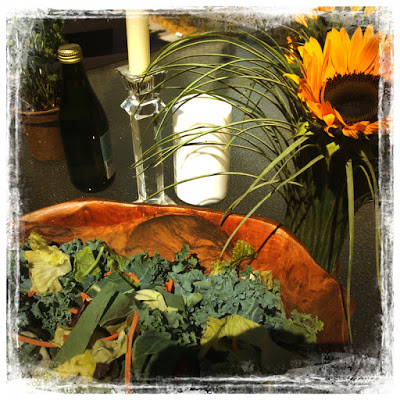 But the greenery is where I really hit it out of the park. Instead of spending hundreds of dollars on flowers and decor – which I absolutely have done before – I grabbed potted herbs that I had on the window sill in my kitchen, specifically parsley and dill.  They added that perfect rustic ambiance that I was going for and – BONUS – they cost me absolutely nothing!
I added long grass from my own garden to a less than beautiful vase & then added a huge bunch of big, bold & beautiful sunflowers [generously donated by my neighbour who would likely give you some too because, in his words, "these things grow like weeds & I can't get rid of them"].Finally, because I love a kick of colour on a table I threw on a large bunch of radishes, still bundled with an elastic band, that I had picked up at a local farmers market that morning. They were absolutely the icing on the cake and although they seem to be slightly out of place when I write about them here on my blog, they were truly the perfect pop of colour to a rustic table setting.
Don't forget the lighting!
Because summer nights are synonymous with sunshine until 9:00 pm, we often forget the need for lighting as the sun starts to set. I cannot overstate the importance of soft and beautiful lighting because, if your friends are anything like mine, the setting of the sun does not equal the end of the night – not even close!
I have seen too many accidents with candles to ever use them for anything more than simple, unlit table decoration (which I did & absolutely love). Instead, my go-to is always battery-powered flameless candles. They give off the same beautiful glow as candlelight but they don't leave wax or cause a potential fire hazard.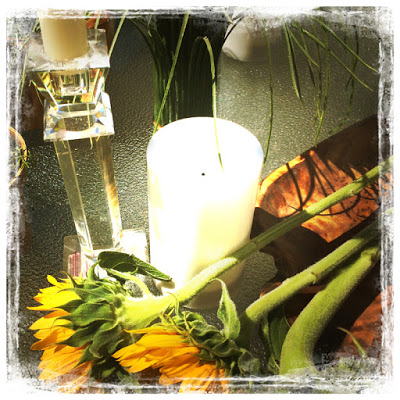 I also added a large lantern (the one I used from Coleman's is amazing) to the end of the table. As it neared a cloudy midnight hour,  this lantern cast significant light and made all the difference for our mom's night out. It kept the table illuminated and gave us enough light so we could actually see each other's faces as we laughed and talked well into the latest hours of the night.
Here's a pro tip: put fresh batteries in everything before your guests arrive. Duracell Quantum are my choice and let me tell you, they lived up to all the hype!!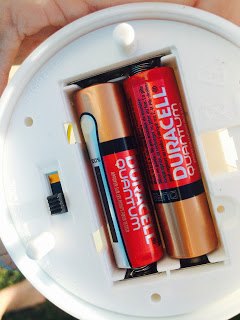 Be prepared for ANYTHING!
Ok, so I'll be honest, there were a few moments where our perfect rustic backyard night out was slightly interrupted by some unexpected rain. But you know what? That's ok, because when you're a host, you're prepared for anything that could be thrown at you.
So to mitigate the unexpected, here's a few things I keep at the ready:
Umbrellas – Phew! Thank goodness I actually had these on hand. I went to the dollar store and grabbed a bunch of umbrellas to have on hand just in case the forecasted rain came our way. Good thing I did!
Flashlights – I don't want to name names, but there may have been a mom in our group that tripped and fell on her way home a few months ago because she didn't see a kids toy that was lying on the sidewalk [it was me]. Since then, we have always had flashlights for our walks home – it just makes sense.
Bug Zapper – Not the most attractive item to have at a party, I know, but neither are bug bites:)  And in all honesty, once the rain subsided and we ventured back out to the backyard the mosquitos were something fierce. We could not have been more happy to have had that bug zapper on hand.
Extra Batteries – It is so important to not just have battery-powered lighting at our fingertips (like those flameless candles and lantern), but having extra batteries on hand. Specifically, Duracell Quantum batteries helped us power more summer (#powermoresummer) during our mom's night out in my backyard. They're built to last and let me tell you, they absolutely live up to that hype!
Cooler with Ice – If you're going to be hosting a rustic backyard party, you're going to have to include a cooler. I attempted to make it fit with my decor and appear more rustic-looking with some sunflowers and my bug zapper on there but, let's face it, it's a cooler full of ice and it's doing it's job. Enough said:)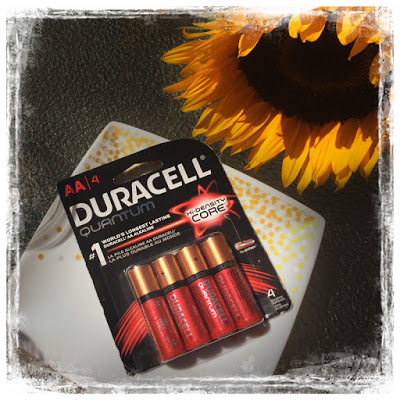 My friends, let's not allow summer to slip away quietly! Let's take it for all we can get from it!!
Now that you are armed with MY tips and tricks for hosting the perfect rustic-themed night out with your best girlfriends, Duracell Quantum batteries wants to equip you to do the same.
To do that, they're giving away everything I used to make my night out in my backyard a smashing success, including:
Duracell Quantum batteries [only the best for you!]
Coleman lantern
Coleman flashlight
Flameless candles
Bug zapper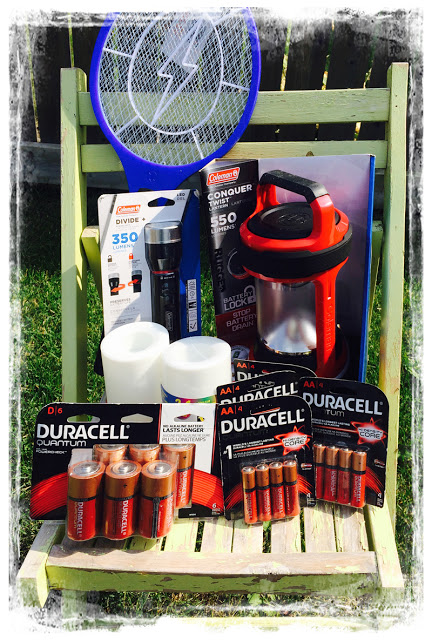 This amazing prize pack care of Duracell Quantum can be yours by simply entering below! 
I know you will be as obsessed with the lasting power of Duracell as I am and hopefully a bit inspired to invite over some neighbourhood friends & power more summer (#powermoresummer) in your own backyard!
Disclaimer: This post is sponsored by Duracell Quantum batteries, as part of the #powermoresummer program. In exchange for this review, I have received special perks in the form of products and/or compensation. All opinions on this blog are my own.