If I had to choose one
thing I value above all else, it would be having options.
As a working mom who is
desperately trying to do the best I can in so many areas, I need options when
it comes to how I work, how I raise my kids, and how I spend my free time. But
most of all, I need options in how I meal plan and grocery shop for my family.
And it's because of this
that I am so excited to finally have the option of purchasing organic food products
that are Canadian Certified Organic and budget-friendly! Even better? They're
Great Value Organic, which means they are available at Walmart – the store that
I regularly frequent for my grocery shopping – and they come with a 100% satisfaction guarantee!
So now
that I've discovered this option of purchasing quality organic items for my
family, how have we been incorporating them into our lives? The question might
be better phrased "how
aren't
we incorporating them"!?
A
few weeks ago I shared some of my favourite school lunch recipes featuring Great
Value Organic products, but that was just a glimpse at what Walmart is
offering.
The new Great Value Organic line has close to 50
affordable Canadian Certified Organic products, including flours, corn meal,
breakfast oats, seeds, legumes, beverages, cereal, frozen berries, pasta,
sauces, broth, granola bars, popcorn chewy snacks, and cookies. The list goes on and on!
Other
than being budget-friendly, though, what really draws me to these products is
that they are so simple to use in my every day life.
I
love to cook and bake for my family and, because the Great Value Organic
product line includes many of my current pantry essentials, it has been so easy
to make simple swaps. A big change for me has been switching from my previous
(non-organic) flour to Great Value OrganicAll-Purpose or Whole Wheat Flour in all my baking. I've shied away from purchasing
organic flour in the past due to the cost, but I now have an affordable organic
flour option that I use weekly in batches of banana muffins and mini cheese
biscuits!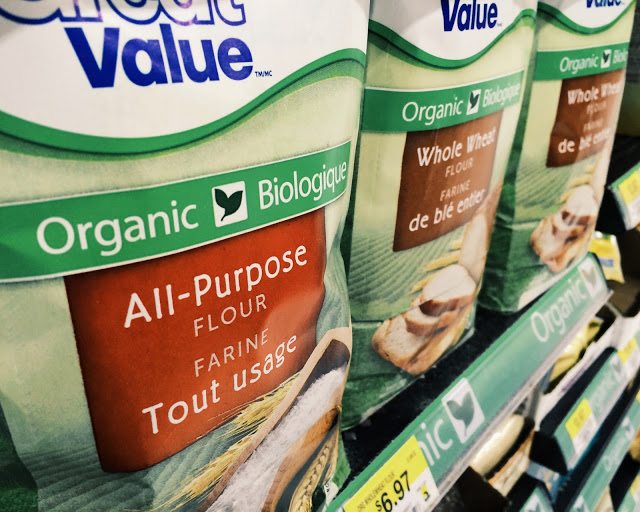 More
often than not, I've been able to swap the brands I used to purchase for Great
Value Organics!
Here
are some other ideas:
Breakfast: Use Great Value Organic Steel Cut
Oats, Maple Instant Oatmeal or Corn Flakes for a hearty start to the day.
Lunch: Bring some homemade soup featuring Great
Value Organic Chicken Broth and Split Peas to work or school for a great
wintertime lunch.
Dinner: Get creative with Great Value Organic
Quinoa! It's hearty and delicious and can be the basis for a salad, the perfect
partner for a roast chicken, or part of the stuffing for stuffed peppers! The
options are endless.
Anytime: Snack on savoury Great Value Organic Popcorn
or try Cinnamon Bears for a sweet treat (they're so delicious – you've been
warned!).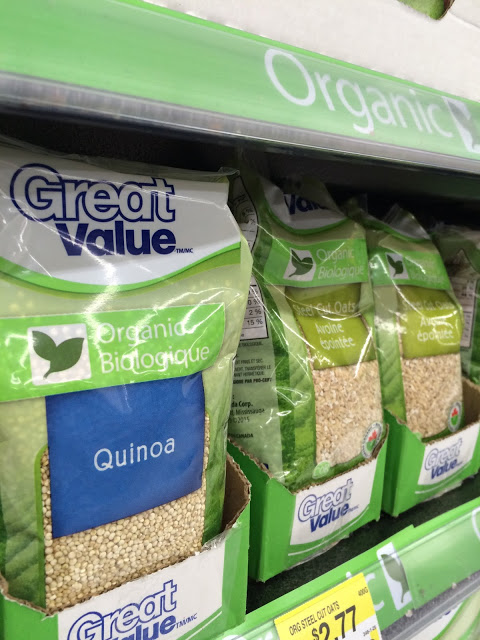 What's
more, my family doesn't even notice the switch! That's a big win – I'm using organic
ingredients and my kids are simply enjoying the taste!
But in
the end, what really matters to me is having options, and that is exactly what
the Great Value Organic product line has brought. From pantry staples to
delicious snacks (we are all addicted to the
Great Value Organic Apple Cranberry Chewy Granola Bars
!) to hearty side dishes – I finally have
affordable
Canadian certified
options
when I'm grocery shopping!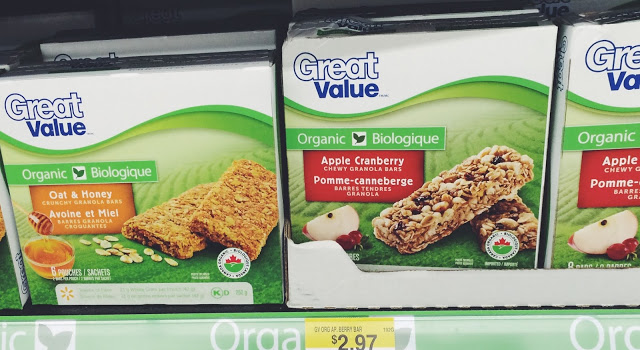 I've
been raving about the Great Value Organic line to all my friends and family
because I know they, like me, are constantly working hard to keep their grocery
budget lower all while feeding their family well. Many of us have already
agreed that having quality organic products available in our local Walmart
grocery store is truly a game changer in so many ways!
Disclaimer: This post is
sponsored by Walmart Canada, as part of the Great Value Organics program. In
exchange for this review, I have received special perks in the form of products
and/or compensation. All opinions on this blog are my own.