OK, so my obsession with mason jar apparently runs deep.
Today I'm going to tell you about my obsession with Chia Pudding.
First, I am not entirely sure that I believe chia seeds are as amazing for you as I read they are, but I'm willing to take the risk because they taste delicious and I do believe that they are a pretty tasty alternative to the sweet treats that I so desperately crave in the evenings.
So, once a week, I make chia pudding. I have taken on the awful burden of playing around with different recipes (I know, I know, but someone has to do it and I am willing to take on that task if I must). There have been batches that I've flushed down the sink immediately and batches that I have gobbled up for breakfast, lunch and dinner in one day (and, I have read that chia pudding is a great breakfast alternative and I plan to hold onto that!).
What I adore (and what my kids despise) is the texture of the chia seeds once they have been sitting in liquid for a few hours; they remind me of the tapioca balls that you get in bubble tea. The longer you let them sit, the more the chia seeds will absorb the liquid and the plumper and tastier those little seeds will become.
After extensive testing, I would say that- without fail- chia pudding made with coconut milk is my favourite and chia pudding made with plain greek yogurt is my absolute least favourite no matter what I put in it to give it sweetness and flavour. And (this is a great thing!) the simplest recipes are always my favourite. If you want fresh fruit, cinnamon, chocolate chips or coconut shavings in your chia pudding, add them right as you're about to eat your pudding…stick to a simple mason jar recipe and don't mess with it!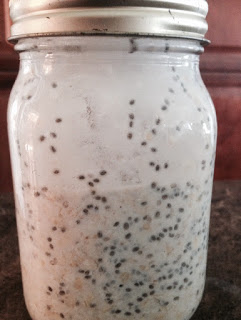 Ok, it's not pretty but it tastes delicious, I promise
Without further ado, here is my go-to, never fail, chia pudding in a mason jar recipe:
Mason Jar Overnight Chia Pudding
1/4 cup black chia seeds
1 cup coconut milk or almond milk
1/2 teaspoon vanilla (ONLY include vanilla if your milk is unflavoured- it's not necessary otherwise)
In a mason jar, mix together the chia seeds, milk and vanilla. Screw on the lid tightly and place the mason jar in the fridge overnight. Try not to eat it all for breakfast (I dare you).