Have the opportunity to travel with your kids? AMAZING!
I am very pro-travel…even if it interrupts schooling for a short period of time.
As I have written before, the world can often be a child's best teacher. But that doesn't mean that school isn't important.
As we come up on March Break and Easter Holidays, many families will choose to take their children out of school for an extra week of vacation.
During my years in the classroom I had many students who left school for a week or two to vacation with their family- traveling to China, Korea, Australia, and California, to name a few- and returned with amazing stories to tell our classroom. I loved that my students had the opportunity to see the world, but I didn't always love the way parents approached me about their child's absence.
Are you planning to take your child out of school for a vacation this year? Follow these teacher-approved tips to ensure it's a success:
DO tell the teacher well ahead of time:
As soon as you book your trip, tell your child's teacher(s) the exact dates they will be away. I always appreciated this (not just because it is common courtesy and showed that the parent cared about schooling) because I could try to not schedule any tests/exams/major projects during that time of absence. If you don't tell the teacher ahead of time, you risk your child missing significant schooling.
DON'T ask for homework ahead of time:
I understand the reasoning behind asking for homework before your child leaves for their vacation, but most teachers do not have all specific lessons/worksheets/homework planned weeks in advance. To be honest, I always planned my classroom lessons day by day, building on what we learned the day before and leaving wiggle room and flexibility for conversation and student need/interest. Plan for your child to "catch up" when they return. Besides, you want them to enjoy their vacation, not spend it doing homework!
DON'T expect the teacher to help your child "catch up":
If you choose to vacation with your child during school time, then expect to assist your child in catching up on any work they may have missed. Most teachers will ensure that all homework and essential lessons are collected during your child's absence, but it is then your responsibility as a parent to ensure they complete all that work they missed.
DO remind your child that school is important:
When traveling with your child, you are allowing the world to be their classroom which is a real gift. That being said, don't give your child the impression that school is not important. If you are habitually taking your child out of school, you are showing them that school is a "throw away" and that education is not important. Enjoy vacation time with your child, but don't make a habit out of constantly taking your child out of school.
DO bring back a souvenir:
Whether for the teacher or for the classroom, bring back an item from your travels that will spark interest and discussion in the classroom. I once had a student that spend 2 weeks in China (missing only one week of school as they piggybacked on March Break) and came back with a photo album of pictures to share with the class- it was fantastic. We skipped my planned Social Studies lesson for the day and spend the entire 45-minute class looking up interesting facts about the landmarks the child and his parents had photographed for us. The kids loved it but so did I- it gave us all a learning opportunity.
DON'T make excuses:
Enjoy your trip- really! But when you return, get back to real life ASAP. Get homework done. Have your child at school and on time. Sure, you might feel jet lagged, tired, still in "vacation mode" but there is no excuse for not ensuring your child gets back into "school mode" as soon as they return from their travels. To eliminate this, build in an extra day of "down time" for your child, allowing them to catch up on all that sleep/TV/video gaming/Facebook chatting that they missed while they were away. This will help them transition back to school with ease.
DO ENJOY!
Have the best time! Don't feel guilty or remind your child of all the work that will be waiting for them upon their return. Enjoy your travels, spend time with your child, get to know them from the inside out! Make your trip an unforgettable, bonding experience- one that you and your child will never forget.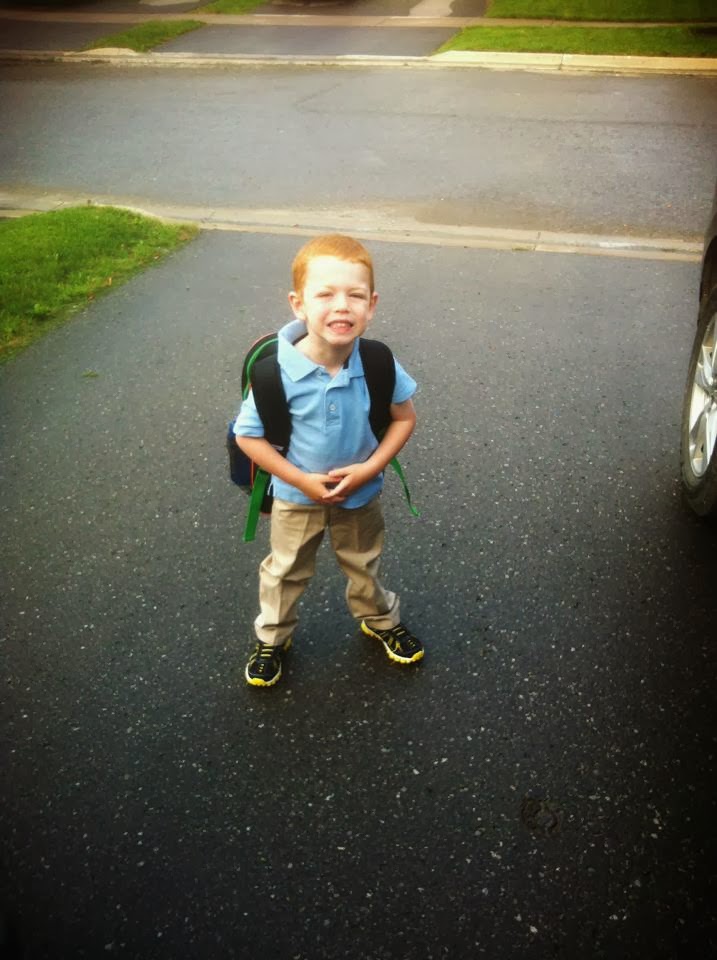 We really really love school (and big cheesy smiles!)