There's nothing I love more than a good party! Be it a backyard al fresco gathering with girlfriends or a shower for a beautiful bride-to-be, putting together a look and feel for a party is one of my favourite things to do.
This particular shower, however, was extra special because it was for my beautiful sister-in-law. And although I usually agonize over the theme of a party, I immediately knew exactly how I was going to style this shower: rustic, minimalist, elegant, with a dash of fun. Perfect for this bride-to-be.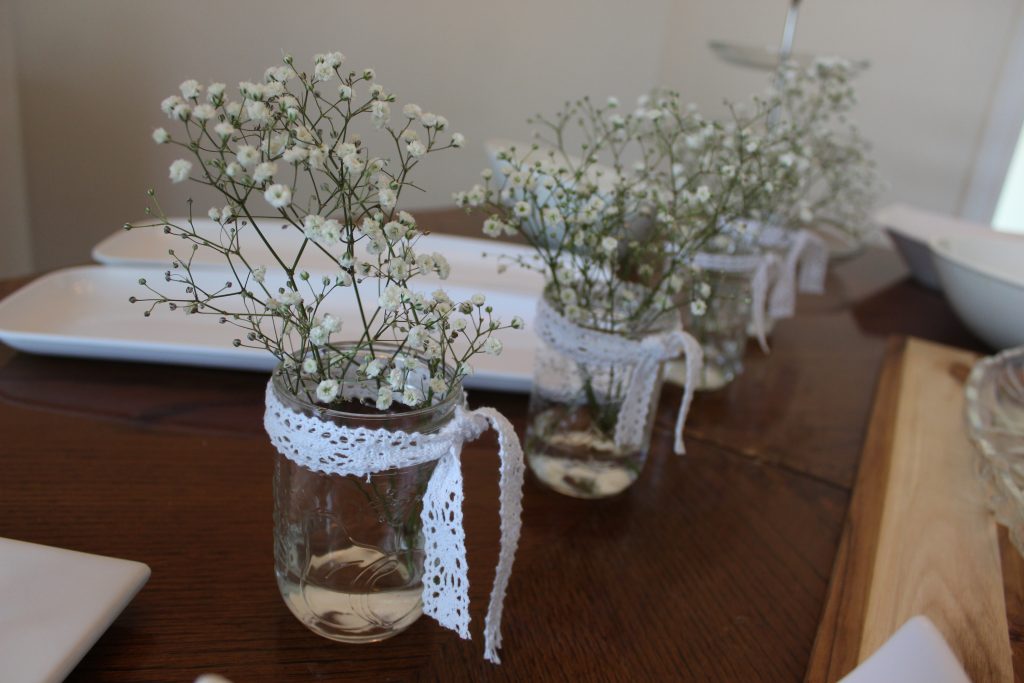 It all started with the baby's breath. Often tossed aside, baby's breath is the perfect flower for a rustic, shabby chic shower. I picked up three bunches for less than $10, two cases of mason jars for $7 each, and a few spools of lace at the dollar store. For less than $30, I had the base of my rustic decor ready to go!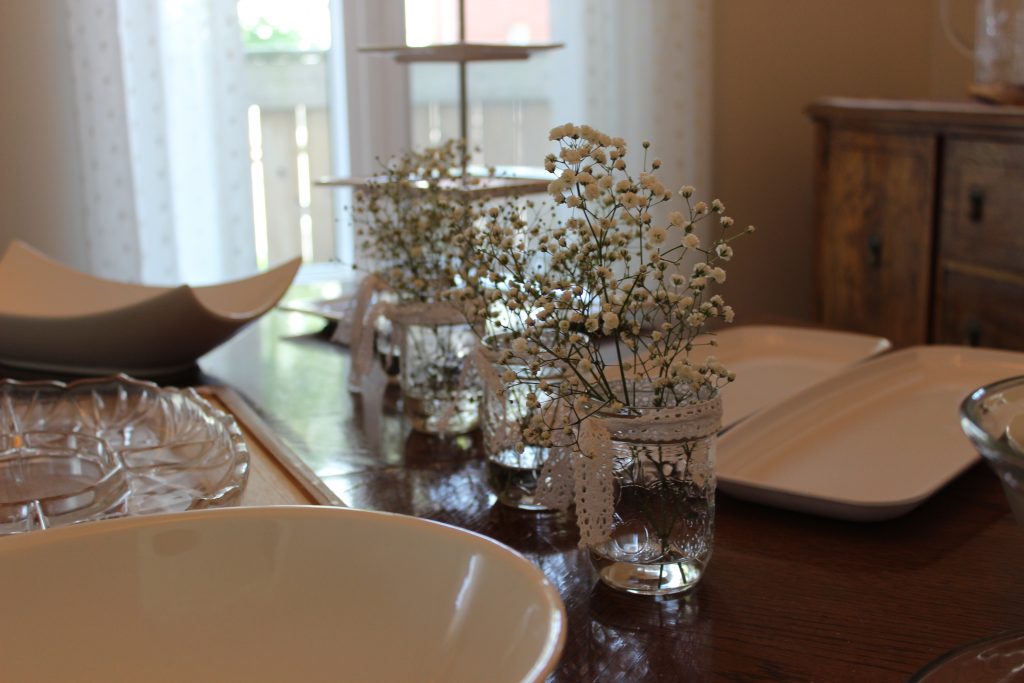 You'll notice these little mason jars of baby's breath throughout most of the pictures. Peppering them on tables, counters and throughout the house really helps create a rustic, cohesive theme that didn't require a lot decor effort (because we all know I am NO designer) but still provided the right touches.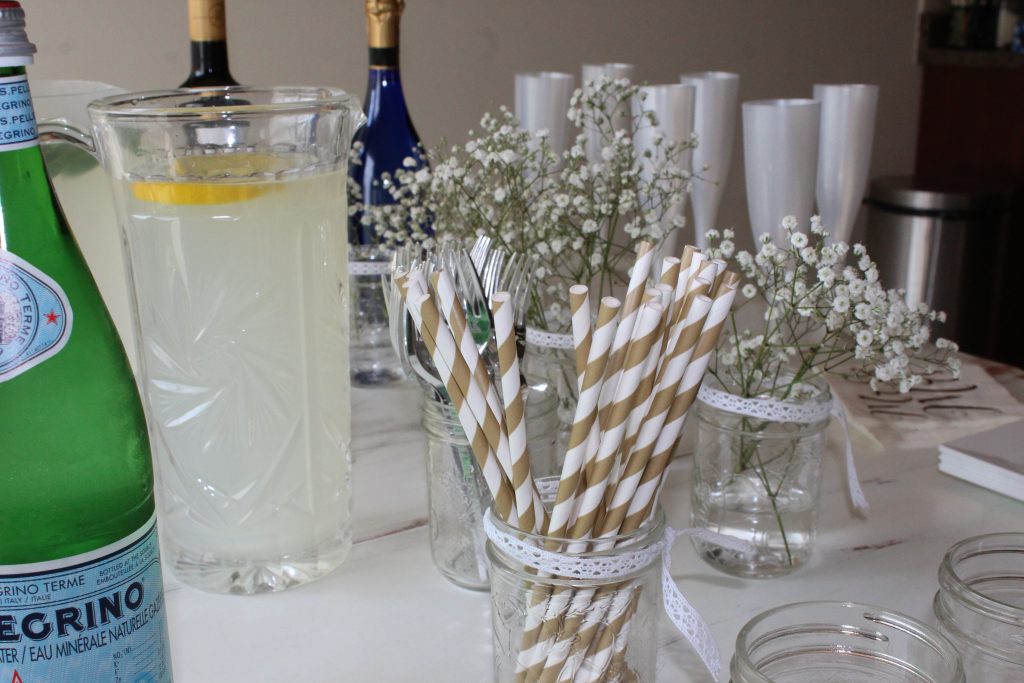 Every good party, in my estimation, needs a drink bar.
I like to offer multiple types of drinks so that everyone in attendance has something to sip on. Wine, champagne, lemonaid, cucumber water, and sparking mineral water were on my list for this party (I think I may have even thrown in a few cans of Diet Coke for good measure!).
I kept up the mason jar theme by offering small mason jars as cups and paper straws to save those pearly whites:)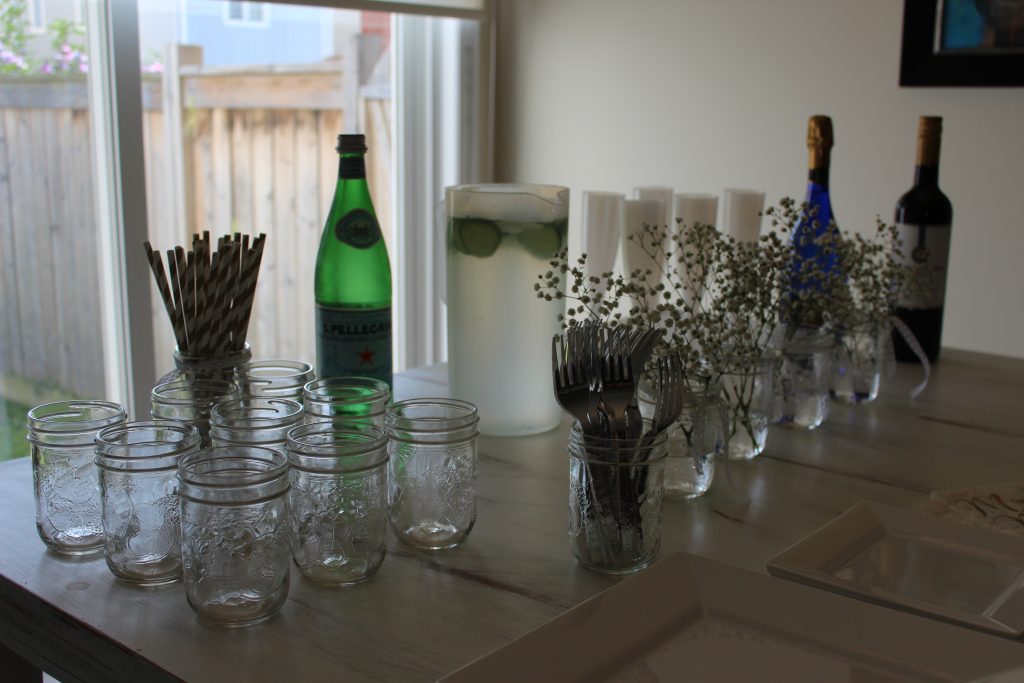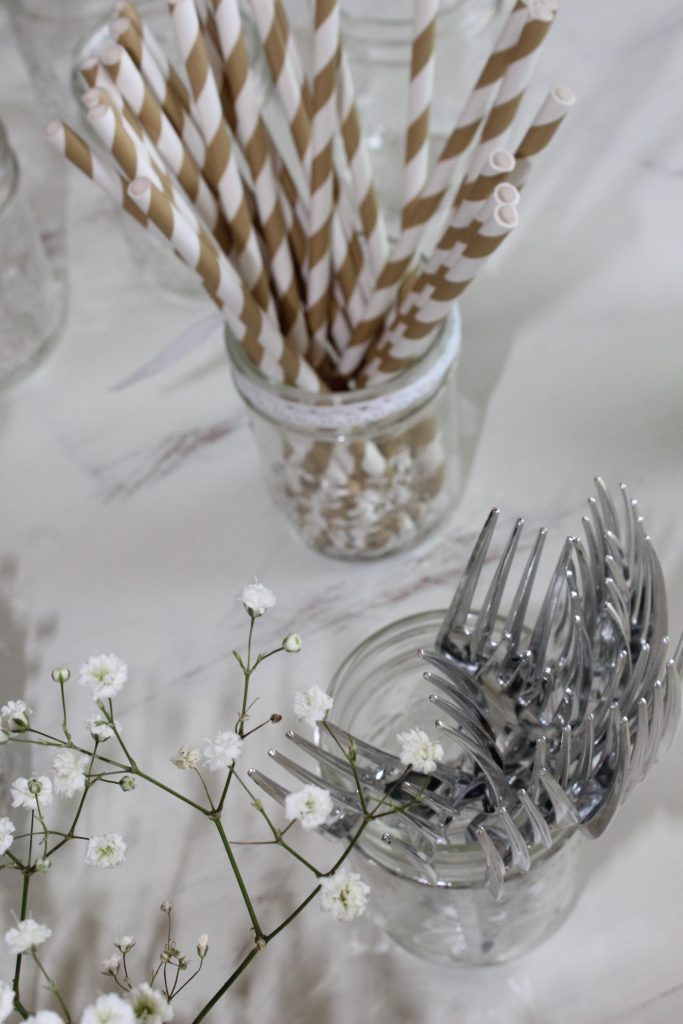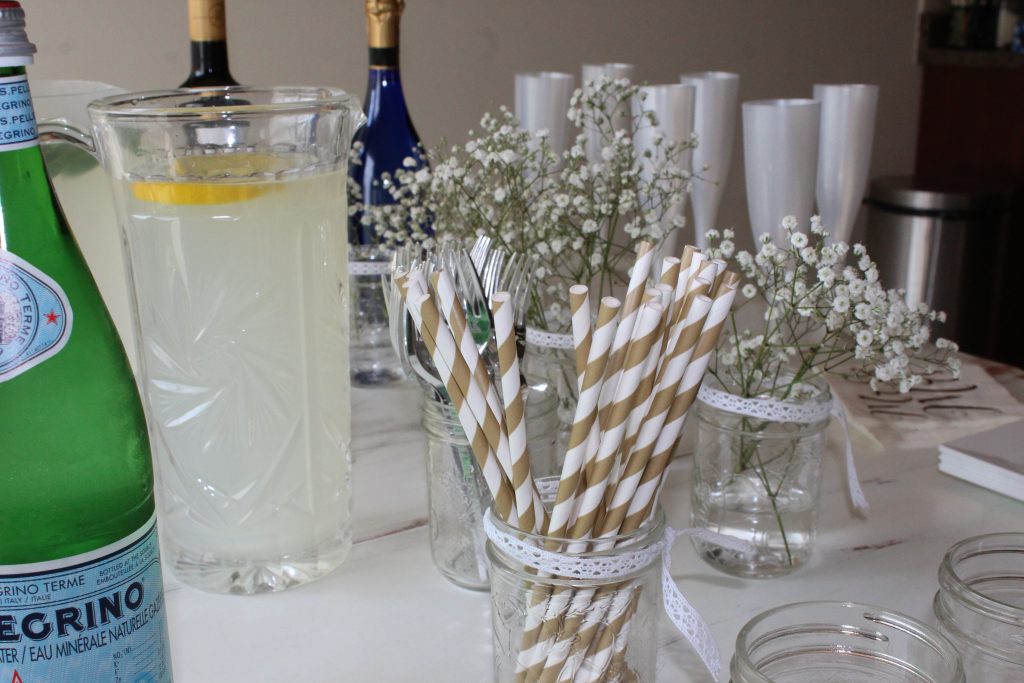 But I think we can all agree that the food is really the most important part of any party, especially a bridal shower. And, to be honest, food is my favourite part of the planning process!
I like to plan for a variety of finger foods that allow people to snack and chat – nothing too messy and nothing that requires balancing multiple utensils.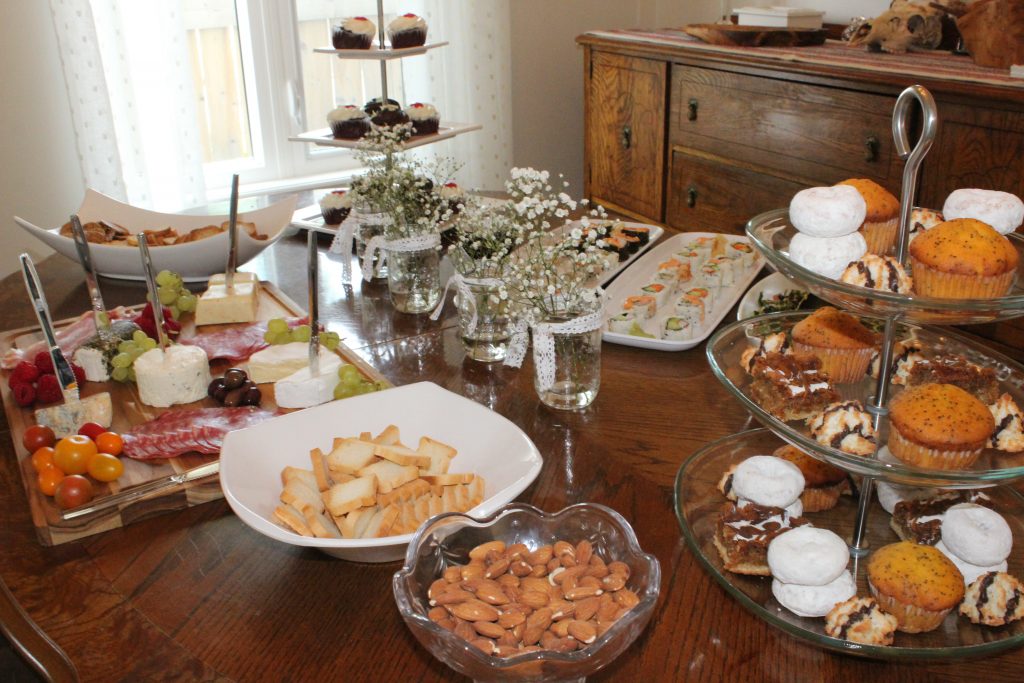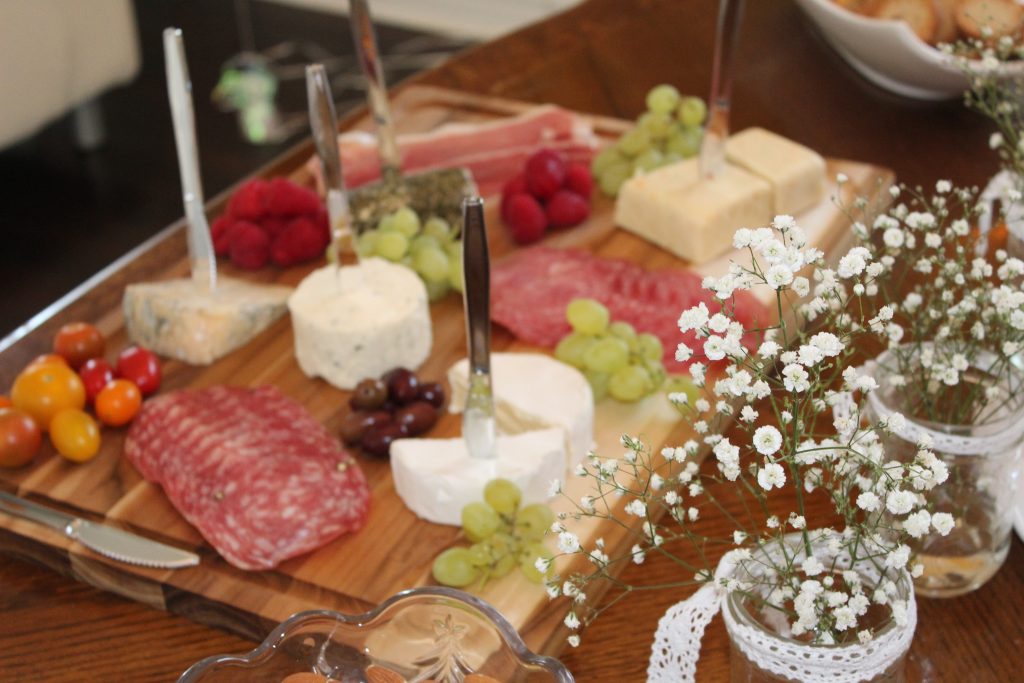 A Charcuterie Board is the perfect food offering for a  shower – combine a variety of meats and cheese so there's a little something for everyone!  I like to do a brie, goat's cheese, blue cheese, and a camembert for variety. Salami, Prosciutto, and Serrano ham add the right amount of cured, salty goodness. Include some pops of bright freshness with grapes, raspberries and cherry tomatoes, and a side of almonds to balance it out.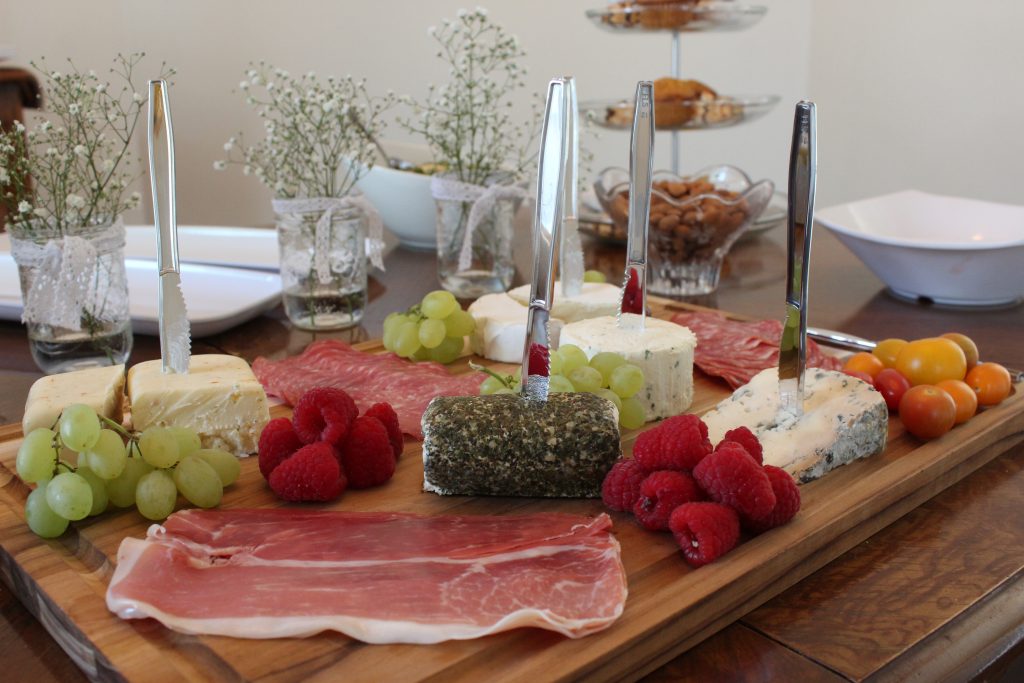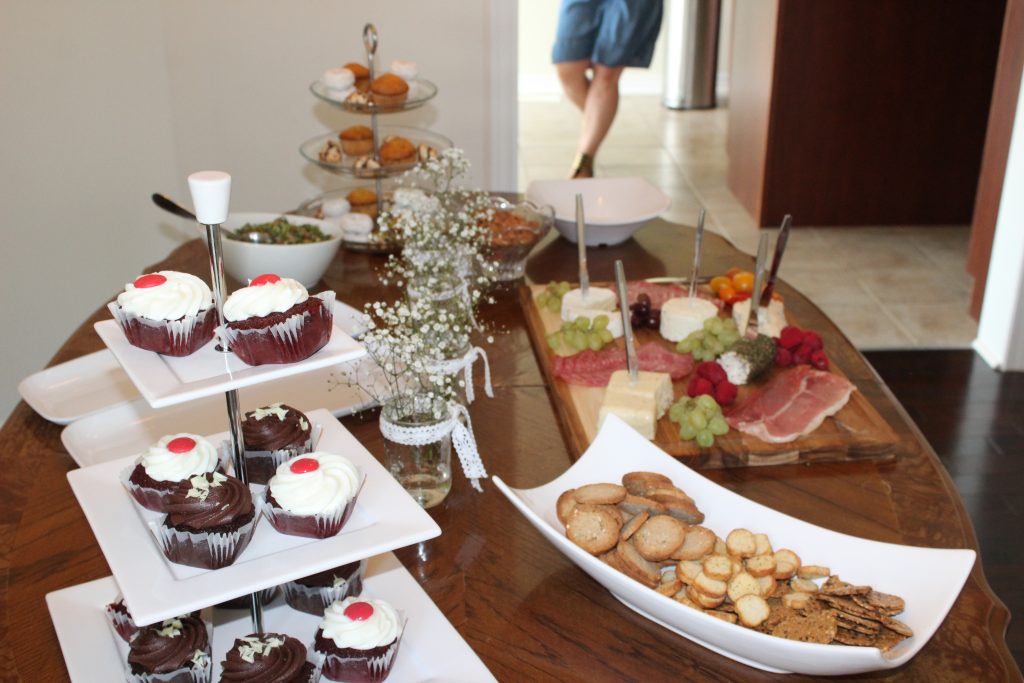 Serve with a variety of crackers (I like mini Melba toasts, Mary's crackers, and mini baguettes to stand up to the cheeses and meats on a Charcuterie Board) and your guests will be snacking to their hearts content.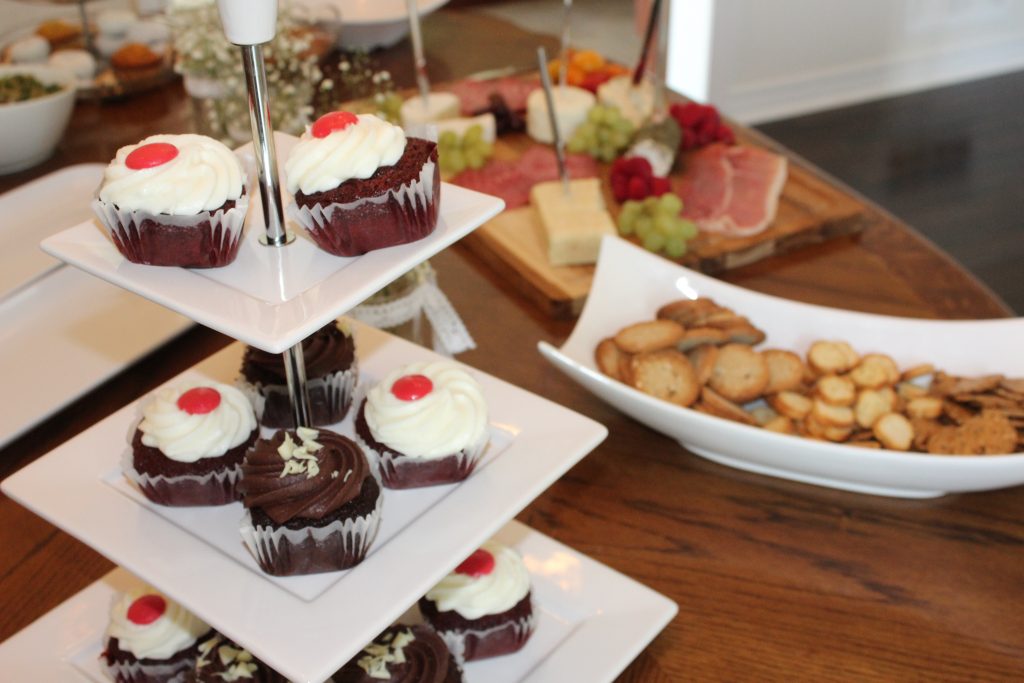 The rest of your table can be filled with a variety of snacks that are sure to delight any guest!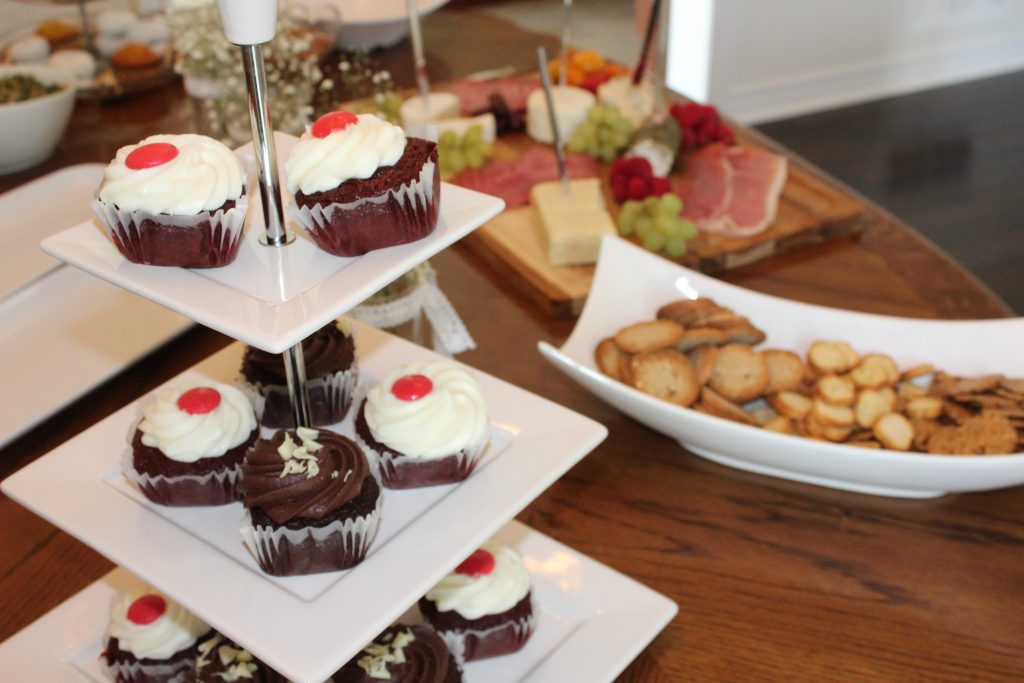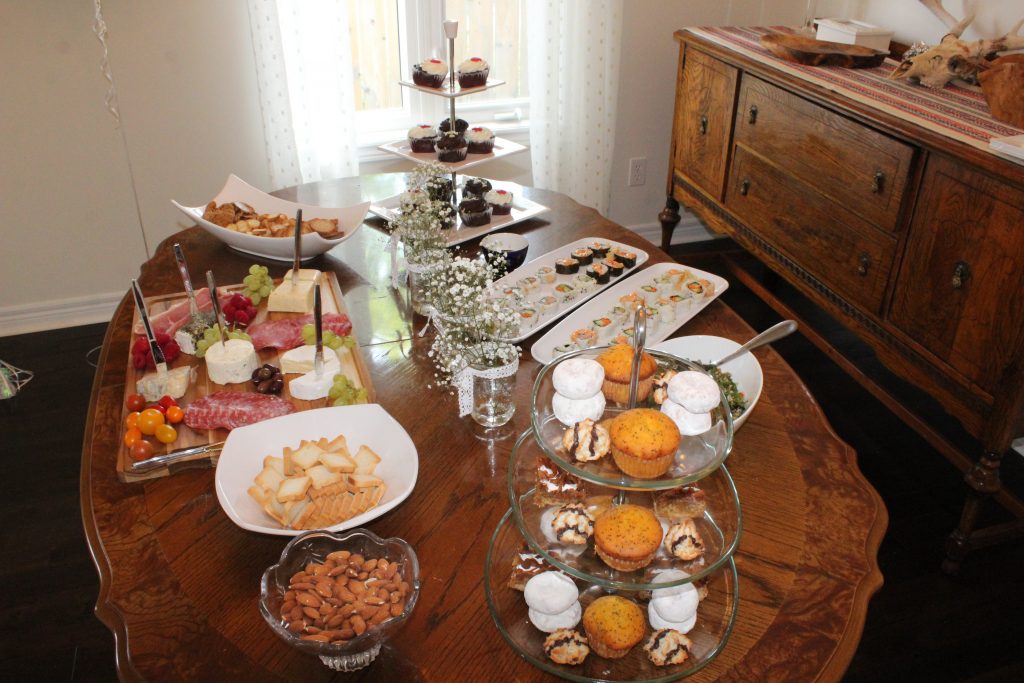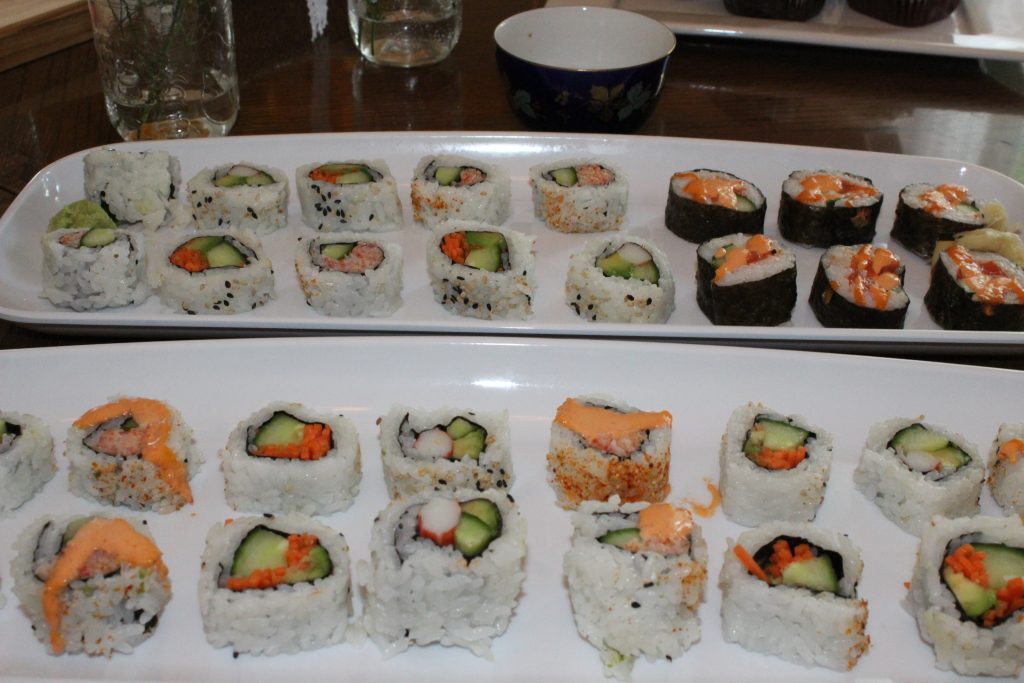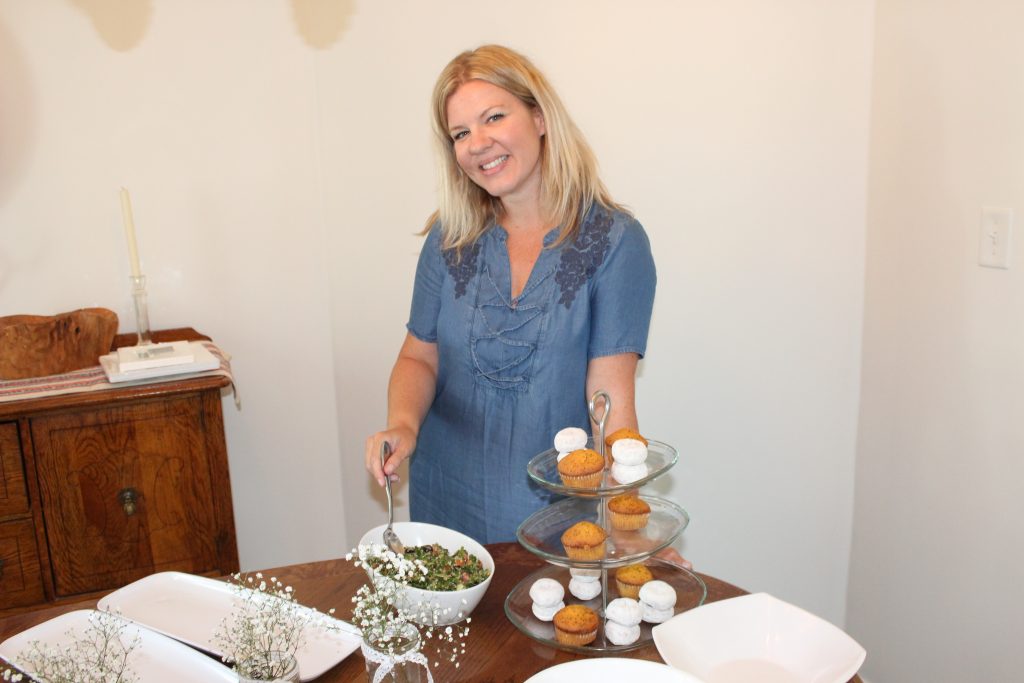 Sushi, tabouli salad, lemon poppyseed muffins, powdered sugar donuts, macaroons (drizzled with some dark chocolate), almonds and, of course, a variety of delicious gourmet cupcakes round out the perfect food offerings!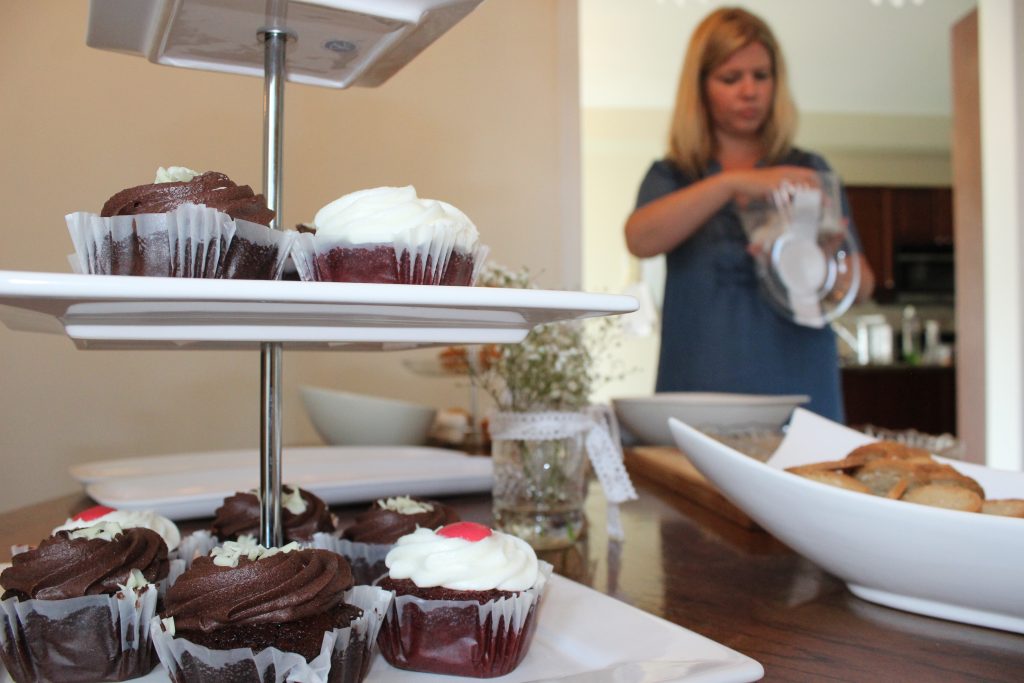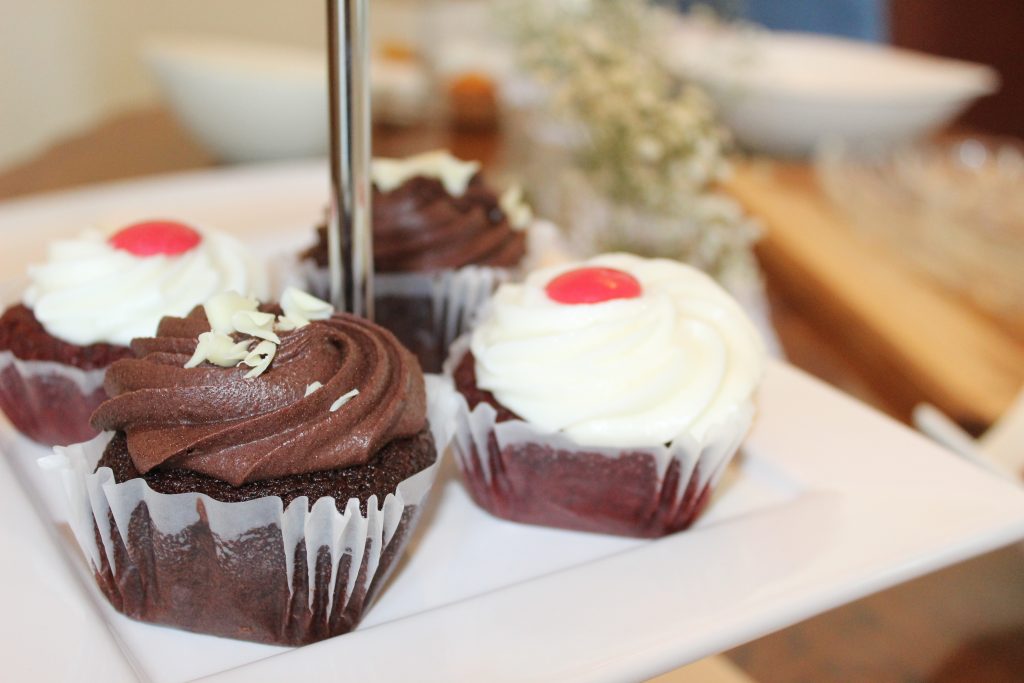 Every shower needs a sweet treat to cap off the perfect afternoon, right?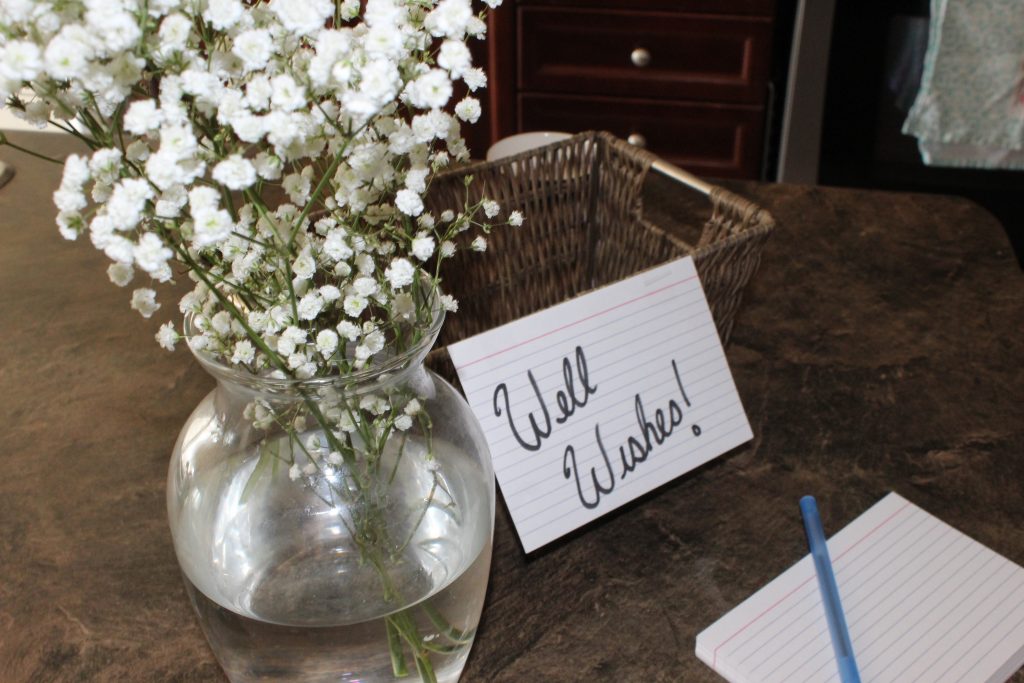 But we all know it's the little touches that make all the biggest difference, right? For this shower, there were two little touches that made all the difference.
First, I created a "well wishes" basket for guests to leave their advice and love for the bride to be. It's a beautiful keepsake for the guest of honour and something that I try to include in every party that I host (you'd be surprised at how often guests and guests of honour refer back to this little touch).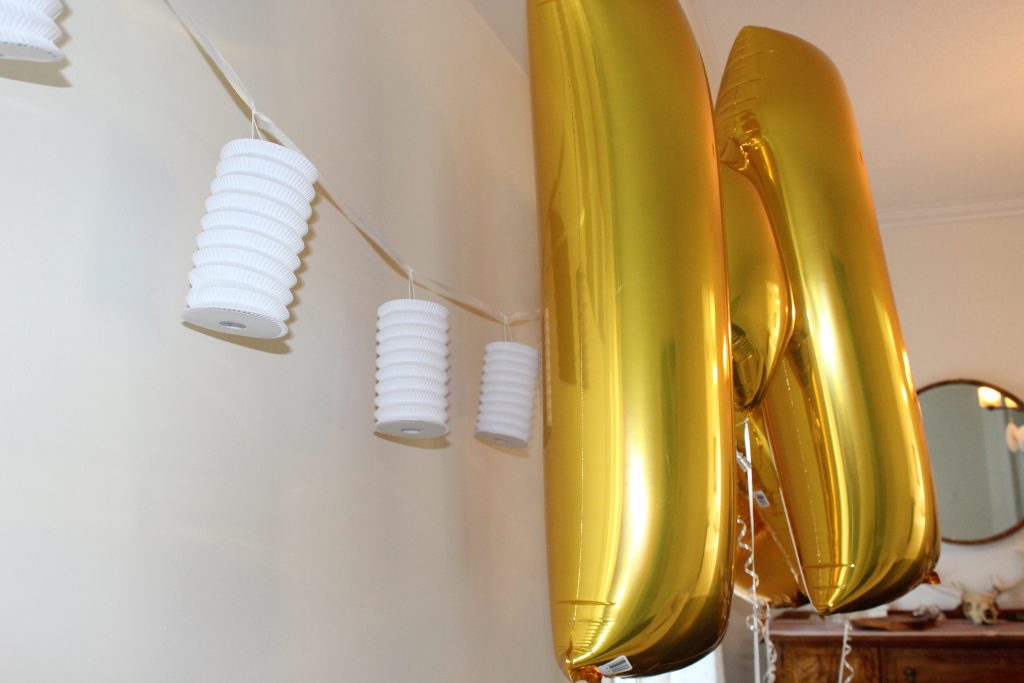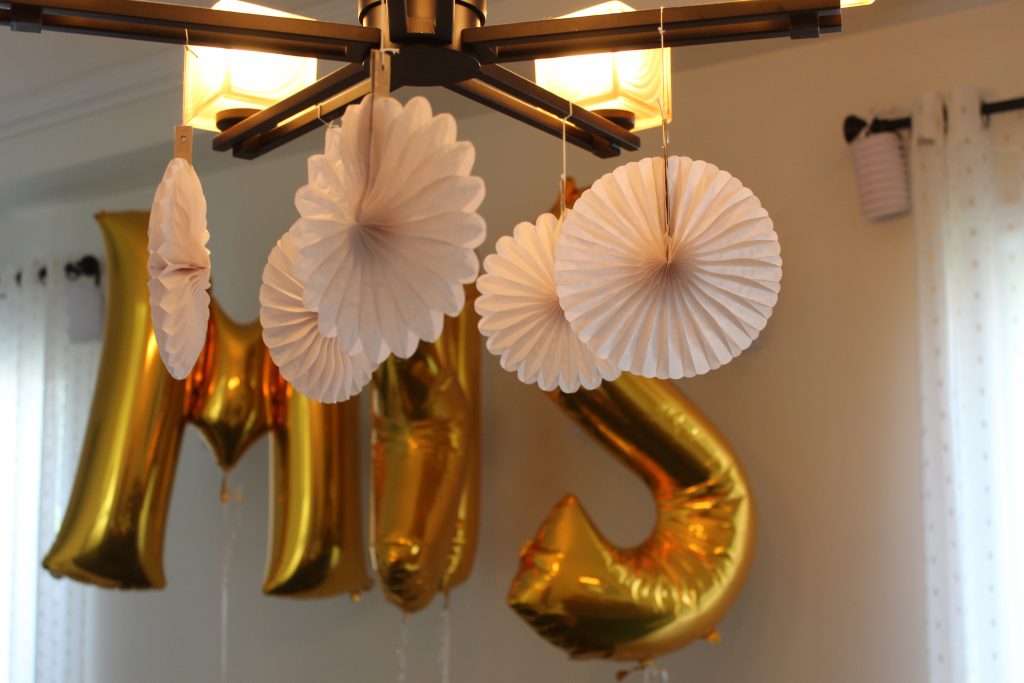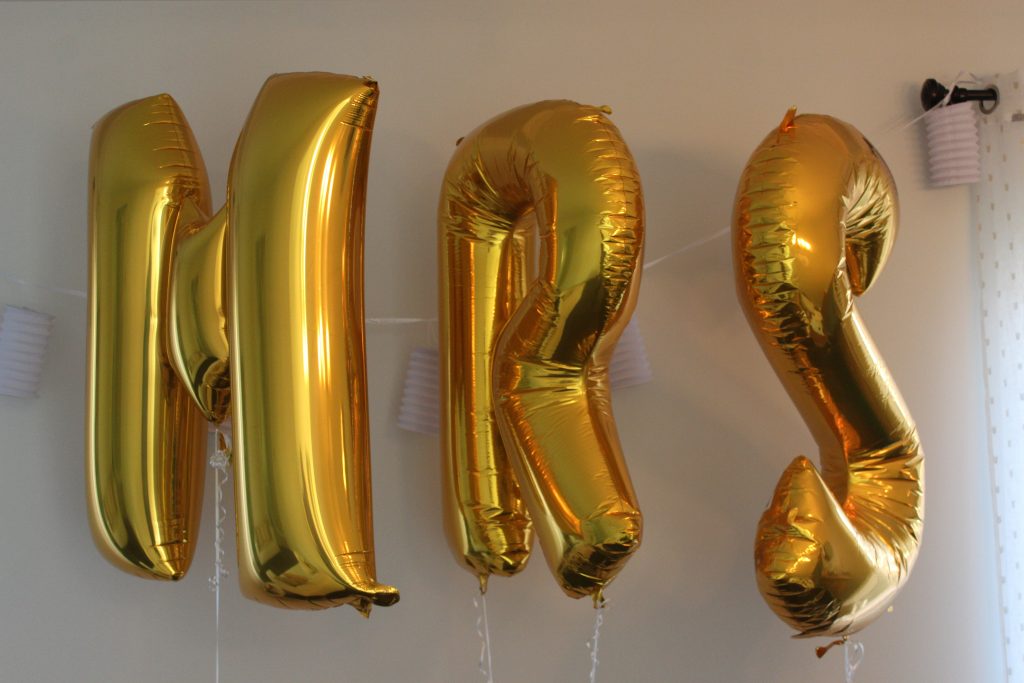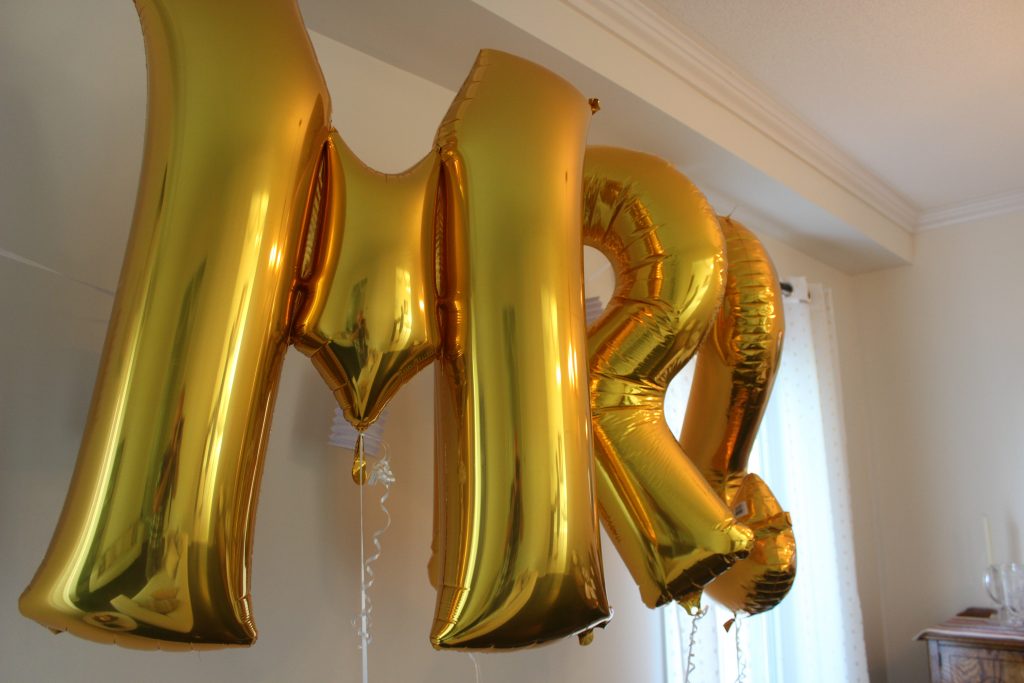 And then, a little touch of fun with a selfie wall for guests with foil balloons, hanging paper lanterns, and a little bit of photo-op whimsy for everyone!
The perfect chic, rustic shower for the perfect bride-to-be.