In our house, Z and I love to make food together! He pulls up a chair to the counter, usually while W is having one of his three daily naps (that last only 45 mins each, but that's another story…), and we create something. Most days, Bisquick is involved.
As much as I would love to make things completely from scratch, it just isn't a reality most days. I need a little shortcut to help things get done deliciously and quickly. Enter Bisquick. The base of muffins, shortcakes or biscuits becomes extra easy when using Bisquick, but it still allows for Z & I to play around with flavour combos.
This afternoon, Z was feeling a little yucky. He'd had an awesome morning playing with his friend Ryan but he was zonked after a lackluster nap and didn't want to eat anything. But he wanted to bake and far be it from me to deny my darling the desires of his heart. We decided to make two different creations:


1) Blueberry-Lemon Oatmeal Muffins

2 cups Bisquick mix
2/3 cup of milk
1/3 cup sugar
2 tbsp oil
1 egg
a few handfuls of fresh, washed blueberries (slightly frozen…pop them in the freezer for at least 15 minutes)
half a lemon
two handfuls of quick oats (I use President's Choice Organic Rolled Oats)
Add all ingredients together, except lemon. Stir until all ingredients are moistened. Add the zest and juice of half a lemon. Stir 5 times. Divide batter amongst muffin cups and bake at 400 degrees for approximately 17 minutes.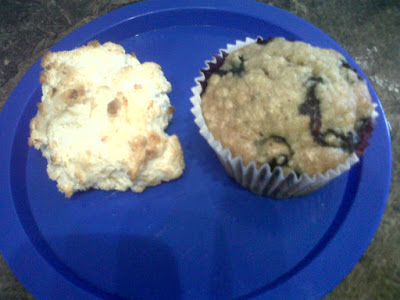 2)Biscuits with Cheddar and Rosemary
2 cups Bisquick mix

1/2 cup milk

two sprigs of rosemary

1/2 cup shredded cheddar
Stir Bisquick and milk together until a ragged dough forms. Finely chop the leaves of two sprigs of rosemary (do not chop the stems) and add to the dough. Add the cheddar and stir dough gently until fully mixed. Plop (yes, PLOP) heaping tablespoons of the dough onto a greased cookie sheet and bake for 8 minutes at 450 degrees.

Both delicious, fun, and a great addition to lunchboxes and dinners alike!! ENJOY:)