Do you remember getting multiple bags full of (dollar store, likely) Halloween goodies the week leading up to the haunted holiday?
I sure don't.
In fact, other than the actual day of trick or treating (or the occasional school party where we would fill up on as much pop and chips as we could stuff in our faces), I don't recall Halloween even being that big of a deal growing up.
Sure, the occasional home would go overboard in decor or create a spooky haunted house that would pretty much make me pee my pants, but Halloween wasn't seen as an opportunity for parents to go overboard in the classroom.
Times. Have. Changed.
Over this past week – the one leading up to Halloween – both of my boys have come home with multiple Halloween loot bags. Pencils, erasers, stamps and stickers. Colouring books, candy, balloons, and crayons. Whistles (SERIOUSLY HALLOWEEN WHISTLES). Glow sticks. All lovingly packed in jack-o-lantern bags with curled ribbon.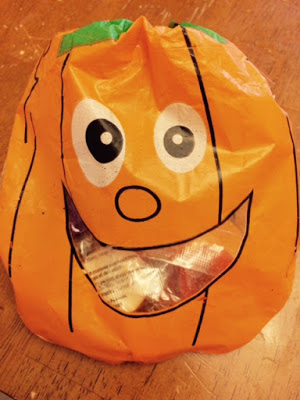 Don't be fooled by that happy face- this jack-o-lantern loot bag is full of dollar store treats and one-upmanship.
Now I am certainly not looking a gift horse in the mouth- I'm happy that people have taken their time and money to create a nice (often non-treat) goodie bag for my kids to enjoy.
But I can't help but wonder- WHY?
I like Halloween just fine. It's fun to get dressed up, put out a few decorations, carve a pumpkin (roast the seeds!), and watch my boys have the time of their life going trick or treating.
However, this new trend – expectation, even – of Halloween loot bags for every kid in your child's class just doesn't fly with me! It's become another parenting one-up show in my decently well-off neighbourhood. Parents are spending time and money just to out-do other parents.
Most of the stuff in these loot bags is disposable and plastic. Most of it (if I'm being truthful) ends up in my trash. And yes, I understand that some parents really enjoy crafting or creating little take-homes for their kid's friends…but I dare say this isn't the case. Most of these loot bags are created to impress other parents.
So I say – DOWN WITH HALLOWEEN LOOT BAGS!
We don't need pumpkin stamps or witch embossed pencils and, Lord knows, we don't need another whistle in this house!!!! I don't care that your loot bag was bigger than the loot bag that I got the day before or that you used your scrapbooking stamper to maker special pumpkin name tags on your loot bags.
Parents: if you really want to impress me, volunteer to carve or paint pumpkins with the kids at school! Volunteer to bring a special healthy snack for all the kids! Buy some Halloween-themed books for your child's classroom library! Contribute to school culture by volunteering to chaperone the Halloween costume parade! Start a costume swap!
There are so many ways we can enjoy Halloween without turning it into a "my Halloween loot bag was bigger and better and more personalized than yours" competition for parents.
I, for one, won't be sending my kid with any kind of Halloween give-away for his classmates so don't bother looking out for it!
(And truthfully, I won't be feeling even one ounce of guilt about it).