Seasoned moms: remember when you had your baby?  Your first baby.  The one that was supposed to eat, sleep, and poop.  Oh, and cry only when really necessary and only for a moment until you swooped in and figured out his or her needs with ease. The one that you went to birthing classes for and read a few (too many) books for.
The fantasy of having a newborn is often completely different then the reality.
I mean, here's what we think we look like: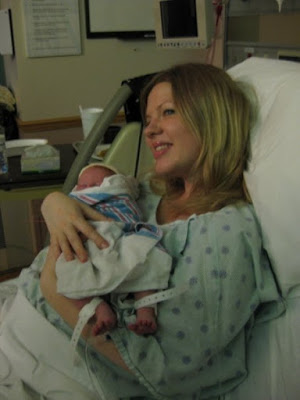 [accidentally good, blurry, sideshot post birth]
But in reality, here's what we're thinking and feeling (and looking like if we're being totally honest):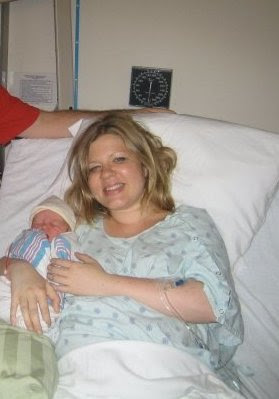 [swollen, exhausted, flustered, trying desperately to smile through the fear + pain]
In our dreams, giving birth will be awesome and our baby will be easy-going, easy to figure out, and fit neatly into the package we call our lives.  In reality, very few have that "dream" come to life.  I was reminded of that recently when I got an email from a friend who has a brand-new baby.  Every word she wrote reminded me of myself when I had my first son.  Reading between the lines, I figured that her email was saying what most new moms feel but don't want to say:
HELP! I'M GOING CRAZY HERE.  I'M TIRED, I'M HUNGRY, I'M SORE, I'M CONFUSED.  I DON'T KNOW WHAT TO DO!!! WHAT DID I GET MYSELF INTO?
Remember that feeling?  I sure do!  Crystal clear to me.
So while, when asked, I'm more then willing to give my advice (which really is only my experiences through trial and error), more often than not I find that a new mom only needs to hear a few things.
You are doing a great job!
New moms, it's hard out there!  Everyone has advice that is "sure to work"! Everyone wants to tell you how to take care of that 8 pound wailer in your arms.  Everyone wants to "help".  And it's hard not to take all of this to heart.  Because you are genuinely tired, and sore, and frustrated and confused.  You can't really be prepared for the changes that will occur in your life when you have a baby.  You can't possibly know how to deal with a child that you have no experience with. And with each piece of helpful advice or correction you feel a little less capable, a little less confident, a lot less sure of what you got yourself into.
But the reality is, new mom, you are doing an amazing job. 
The fact that you are concerned about your baby shows that you are an amazing mom.  The fact that you cry when your baby cries shows how much you love that little thing.  The fact that you desperately search for ways to pacify your child highlights how great you are at motherhood.
So somewhere, when you're giving advice to a new mom, may I implore you to tell her:
You are doing a great job!

 And really mean those words.  Because nothing will lift a new mom's spirits more and ease a stressed-out, worried mind then having another mom tell you that you're good at this whole mom thing.
And new mom– I've been there. I know what it feels like. You're going to make it through the sleepless nights and the tough days. You're going to thrive, just like you baby is thriving right now.
And you know what else?
I think you're doing awesome!