I have a new love affair with podcasts. There, I said it. In fact, since becoming a mompreneur, I find myself more and more drawn to podcasts and often choose them as the background to a busy workday.
I have always been a fan of listening to experts – ask my husband, I'm constantly putting on my earphones and listening to a new webinar, Facebook live, or podcast. I truly believe that learning from those who have been there (and succeeded & failed) is the best way to ensure your own path to success.
What I love about the internet is that it has opened learning up to all of us. None of us have to fumble in the dark when we have a great idea. There are so many stories of success out there that will guide new entrepreneurs through the difficult process of getting their product or information off the ground and into the hands of consumers.
While not every podcast listed below is specifically focussed on entrepreneurial moms, they all provide the information, support, confidence-boost, and motivation that budding mompreneurs really need (and I should know, since I am one!).
So if you're like me and you crave information and inspiration from the best of the best, then these podcasts are for you:
This is Your Life – Ok, not specifically for mompreneuers but the takeaways from these podcasts are simply gold. I am huge fan of Michael Hyatt and his advice for working smarter, achieving success, and motivating yourself and others to soar high. I *may* have listened to every single podcast he has put out to date…
Listen to this podcast if you're looking for actionable tips on productivity, marketing, and best practices.
Build Your Tribe – You and I might know her from TurboJam (oh ya, that was my fav at-home workout for years!) but Chalene Johnson is a crazy good social media marketer and I have learned a lot about just putting yourself out there with consistency and good content from her podcast. Added bonus? Short episodes – great for a quick listen when you grab a few minutes to yourself!
Listen to this podcast if you're looking for real life inspiration and social media tips & tricks that have been proven to work.
Femtrepreneur – This is my newest podcast obsession. These girls are whip smart, full of killer information, and have some real life experience to back it up big time! If you are working as a mompreneur online, maybe even selling an online product, then this is the podcast for you!
Listen to this podcast if you're looking for advice from two current online entrepreneurs who are absolutely killing it and willing to share their success and mistakes!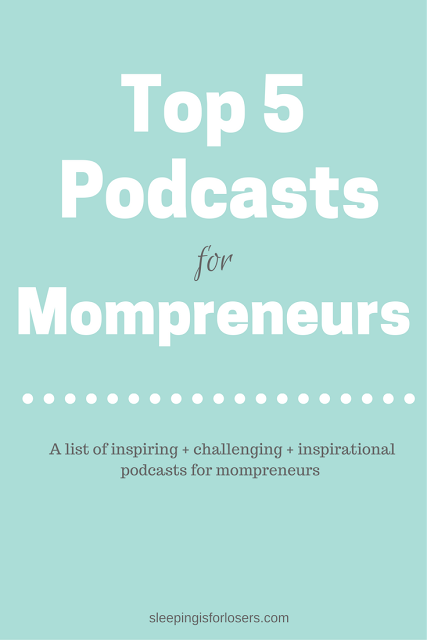 Crazy Ambition – How to spend more time with your family, ditch overwhelm, go from frazzled to focus, and learn from some of the best. I firmly believe that learning from others is the absolute best way to grow yourself. This podcast brings you ideas and advice that can truly change your mompreneur life!
Listen to this podcast if you're looking for motivation and inspiration from real-life mompreneurs who have hit it big against the odds.
Brilliant Business Moms – Two fab sisters interviewing some truly fab momprenuers. They are so relatable it feels like you're hanging out in your kitchen with friends, all while you're soaking in some really great mom/business knowledge!
Listen to this podcast if you're looking to learn from the best about running a business and a family and succeeding at both!
Hey! Want more inspiring parenting advice? Check out my list of top TED Talks for parents!