Warning: This is highly addictive and ridiculously easy.  (Don't believe me? Read on!)
I'm going to give you the one and only recipe you need during the holiday season: Christmas Crack.
Now I don't want you to be fooled by the name. Christmas Crack can not and should not be made only at Christmas time. I want you to make it year round. Call it New Year Crack, Valentine's Crack, Easter Crack, Summer Solstice Crack, Birthday Crack. I don't care, just make it for every occasion and as often as you can. Heck, call it "I'm having unexpected company in half an hour and I have nothing to feed them!!!" Crack – because that's how long it takes to make this delicious treat.
Here are step by step instructions to creating the most amazing and easiest treat for yourself (and your loved ones, if they're lucky!)
Christmas Crack
Prep time: 5 minutes
Cook time: 10 minutes
Cool time: 15 minutes
What you need:
Saltine crackers (approximately one sleeve)
1 cup butter
1 cup light brown sugar
1 1/3 cup semi-sweet chocolate chips
Course sea salt (optional)
What to do:
Preheat oven to 400 degrees.
Line an edged cookie sheet with tin foil. Spray tin foil with cooking spray or olive oil.
Line cookie sheet with saltines. Make sure they are touching each other but not overlapping.
In a saucepan, combine butter and sugar. Cook over medium heat, stirring constantly, until mixture is bubbling and a warm, brown, carmel colour.  Watch carefully as it burns easily!
Remove from heat and pour your sugar/butter mixture over the saltines. Spread with a silicone spatula.
Place cookie sheet in oven for 5-7 minutes, or until the sugar/butter mixture is bubbling.
Remove from oven and immediately spread chocolate chips over the top of the sugar/butter and saltines. Let melt for 2 minutes then spread with silicone spatula.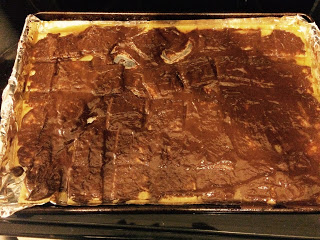 Don't worry if it doesn't look pretty. You'll be breaking this apart once it's cool!
Sprinkle with course sea salt. Immediately place in fridge for 15 minutes.
Remove from fridge. Let sit for approximately 5 minutes. Cut (I use a paring knife for best results) or break apart and eat all the Christmas Crack!
Stores well in an airtight container for up to 5 days.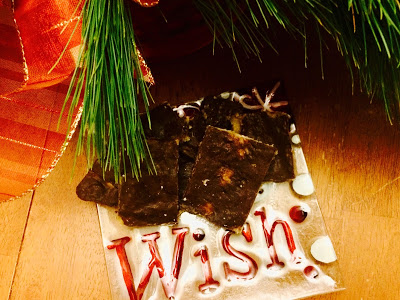 Enjoy!