I woke up feeling good again. A little more hungry this morning, but not starving and certainly not craving anything:)
Down another 2 pounds (that totals 3 pounds in 2 days).
Today was a busy day though. I was on TV to discuss a daycare in Canada that had fined a mother $10 and fed her child some Ritz crackers as she did not provide a "grain" her child's lunch. Ridiculous.
Of course, between working and mothering, food was not a priority.
BUT I didn't stray from my raw/vegan lifestyle one bit!
Check out Day 1 and Day 2 of my raw/vegan experiment!!!
Breakfast


One banana, sliced
Half package raspberries
Coffee (not raw, not organic, but necessary and yummy)
Snack
One pear, sliced
Handful raw almonds
One homemade Larabar (sadly, my family ate most of them so I'm going to have to whip up another batch)
Half a honeydew
Lunch
Apple
Handful of walnuts
* I should have done better here but I was on the go and this is what I ate*
Snack
One homemade Larabar
Coffee
Blueberries
Dinner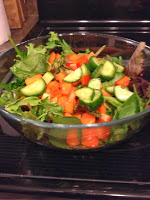 BIG salad full of avocado, cucumber, carrots, red pepper, raw pumpkin seeds and red leaf & romaine lettuce. Squirted some lemon juice on top.
Water to drink
Night Snack
I am hungry and grumpy:( I know I under ate a bit today, due to some last minute running around.
Half pomegranate
Peppermint tea



RECAP!