Morning!
I actually woke up feeling great:) I thought I would be starving but in fact it was quite the opposite. I wasn't too bloated and I felt light, not sluggish.
See my Day 1 update (including an end of day video recap!)
A few notes:
down one pound! *I thought it would be more but again, this is for health/skin/sleep benefits and less for weight loss (although I'm hoping for that!)
I will be keeping track of how much I spend specifically for raw/vegan food this week. It will consist mostly of veggies and fruit- so far I have spent $56.
My kids/husband are not following my diet for these 5 days. They do eat a plethora of raw fruit and veggies however (which I obviously think is awesome!)
This is not about deprevation. I'm supposed to eat as much fresh fruit/veg as I can. I can promise you I'm not starving myself at all! (and not counting calories either!)
Daily recaps will be posted at night!
Day 2


I spent the morning at the grocery store. Here's my raw/vegan haul (for a total of $56):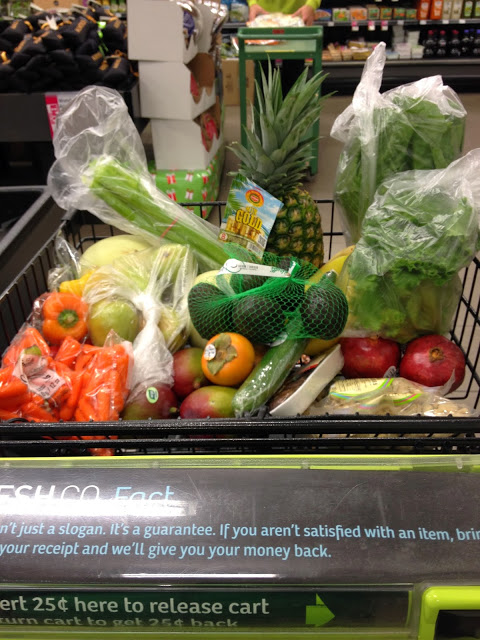 Then I came home and made homemade Larabars, using this recipe from Oh She Glows: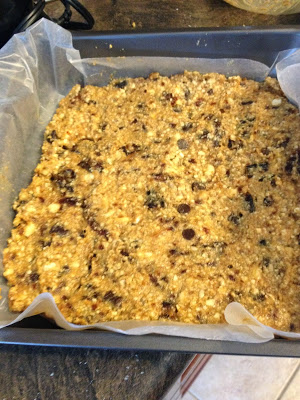 Dates and raw cashews, pulverized in my Magic Bullet. The recipe, of course, calls for some chocolate. I could not find anything that would be categorized as raw/vegan and I cannot stomach raw cacao nibs (I would rather forgo chocolate than add cacao). However, this recipe, even without the chocolate, is GREAT! Will be making again (FYI, I let it set for 30-45 minutes in the fridge or freezer so it's not sticky to the touch anymore. Once they are room temperature they are sticky again… not sure how to mitigate this but they taste good anyway!).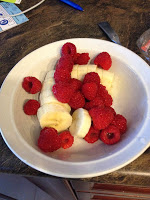 Breakfast:
-one banana, sliced
-half package raspberries
-one pink grapefruit
Snack:
– two homemade Larabars (YUM!)




Lunch:
-one sliced pear
-peppermint tea (2 cups, but only used one bag)
-one homemade Larabar (I need to stop but they're good. My sons are obsessed with them too)
Snack:


-half a honeydew melon
Dinner: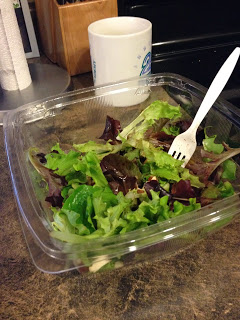 -large salad made of: romaine and red leaf lettuce, chopped peanuts (raw), chopped apple, and a cranberry dressing (cranberries and some olive oil in my magic bullet- a bit too tart for my liking so I just drizzled a smidgen for some taste).
*My salad was half eaten before I remembered to take a picture. It was MUCH larger than this!
*I'm going to a board meeting tonight, so I will likely have some more veggies after I get back. I will deserve it after resisting all the homemade treats the girls bring:(






Night Snack:


-whole mango- I actually eat the mango skin. I know, gross, but I think it tastes good and I read once that it improves problematic skin. Not sure if it's true but it's worth a shot, in my opinion!
-decaf coffee (at my meeting)
AND THE VIDEO RECAP!