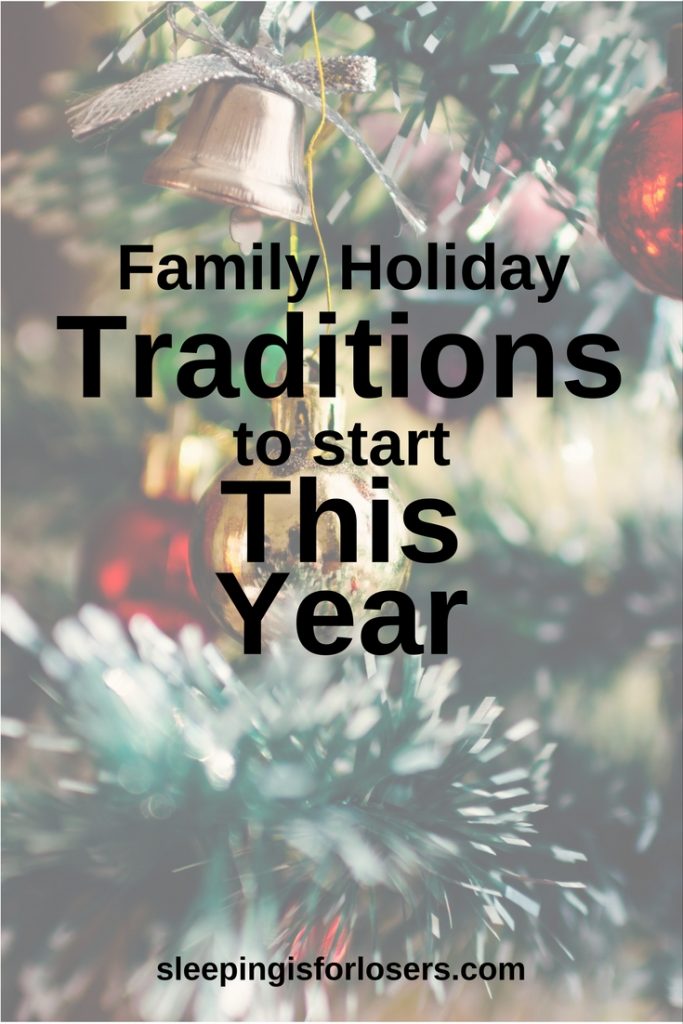 I love Christmas.
Even without snow (yes, I'm complaining about the lack of snow in my neck of the woods this time of year) there is something inherently magical about the holiday season.
I want to spend downtime with my family. I want to indulge in some of my favourite pastimes like baking, cooking, and reading. I feel the inexplicable need to sing (a lot!). I want to dive into the plethora of holiday movies (is there a new made-for-tv Christmas movie that Candace Cameron isn't in!?). 
But mostly I want to hold my kids and my husband closer and use the time we have together over the holidays to reconnect.
Christmas is such a busy time though, especially in the days leading up to the big day itself! The excitement, the last minute shopping, the new toys, the wrapping paper! They are magical days that deserve to be enjoyed and savoured.
 So this year,  in between all that mess and fun, why not adopt some NEW traditions that will allow a few moments of calm and closeness in the chaos of Christmas?
Here's what we as a family look forward to every Christmas  – make some of  them your own in your household this year!
Watch a holiday movie– One year my husband went out and bought 'Rudolph the Red Nose Reindeer' for the kids. We hide it during the year and (once we remember where we hid it!) we bring it out for a Christmas eve family movie night. We pop popcorn, hunker down and cuddle up under blankets, and watch those mean reindeer play reindeer games. It's a real special time before the madness of Christmas morning.
Take a holiday light tour–  Even if it's just your neighbourhood, a drive around to see the Christmas lights always feels special on Christmas eve. To up the fun factor, we stop for hot chocolate and cookies to enjoy on our drive – it's a very special treat for the kids!
Make cookies
–
 I always bring out my Christmas Crack recipe this time of year. The boys help me bake (prepare yourself, it will take so much longer than you anticipate when kids are helping!) and then we enjoy the fruits of our labour as a family.
Check out the recipe here
Open one present at a time– This is a hard one, but we sort our gifts by name and then open them one at a time. Yes, we are teaching lessons about patience and manners even on Christmas. We all watch each other open a gift and keep going until we are done. It prolongs the fun of gift giving/opening 🙂 If you're having trouble finding something for your kids or spouse, why don't you consider something completely different than the norm – give the gift of an experience (passes for trampoline parks or frozen yogurt are always a hit), lessons for something they've never tried before (drums, anyone!?), or a mini family vacation (even just a road trip to a water park is exciting!).
Family breakfast– Don't worry. The excitement of Christmas morning and opening presents always takes first place, but we do have to eat! We make it a point of having a special sit-down family breakfast of cinnamon buns, scrambled eggs, crispy bacon, and a fresh fruit salad. It's easy to make (pro tip: I buy Pillsbury Cinnamon Rolls…pop it open, bake it up, and you're done!), it fills our tummies, and it is a surefire crowd pleaser!  We also MAY indulge in a little grown-up coffee (ahem, Baileys!) one time a year:)
Be present– I am talking to myself when I say that we put the phones down. We might use them to take photos and videos of the gift opening but that's it. They go away for a few hours so we can put together race tracks, eat breakfast, listen to music and enjoy hanging out with each other. The phones make their way back into our hands, don't fret, but it feels good to turn off, even for a short while.
Preserve those memories
–
It's not easy, but try to take one good photo of your family together. We usually do a selfie as a nice reminder, year after year, of our traditions and our time together.
Now it's your turn to share! What are some of your Christmas traditions? What is something that you do year after year?