Focus was a goal for me in 2016.
It might seem like a silly thing to have an issue with, but I literally have a million and one ideas rolling around in my head at any given time, all fighting for the same attention. And quite honestly I didn't know how to wade through my thoughts and pick out the gems to work on. Throw must-do client work [day jobs, people!], 2 kids and a husband, and just general life into the mix and it usually lead to me giving none of my thoughts any attention and getting only half of the tasks done that I know I wanted and needed to accomplish.
Lack of focus is a frustrating cycle.
Although I tend to be a jump first, look after type of person, I really require time to think out my ideas fully and plan for them to be successful. I need to be alone with my thoughts, I need work through ideas, and I need to mull things over if I want to achieve my goals. That's why focus was (and continues to be) so important to me.
Over the course of last year, I really worked hard to discover how I could improve my focus in every area of my life – not just business, I wanted to improve focus in my relationships, in my work, in my fitness, in my planning & (yes!) even in more chores – so that I could do more and feel that sense of accomplishment that is so vital in creating momentum and, ultimately, success!
I wanted to share my ideas for focus with you because I feel like I'm not alone in this struggle. Maybe you're a new mom who is trying to figure out how to get everything done and still love on your child. Maybe you're launching a blog or business and need to get specific tasks done but are always getting sidetracked or overwhelmed. Maybe you're juggling family life and work life and doing none of it successfully. Heck, maybe you just want to focus on creating a manageable cleaning schedule for your home! Whatever it is, I'm living proof that making a true effort to improve your focus can make a huge impact in what you accomplish!
So here are a few different ways to capture focus and really create pockets of space and time to think, plan or execute exactly what you need to get done in order to move forward and attain your goals:
Wake up 1/2 hour early
UGH! I know, I know. I can hear you right now. But waking up just half an hour earlier than my normal wake up time was the biggest game changer for me. I currently get up at 5:30am. Yes, you read that right. But that half hour of additional time has absolutely impacted my focus and what I get done in a day.
I make coffee, have a shower, and sit down (even for 10 minutes) with my thoughts and a notebook and jot down whatever is going on in my mind. That's it. IT sets the tone for the day in a way that is calm and focused on one step at a time (coffee, shower, notebook). Once you are in the routine of waking up half an hour earlier and focusing on one task at time, you'll see such a difference in the way you move through the rest of the day.
Make a daily to-do list
I love lists, but a daily to-do list has given me the mental focus and clarity I desperately need to ensure that I get everything done that needs to be accomplished. I used to just keep those lists in my head (pre-kids when I had more braincells!), but I have found that the actual physical act of writing down tasks and then crossing them off as I finish them forces my brain to be more focused and in turn accomplish more.
I make my list during that extra half hour in the morning and keep it handy so I can see it all day long (yes, it even comes with me in my work bag or purse). From cleaning parts of the house to work tasks to activities for my kids – if I'm going to do it in the day, it makes it onto my list [and I know I'm not the only one who gets pleasure from crossing things off, right!!!?!].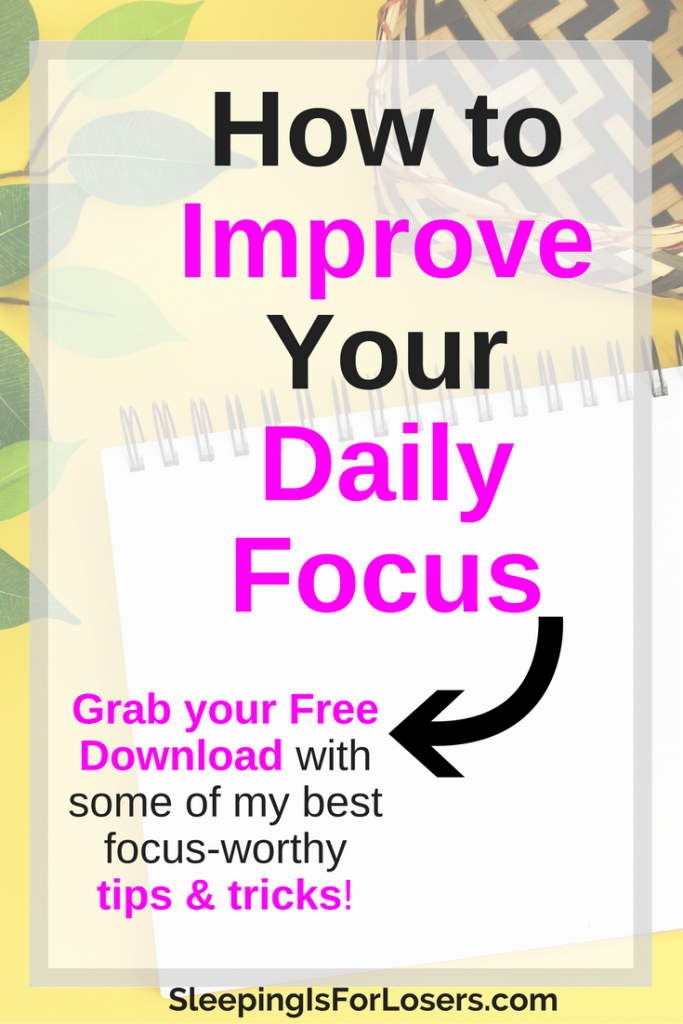 Know when you work best
I do my best work in the morning. My brain is fresh from sleep and my ideas seem to be sharper and have more clarity. If I give myself the gift of time in the morning, I can accomplish more before 9am than most people can accomplish all day long.
When do you work best? When are you the sharpest? When do your ideas and thoughts seem to have the most clarity?
Knowing when you are going to be at your best is half the battle when it comes to establishing focus – save tasks that require your focus for the time you work best.
Set a timer
I mean this very literally – I set a timer for every task that requires my focus and don't let myself do anything else until that timer goes off.
For example, I tidy my kitchen every night. To ensure I get it done and don't get sidetracked, I set the timer on my phone for 15 minutes and put the phone in another room. For those 15 minutes I do nothing but sweep, disinfect, load or unload the dishwasher, and maybe even mop if I'm feeling crazy.
I do the same for every task (work or home) that requires a singular focus. Even Pinterest (which I'm growing to love) gets a set time and I can go to town on Pinterest and only Pinterest until my timer goes off. Then I have to move on to another task.
Having that timer set allows me to have a singular focus with an end point. For what it's worth, it also really helps me when I am trying to finish a task that I dread!
Take a freaking break!
I have been known to sit down to work and not move from my seat for 4 hours. I can get so bogged down in what I am doing that I forget all about the things I need to do to be a regular human (like EAT or PEE!). Studies show, however, that breaks actually improve productivity and focus.
As I work at home, one thing I do is take a break and watch Netflix. I know that sounds counterproductive but I always turn off the TV and come back to my work with more clarity! If my kids are home, I take a break and play a couple games with them. When I was working at an office, I would leave the office for 20 minutes (even I just went and sat in my car, honestly!) and come back with more mental clarity.
Huge long periods of focus are actually counterproductive, so set that timer and force yourself to take a break!
Allow for silence
One of my biggest struggles in focus was that I never allowed for silence. I always had someone talking to me, some noise in the background, a podcast or music in my headphones or some form of distraction. I had convinced myself that I worked better with background noise, but I'm learning that to be truly focused I need to allow for silence.
Often my silence is found in that extra half hour I give myself in the morning. Without music or television, or even someone talking to me or around me, I can accomplish amazing focus and multiple tasks in a very short amount of time.
Want more tips!? Sure you do! Sign up for my surefire ways to gain more focus (and get the really important stuff DONE!). I've saved my best tips just for you!