I'm not the most organized person. 
If you know me in real life (or even virtual life), you're already laughing…because that's a bit of an understatement. I'm organized in my head – I make 'thought lists' all the time! – but unless you can live in my head and understand what I'm thinking 24/7, then I likely appear completely unorganized to you.
But that's changing this year. OH YES!
I'm big on resolutions (or promises to myself) and a major one for me in 2017 is to be more organized so that I don't end up running around like a chicken with my head cut off every single time I need to get something done or someone out the door.
So here are a few of the changes I am implementing into my life. I'm writing them here so that you can hold me accountable and make sure I actually follow through (you know when people say that peer pressure isn't a good thing – well in my case it's a great thing. I really need it!).
I have a central hub for backpacks & school items
Why didn't I do this sooner!? My kids used to come in after school, toss down their backpack somewhere, grab a snack and that was the end of it. I would never remember to go through their bags until we were about to go out the door, hats/gloves/boots/coats would be laying around haphazardly, and we would all scramble every single morning to get exactly what we need.
That changes this year!
I placed one basket right by the front door that we now use for mitts/hats/scarves (we're Canadian after all!) and in the summer we'll use it for flip-flops/baseball caps. That basket alone has saved me the morning hassle of trying to find even one glove for one kid.
I also purchased a bench for my front hall. Why didn't do this before? We now have a specific place to put our backpacks each day (and they're out in the open so I don't have one excuse as to why I haven't checked them!!) and somewhere to sit if we wanted to put on our shoes or boots.
I also put a coat rack & shoe bench right by our front door for all those coats that just couldn't seem to make it 5 extra steps to the closet!
THIS IS WHAT I HAVE BEEN WAITING FOR!!!!!!!!!!!! (never too many exclamation points in my opinion!).
So let me explain what Coosha is: it's a FREE family calendar app for your phone (iPhone currently, with Android hitting the market shortly) that will let you organize everything in your life and share it with the people who need to know!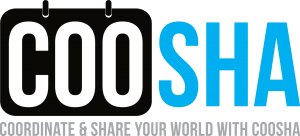 For example: I created a group calendar that I share with my husband that has dates for all the kids activities, trips we are taking, when I ordered special school lunches, work events, school trips, even playdates. Everything is right there in our phones so that we are both in the loop at all times.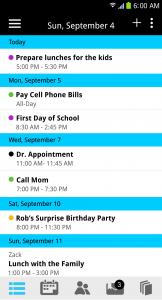 We have been using it for a few weeks and it has totally kept us on track (and arguing less because no one can ever claim they don't know what's going on – I know some of you can relate!).
But where this has really helped us is when one of us is travelling for work. If I need to loop anyone else into our calendar I can do that so easily (in fact, I just did it today with my mom, who will be helping with my kids while I am away in China!). I didn't have to type out a list or print off calendars and hope someone looks at them – everything is now on our phones that are already glued to our hands anyway! It gives me such peace of mind to know that everyone who is involved in the life of my boys now knows exactly what their schedule is and where they need to be.
I also have created a personal calendar right on the app that I use for my business – that has been really helpful! Everything gets colour-coded and I decide what to share and with whom. Genius!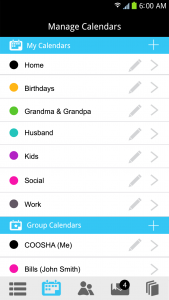 One more thing, for a list girl like me – I now use Coosha's "to do list" feature and get everything out of my brain and onto my phone. This was a feature I used religiously when I was releasing my e-book. I used to make lists on random scraps of paper that would take me hours to fine (so efficient, right!?) but now I type out my "to do" list on the Coosha app and it's always there on my phone (which I never am without).
Gushing, gushing, I know, but for a girl like me who runs her own business and runs her whole family, this really is a game changer.
I am sure you are going to find the Coosha app as useful as I do, so stop what you're doing, grab your phone, go to the app store (here's a direct link for you) & download it right now (it's free so that makes it even more enticing!). It's also really user-friendly so you won't be struggling with any of the tech [always a worry for me, but if I can use it anyone can!].
Because some of you asked, here's what the app looks like right on my phone (I just love the world we live in right now, don't you!?):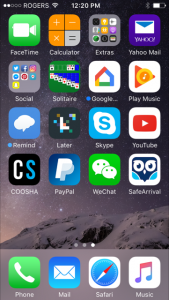 I do a nightly tidy
Ok, I'm not reinventing the wheel here, but I doing a really quick nightly pick-up of things that are laying around my house has made my life so much easier. I literally walk around and pick up anything that's not where it's supposed to be and find its home before I go to bed. It's such a simple thing but it has made my mind feel like it can be clear and rest [which is such a gift for someone who feels like they never slow down]. But to go hand in hand with this:
I gave my boys chores
And they're non-negotiable.
My boys are now 5 & 7 years old and more than capable of tidying and pitching in. We've started small: each is responsible for their own room, making their bed (although I am not huge on this), and putting dishes into the dishwasher. My eldest is also my messiest so this has been very difficult for him but he's getting there. My youngest likes to clean (go figure!) so he has been an amazing help to me. In fact, he likes to clean so much that he took a spray bottle of water and some paper towel and went through all our bathrooms to "clean like mom". Yes, it created more of a mess for me, but I'm proud of the effort! 🙂 #momlife
I got some help & didn't reinvent the wheel
Seeing how useful and actually life changing it was to use my Coosha Calendar app, I also got some help in other areas by downloading ebooks or guides about clutter & cleaning from people who really like to clean and organize and are really good at it. I particularly like this bundle, but there are so many good things out there that can guide you in creating a more organized life. I work well with step-by-step guides and well laid out plans, but if you have a different style I am positive you'll find the right fit by doing some digging online (or checking out Pinterest!). And I'm pretty sure some of you that are reading could teach me a thing or two about organization, so I would LOVE to see your posts/ideas/suggestions as well – leave me a comment!
*
So there you have it my friends. In 2017, Sarah will be an organized person who knows where she is going, where things are when she needs them, and teaches her whole family to participate in the organization process as well:)