Instagram has been a complete game changer for the growth of my blog.
Complete. Game. Changer.
When used correctly, Instagram has the power to connect people with you as a person and a business/blog owner in a way that no other social media platform does. In fact, Instagram has the power to connect you with millions of people all over the world thanks to it's explosive growth over the past year. The growing number of users, coupled with it's unique image-based delivery method, has made Instagram the go-to social platform!
But are you using it right? Maybe not.
Like any social media platform, it can be really tempting to jump on and try to amass as many followers as possible. But on Instagram, more followers does not actually translate into more readers for your blog or users of your product. In fact, a huge following on Instagram generally translates into little more than the potential for a sponsored post here or there [so, not much at all].
So if your Instagram goal is just collect as many followers as possible, I'm here to tell you you're using it completely wrong and taking advantage of Instagram's true power!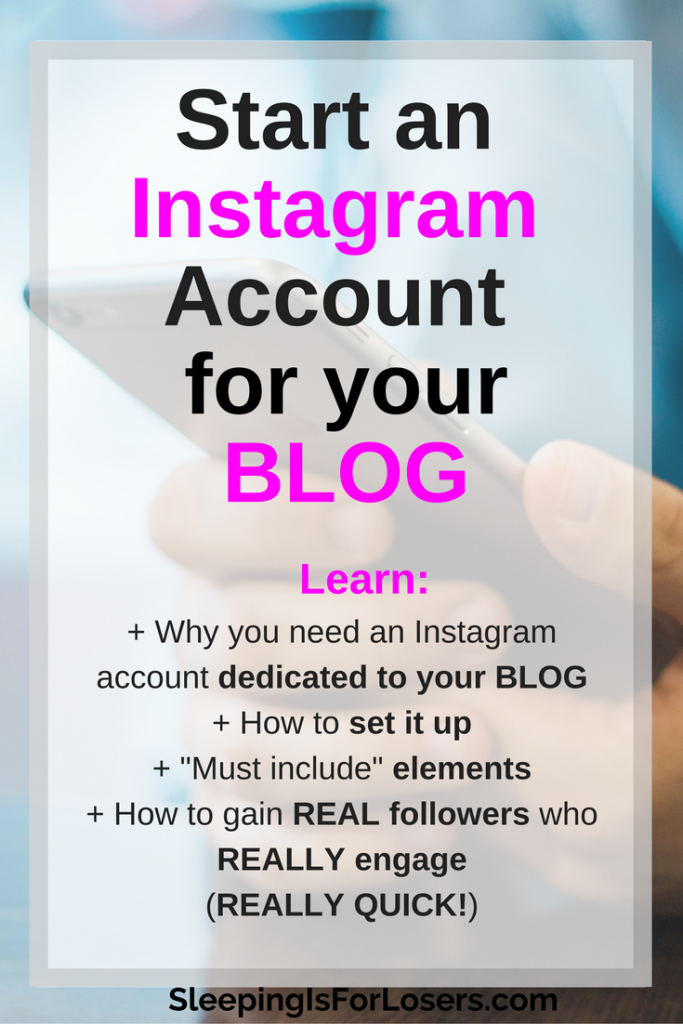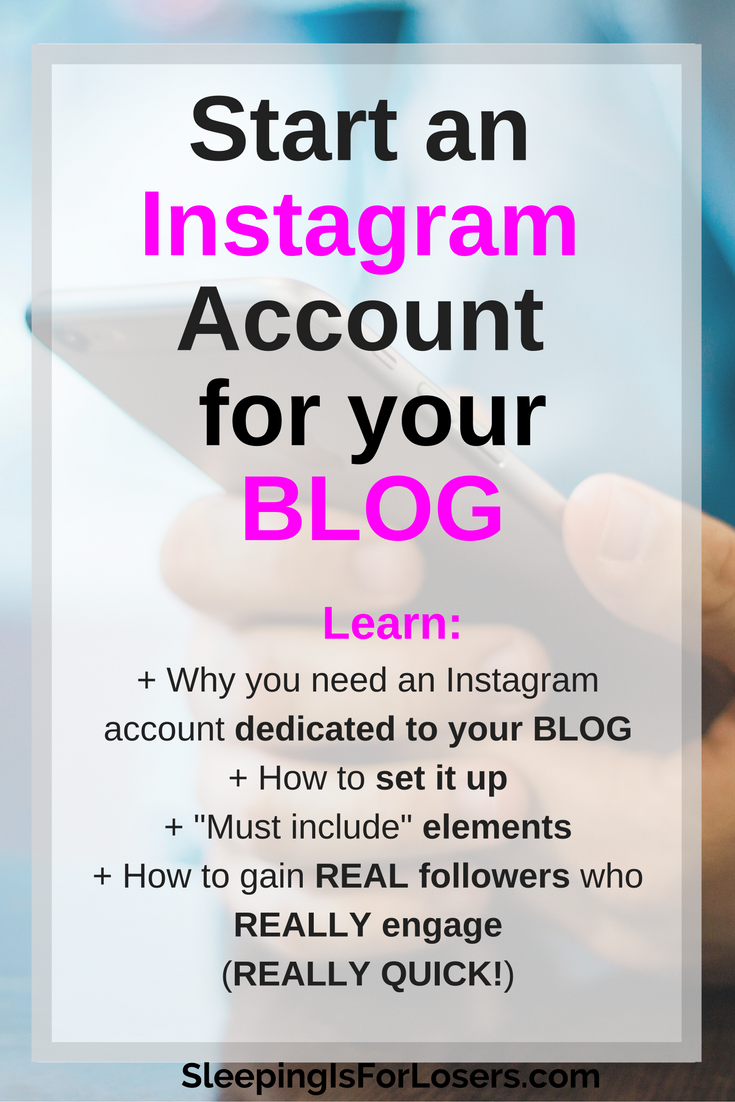 Instagram is special compared to other platforms in that it requires anyone who is interested in you or your product to purposefully take themselves to your Bio page and click on whatever link you provide for them. It doesn't allow a clickable link in your photo description. That means that you not only have to capture their attention with the images you post, but also your description of those images…and you have to capture their attention enough that they make a conscious choice to take themselves to your profile in order to learn more about you and what you have to offer. Anyone in marketing knows that making a possible reader/consumer do any extra work to find out about you is considered the kiss of death…and Instagram makes you jump through more hoops than any other social platform!
But don't fear! There is absolutely a way to grow a fantastic following of dedicated individuals who care about you and what you have to say (and almost always click on the links you leave them in your Instagram profile!).
How?
Well, it starts with having an Instagram account dedicated ONLY to your blog or small business.
Trust me, I can hear you right now! "But my personal account has a lot of followers!" "I've spent hours posting pictures to my personal Instagram account!" "I'm the face of my blog or brand so why wouldn't they just want to follow me!?"
I've heard all the push back and my only counter argument is to say again, if you don't have an Instagram account dedicated solely to your blog or business, you are doing it wrong!
Social media is about building a community of followers who care about the thing you are providing them. If you have a haphazard account full of pics you have thrown up here and there, with no specific focus, rhyme or reason, then you simply will not be building that community in a strategic and impactful way that will result in people visiting your bio (on purpose!) and interacting with the link you leave for them. In fact, you'll be building the exact opposite of a community and potentially deterring people from become raving fans and followers of your blog/business.
So what are the next steps?Let's break it down:
Start a Brand New Instagram Account for Your Blog/Business
To really harness the power of Instagram, you need to start an account dedicated solely to your blog/business. Here's how:
Using your mobile device, visit the App Store and search for "Instagram". When you find it, download it (it's free!).
If you already have Instagram on your mobile device, go to your current profile page and hit that "sun" in the upper right hand corner. Then scroll all the way to the bottom and hit "Log Out".
Now, start a brand new account, following the prompts on the screen:
Fill in your email address [you may need to use a different email address than you used to begin your personal or current Instagram account]
Upload a photo [preferably one that is different from the one you use on your other Instagram account], full name, and password.
Create a username [this should be the same as the name of your BLOG or BUSINESS (or at least very similar…if you can't find your blog's EXACT name choose your blog name with the word "blog" after it or a shortened version of your current blog name…for example I chose "SleepIsForLosers" because my actual blog name was already taken!)
Enter your bio & a link to your blog/business website (you can always change these later…see the next steps!).
VOILA! You're all set up!!!
And now your blog or business specific Instagram is all set up! See how easy that was?!?
Create a REALLY GOOD Bio
Don't underestimate the importance of a good bio! If the content you are posting on your new Instagram account is enough to interest someone to click on your bio, you want to interest them! Here's a look at mine: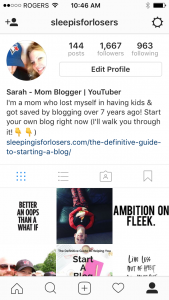 A good bio will show a potential reader or client that they are in the right place. When you look at mine, you know immediately that I am a mom & a long-time blogger. Those two things immediately tell you if I'm someone you want to interact with. Remember, we are looking for followers who give a hoot about us and what we do, not just as many followers as we can amass!
Include a Direct Link to your Website
I can't tell you how many people miss this step! When you are editing your profile, put a link in the "website" section. This will automatically make it clickable in your profile! Here's a pro tip: Consistently update that website link so it goes DIRECTLY to your latest blog post or offering.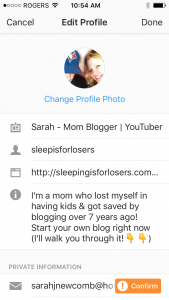 Now You're Ready to Grow your Instagram Following!
If you want to scale up your Instagram account quickly with quality followers who actually CARE about you and your product, I an essential created a guide for you! "O to 1000 Instagram Followers [Real Quick]" is a no-games, no-BS step-by-step guide to growing your Instagram following with real followers who really engage and become real readers or customers…all in less than 6 weeks!
Contrary to the advice you may have heard, Instagram is not about growing a massive following of fake followers who don't give two hoots about you, your blog, or your product. Nope!
Instagram is about attracting the RIGHT followers who care a lot about you and your blog/business & become real fans who interact, engage, and tell others about you!
My guide is proven to work, proven to get you real readers/followers, and proven to get you results quickly if you put in the work! 
Click here to buy my all digital e-book for immediate access to all my Instagram secrets and the exact method I used to grow my blog's Instagram following and get over 100 blog visits PER DAY directly from Instagram (without a fake, massive following)!