Ok, so my 10 year anniversary celebration was supposed to happen in Paris. Or Italy. Or Greece. Heck, I'd even thrown out the possibility of Germany or Sweden. In essence, I was supposed to celebrate 10 years of marriage in Europe (or very, very close).
But we didn't.
We couldn't.
We have two very young kids and a week away to spend all our savings was just, well, not in the cards.
So we improvised. And we sped down the highway, about an hour and a half from our house, to stay in Niagara Falls.
A place we have been quite a few times…but a place we have never been to celebrate 10 years of marriage. So we agreed to have as much fun as we could pack into two days!
On our drive down, we stopped off to do a bit of wine tasting. No trip is complete without a visit to Niagara's wine country. Our first stop was Reif Winery. A winding path lined with mature trees leads you into this estate winery, where you can sample (and purchase) the best wines Niagara has to offer (in my humble opinion). We opted for two bottles of their Shiraz and two bottles of their Riesling. *pro tip- if you purchase wine, most wineries will waive the 'tasting' fee (generally between $5-$10 per person).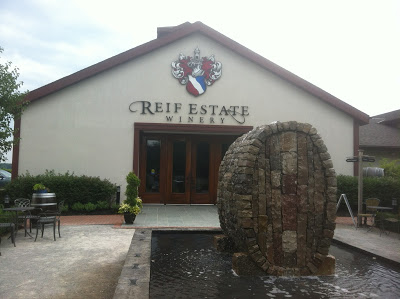 The first time we visited this gem, it was a teeeeeny, tiny establishment with some tasty wine. It is now one of the loveliest wineries in Canada.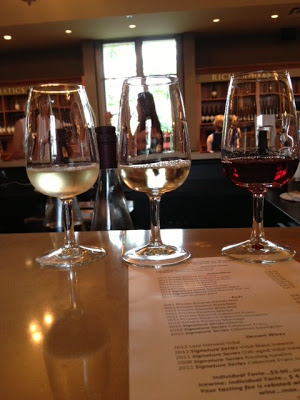 We shared our tasting glasses (one of us had to drive, of course… white for him, red for me. Who am I kidding? White for me too!)


After leaving Reif, we stopped in at a few other wineries nearby, just to make sure we weren't missing out on any hidden gems (we weren't but that won't stop us from trying!) and made our way to our hotel.
We stayed at the Doubletree Hotel, which is about a 10 minute walk to the Falls. It's also a 10 minute walk to Clifton Hill (where all the fun happens). And it is the quietest, cleanest, loveliest hotel in Niagara Falls. With an indoor salt water pool and two hot tubs (one indoor, one outdoor), a sauna, a fully equipped gym, and a Starbucks right in the hotel lobby, it is the perfect 'getaway' hotel. Sure, there are hotels that are only a 5 minute walk from the Falls, sure there are hotels that a bit glitzier (with casinos and free drinks) but I have never been disappointed when I stay at the Doubletree. *pro tip- you get a fresh, warm cookie (one per occupant)on your arrival at the Doubletree. They are so, so good and so, so welcome after sitting in the car for hours!
And then we just did what any couple celebrating their 10th anniversary should do…
We fell asleep:) No, really, those beds are crazy comfortable. We slept like little babies (although we didn't go so far as to sleep in separate beds- we'll save that for our 20th anniversary).
But then we got our butts out on the town and really celebrated our 10th anniversary.
We went to Margaritaville (mucho disappointment). The wait was crazy long, the service was awful, the food was freezing and too expensive. The only saving grace was that the drinks were HUGE!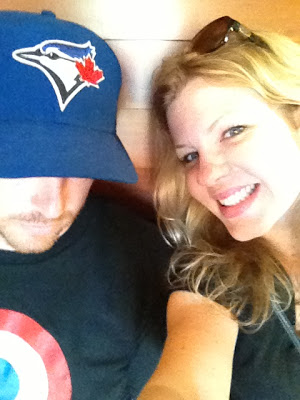 Chris fell asleep waiting to be seated. I was having a blast (you know, the drinks were REALLY REALLY big!)
We went on the Maid of The Mist. For about $40, the two of use heard the roar of the water and felt the mist of one of the world's seven wonders up close and personal. I had done it once before, but it was Chris' first time. And it was so spectacular- I cannot tell you how amazing it is to see that kind of beauty up close. *pro tip- go early in the day (before 11:00 am). The lineups will still be about 20 minutes, but they will move quickly. After 11:00 am, your wait can be hours!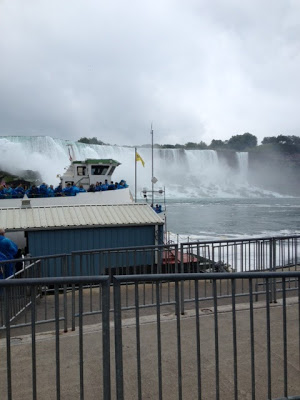 The Maid of the Mist, all ready to go!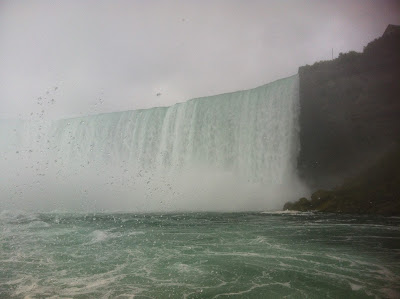 The majesty of the Falls. So much mist, our camera was soaked! (and so were we!)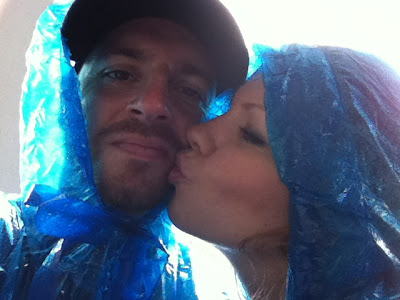 Our Pam & Jim moment (you did watch The Office, right?)
We rode the GIANT carousel on Clifton Hill. It was $25 for the two of us, but we had a great time, met a lovely couple from Bolivia while in line, and had the best view of Niagara Falls…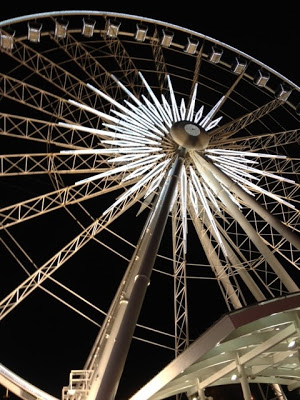 stunning at night
Oh, and totally got photobombed. *pro tip- go at night! The view is killer and it just feels more fun.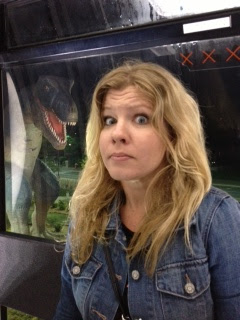 Ummmmm, do you see what I see? (and I just want to mention it was very humid, which explains the hair)
We drank (SO MUCH!) champs and ate a steak & lobster dinner all while taking in a gorgeous view. (The Keg-overlooking the Falls- treated us like royalty!) Every single time we visit Niagara Falls we make a reservation at the Keg overlooking the Falls. The service is outstanding, the food is always fantastic, and the view (no matter where you sit) is great!! I called ahead to have champs waiting for us on the table (how romantic of me) and the manager could not have been more amazingly helpful! *pro tip- you must make a reservation! We watched people be turned away the entire evening (and this was a Thursday!).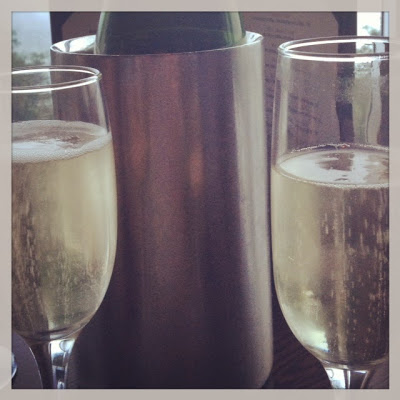 Champs. (you do watch Real Housewives of Orange County and understand what I'm talking about, right?)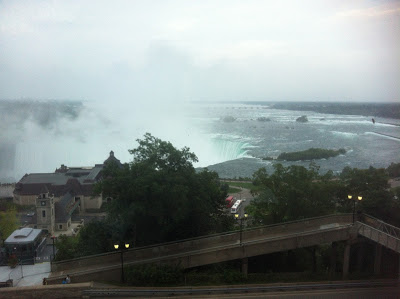 The view from our table. No zoom. Just this.
We had ice cream every night.
We got new rings… one tattooed for eternity, one encrusted with diamonds. I didn't even ask for it- he just did it all on his own.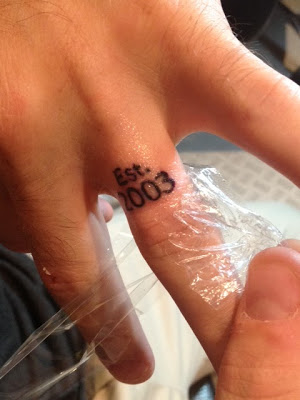 His tattoo. We were established as a married couple in 2003. This is the most romantic thing he has ever done for me- hands down.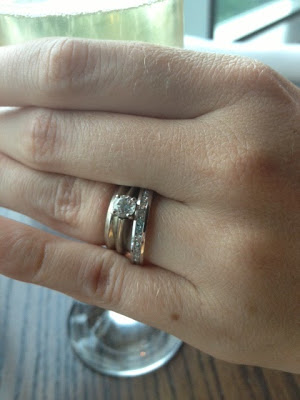 As if the tattoo wasn't enough, he went and added some sparkle to my ring finger. Oof. This guy!
We were straight up insane for I-Hop (helllllllllllllllo peaches and cream french toast. It was ah-maz-ing)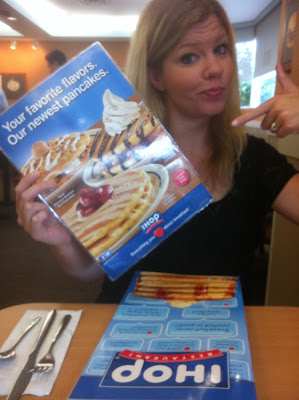 So much goodness.
We stayed up late! We woke up early! (of course)
We visiting Kurtz Orchard Market and got fresh-off-the-tree peaches and plums, and an assortment of homemade jams and butters for our babysitters (also known as our parents). This market is such a gem- you can get fresh pies, jams, butters and an assortment of oils and spreads. They also serve food to go, so stop in for lunch during your wine tasting adventures! *pro tip- if you spend over $50 they will generally give you 'free wine tasting' passes to a few wineries in the area, so stop there BEFORE you go on a drinking adventure!
Free samples! I'm there!
We walked endlessly. But we had so much fun doing it!
10 years. Crazy to think that a 22 year old and a 23 year old who had not even known eachother for a full year when they said "I Do" made it this long.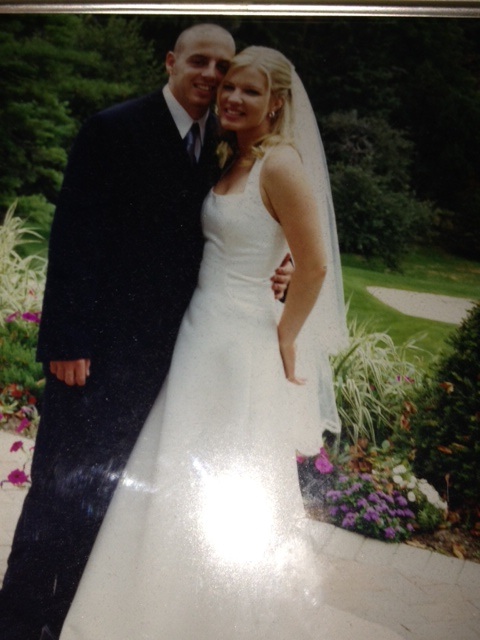 Us, 10 years ago. So young. So happy. So not aware of digital photography (yes, I took a picture of my wedding picture).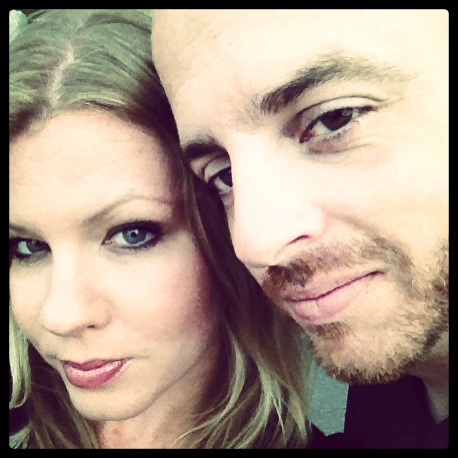 Us today. Using technology. Oh, and living a really freaking amazing life!!!
Might not have been Paris, but it was an amazingly great time!
*PS- did this sound like I was given anything for free? I wasn't (I PROMISE EVERYTHING CAME OUT OF MY OWN POCKET). (so when I tell you Margaritaville sucked and the Keg was amazeballs, I mean it!)