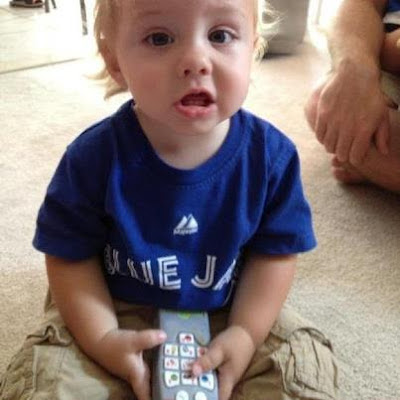 This is my kid. He's 14 months old.
Don't let that sweet, innocent, who me? face fool you. This kid is intent on torturing me.
Every night for the past week, this child has undone his diaper while sleeping in his crib. And he has awoken at about 2am, soaked in pee, crying uncontrollably. He insists on being changed (wouldn't you?), getting a new bottle, and then (mercifully) falling back to sleep…only to awake again at 5am. Soaked. Because he has, again, undone his diaper. Insisting on being changed and having another bottle. Then falling back asleep. Are you seeing a pattern here?
I am at my wits end. I have put this kid in every type of outfit imaginable to sleep in. Two pieces. Shorts with a tight waistband. Onesies. Every time he has managed to get his hand into his pants, undo his diaper and fall back asleep, content with the knowledge that he will pee himself and force his mother to stumble into his room and change him. And get him a nice, warm bottle as his reward.
His diaper is not too tight. His clothing does not bother him. He just likes the feeling of flying free. Given the opportunity, this one will be naked every time and apparently the night time is that opportunity.
Last night I didn't bother to change his bed sheet. THAT WILL TEACH HIM, I thought. ENJOY SLEEPING IN THAT PEE, I chuckled. It didn't teach him anything. He just woke up smelling like a urinal, with an undone diaper and a smile on his face.
And short of fashioning some chastity belt-like diaper or full body suit of armour, I am not sure how to stop him from releasing his bird every evening. Because, while I'm all for air drying, I'm not all for multiple loads of daily laundry/urinal smelling/bird freeing 14 month olds that disturb my utterly precious sleep.