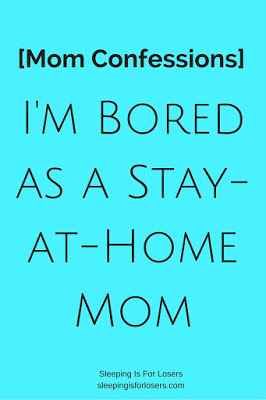 When I went back to work after having my first son, I resented everything about being there. I hated every second I was away from my kid. I hated not hearing his voice all day. I loathed the fact that someone who wasn't me saw him dance for the first time, introduced him to Nutella, and that his favourite moments of the day all involved people that weren't me.
I resented the amount of money I was paying out for daycare versus money coming in from my job. I was angry about my long commute (which was coupled with morning sickness on a regular basis because I pretty much went back to work pregnant). I just was unhappy.
So we changed it all. I quit my job and took a contract that allowed me to work from home on a part-time basis. Amazing. I signed my big boy up for preschool and my wee one for daycare two mornings a week. Perfection. I am here for everything- the nose wiping, the laughing fits, the meltdowns, the highs & lows of the day. Fantastic. My wee boy doesn't even know life without mommy at home. My big boy can't even remember a time that I wasn't here for him. They get breakfast lunch & dinner at home. They sing their ABCs (well, Z does), colour, play and watch tv. All with me. THE BEST.



THESE TWO BOYS=THE BEST PART OF MY LIFE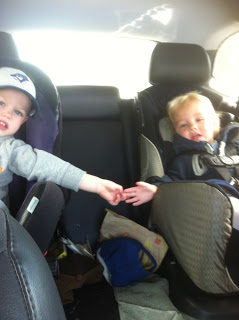 HOWEVER, there are days, sometimes weeks, that I am kind of bored with the whole routine. And I feel guilty for even putting it out there, because all I wanted when I was at work was to be home with my babies. And it's still all I want. But the monotony of our days can get to me sometimes, because most days are carbon copies of the day before.
Wake-up, play, breakfast, tv, errands, lunch, nap/quiet time, play, dinner, bath, bed. REPEAT. REPEAT. REPEAT.


We do something different every day- we go to the library, walk to the park, have a playdate, join a playgroup, bake, dance, sing, colour, make a craft- but it often feels like our days are different, but the same. I spend the afternoons trolling Pinterest for fun activities that take me 30 minutes to set up and 5 seconds for the kids to destroy, rip, spill, ruin. I referee constant fighting (and I mean CONSTANT) over dinos and cars. I turn on the TV in an attempt to sip a cup of warm coffee. I am always searching for a moment of normalcy, quiet, peace. I miss break time at work and chatting with my colleagues.
And don't get me wrong, I adore being home with my kids. I love seeing them every single day and hearing their every thought (good or bad), and being the one to introduce new and exciting adventures into their lives. I love seeing them grow and learn. I really do appreciate the ability to be here all the time. It's just that, in all honesty, being home can be boring. And we might just be the most busy little family you've ever met but that doesn't necessarily make our days less same and less boring.
I highly doubt I'm the only stay-at-home/work-at-home mom who feels like this on a regular basis. I highly doubt I'm the only blogger who has ever expressed feelings of boredom with the sameness that life at home can bring. But it leads me to wonder… can we ever be truly happy with our status in life, or are we always searching for something more? Something bigger, brighter, more entertaining… different? Is everyday life every truly ENOUGH?