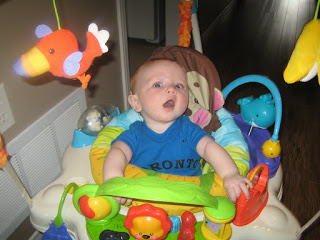 The Rainforest Jumperoo from Fisher Price is hands down the best thing I have ever bought for my son. He is a jumping machine when he is in it!!!
Zachary used to love to jump on my knees. He would bounce and bounce and giggle and bounce. Great workout for my arms, but I couldn't keep him going for long enough. So, I sucked it up and bought him this giant bouncing machine from Babies R Us.
He cried the first time we put him in it…until he realized he could jump in this contraption. He got the most amazing, serious look on his face, and he JUMPED! Man, did he JUMP! And he hasn't stopped since. If I let him, Zach would spend the entire day in the Jumperoo. He has begun to discover all of the moving parts, like the lion, hippo, polar bear, and whale, and the hanging banana and tucan. He squeals when he makes the music come on and stops jumping and leans forward to get a closer look at the spinning lion, who happens to be his favourite this week.
Jumping is serious business for this 4 month old. One should never make the mistake of touching his Jumperoo during a jumping session- it will result in unconsolable tears. Zach, however, doesn't mind if people clap and tell him what a great jumper he is…in fact this might be his favourite part of the jumping experience. He is my child afterall…and we all know how much I like praise:)
I'm loving seeing my little jumping machine grow and discover new abilities. It's amazing how they change right before your eyes!