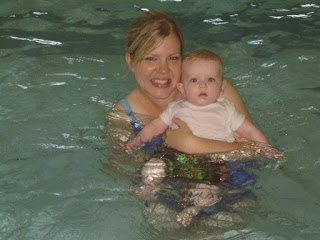 Hey!
We had our first swimming lesson today. I don't know what babies are supposed to be able to do after all the lessons are done, but it sure was fun!
We sang some songs, splashed, kicked and dunked. I wasn't paying attention and ended up dunking Zach more then the instructor said to…oh well, he didn't seem to be too bothered by it. However, I probably should attempt to pay better attention to my poor baby:) The worst part of it, for me, was wearing a bathing suit!! The HORROR!
Since Chris was home, he was able to take some pictures of Zach at his fist lesson. I think he had a good time (Zach, that is). He was pretty quiet and just watched what was going on, but he never cried or whined or fussed…which I was absolutely expecting from him. I hope he really grows to love the water like I do!
Happy that it's Friday but sad that Chris will be back at work on Monday. It has been really nice having him around to hang out with Zach and I!