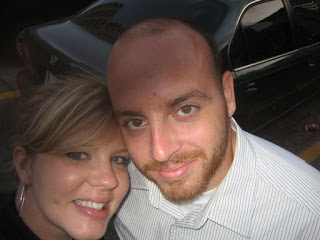 Every once in a while we are blessed to have Zach's Nanny (Chris' mom) come over and baby sit. She generally comes once a week and I go out to Walmart or the dentist or whatever, but this week Chris was home recovering, so we took the opportunity to go out on a date. Like real big people:)
We went to Grazie, our favourite Italian restaurant in Toronto. It had been so long since we had the opportunity to sit down and really enjoy a meal- so we went all out! We had brushetta and a lovely drink (pom martini for me, some weird wheat beer for Chris). I had Napoletana, which is linguine, shrimp and mussels in a tomato sauce. Delish!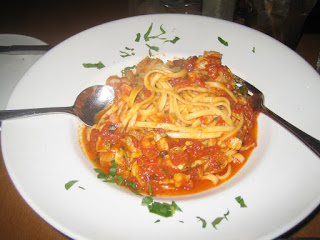 Chris had Tosca (some type of stuffed pasta with a creamy tomatoe sauce and tons of ooey gooey cheese inside). Because we are wild, we also had chocolate cake and coffee for dessert!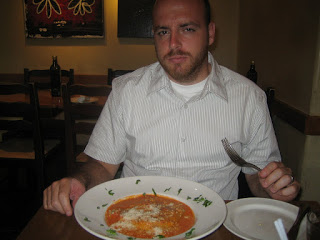 It was so fun to hang out- and when we arrived home, our little man was in bed!! Nanny did a great job:)
As a side note, Zach decided he neither wanted nor needed a nap this morning. So I took him to Babyville (our mom and baby group). I thought he would be a terror but he was actually quite sweet and stayed awake for 99% of the time we were there. It was our last class and I'm really going to miss going- it was nice to talk to other Whitby moms and hear what they had to say! On the plus side, Big Z has now been napping for 1 1/2 hours….hopefully he'll make up for his lack of nap this morning!