When was the last time you printed out a photo and hung it up?
Still thinking?
Ya, I gotcha!
To be honest, as much as I love taking photos, I am the worst for actually printing and hanging them. In fact, the last time I printed a photo was for this: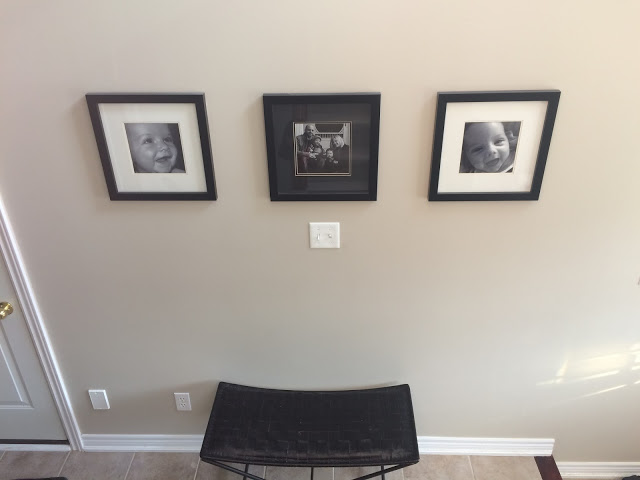 If you have been following my family, you would know that these pictures – currently adorning the front hallway of my home – are from almost 5 years ago. That's right. The last time I printed a picture was 5 years ago. Oof.
I suppose it is merely the digital age that we live in but it seems so passé to even consider printing out our photos. And yet, having photos on display is one of the things that gives me immense joy each and every day. I love seeing those happy memories in full view – the ones that make you smile each time you see them.
For me, one of those pictures is this selfie (shocker!) that my family took while we were our on a boat during a week that we rented a cottage this summer.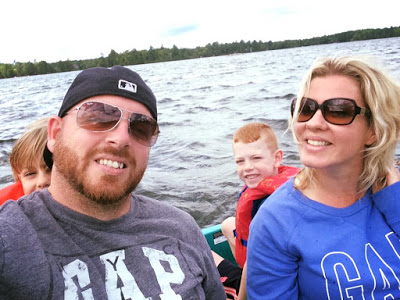 I don't know that the picture itself is particularly amazing, but the memories that it brings back are absolute perfection. A week of sun and sand, boating on the water, swimming off the dock, bonfires & marshmallows. It was a week of connectivity and togetherness that really made an otherwise boring summer something to remember fondly – one of those family times that made us all a little more connected.
I knew I wanted to print out this memory but, again more honesty, the chances of me running out to the store to print it, finding the perfect frame and getting it up on the wall are pretty slim. And so I just tucked it away digitally…until I heard of Canvas Factory.
Here's what I love [and truthfully exactly what I need if I am ever going to print out my photos!]:
1) Canvas Factory allows you to choose your digital photos for printing SO EASILY (you can even choose from Facebook or Instagram… that's such a bonus for this social photo sharing mama!)
2) I was able to order my canvas ONLINE with a few clicks of my mouse. REALLY. It was so easy!
3) It comes ready to hang. I don't have to search for a frame that's the right size.
4) The canvas is such high quality. It is wrapped beautifully and the colour quality is perfection.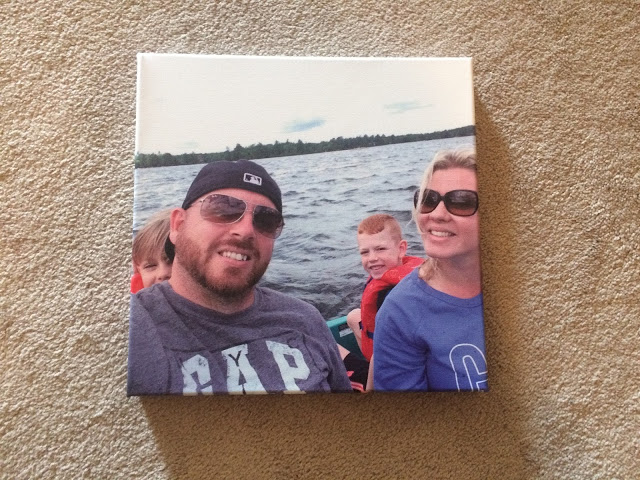 Perfectly wrapped – no corners sticking out or distracting from the awesomeness of this photo!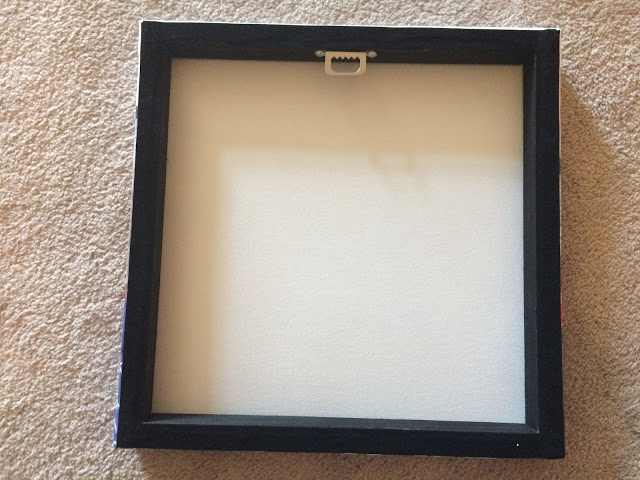 Easy to hang! I promise… I did it MYSELF (and that never happens at my house!)
5) Your photo gets delivered right to your HOME! YOUR HOME! I was in yoga pants and a bun when it was delivered, people. That is exactly what I'm talking about.
So, in reality, it takes the excuses out of not printing your photos because Canvas Factory has made it so uber-easy to get your precious memories wall-worthy in just a few clicks of a button. AND they have built-in filters and options that make this selfie-queen's heart sing!!
Now my precious cottage memory now hangs proudly in my upstairs hallway, right between my kids' bedrooms. A space that has been vacant of anything for the entire 6 years we have lived in our home!
I get to pass it multiple times each day and each time it puts a smile on my face [and it puts a smile of the faces of my boys as well]. I am not sure what took me so long, but I'm so, so, so glad I finally got around to not just printing but also hanging our family photos!
And now I want the same for you!


Thanks to Canvas Factory, one lucky winner [Canada & US only] will be getting their own Canvas Factory print to proudly display in their home. Let's get printing and displaying those memories!!!


I know you will love your Canvas Factory print – and cherish those memories everytime you look at them – just as much as I do.
This post and giveaway are sponsored by Canvas Factory, however all opinions are my own.