Ah, it's that time of the week. Time to link up for my mid-week confessions. This week's instalment will focus on why I'm such an AWFUL mom according to the people of Twitter.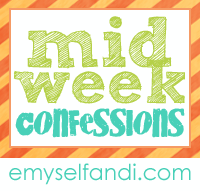 I usually love Twitter peeps- they share awesome information and I can get an answer in a nano-second. HOWEVER, I started a slight firestorm recently and it has snowballed from there…so, without further ado, here's why Twitter thinks I'm a bad mom:
I am #sleeptraining. I actually have sleep trained both my kids. I do a "sarah version" of sleep training- I'm not following a book or a prescribed plan, just a modified method of "GO TO SLEEP BECAUSE I'M TIRED". I have never been tweeted so many articles about how crying it out is harmful to kids and how I am ruining my baby for life. For the record, while there is some (very mad) crying involved, I'm not "crying it out" and I'm not ruining my baby.
I #bottlefeed. I probably don't need to expand on why I'm awful for this one, but I will anyway. Nursing is best. I agree. But if you don't have the milk to feed your babes, then you bottle feed. Because I'd rather have my baby FED formula then STARVE.
I once tweeted that I was buying #formula and #babyfood. Oh, the humanity! Listen, I make about 90% of W's food (and 100% of Z's food) but I have a few jars of apple sauce and prunes on hand, just in case. Sue me.
I (jokingly) tweeted that I love to use TV to entertain the 6 month old. #tvbabysitter. Arg. I was joking people. BUT, even if I wasn't, I'm pretty sure that it didn't warrant being asked "why I ever bothered to have kids". Seriously.
I don't #babywear. My kids get so much love and attention from me, that I can promise you. However, neither of them enjoyed the sling or Ergo. W didn't mind it for the first two months of his life, but he's since grown very fond of moving on his own and wants the freedom to do so. I love the idea of baby wearing, but my kids just weren't into it.
(this confession has nothing to do with my kids)- DID YOU KNOW THAT R. KELLY HAS MADE MORE CHAPTERS FOR "TRAPPED IN THE CLOSET"??? This, my friends, is awesome news that really had to be shared!
Edited to add: I'm not trying to be right (as some people eluded to on Twitter today…lol) I'm just trying to explain why I make the choices I make. As I have said SO MANY TIMES- parents should make the RIGHT choices for them and their children. Respect.