My son turned 5 a few weeks ago. FIVE.
Originally, we had planned to rent an indoor play place, let the kids run wild, fill them up with pizza and send them on their way.
Problem?
I couldn't find a single play place to rent for under $300, once taxes, "necessary extras" and food were factored in. In fact, the place I wanted to rent the most would have cost us $360 once all was said and done.
As you'll find out in the coming months, my husband and I are trying to be better with our money- not spending money just because we have it or going all out simply because we can. We know that a 5 year old does not need a $300 birthday party (however, if you want to spend that, and it fits in your budget, by all means do it- and invite us!!!) and I couldn't bring myself to spend half a freelance cheque on a birthday party.
So, after a few hours of googling and pintresting, I decided to throw my 5 year old an ART PARTY (wait for it…) AT HOME.
And here's what happened:
1) It was awesome!
2) I spent LESS than $100 to throw a 2 hour party for 11 kids! (the dollar store=awesome)
3) My son was incredibly happy (and that's the point of a party, right?)
Want to throw an amazing art party for you child? Here's what I did (with a few pro-tips and actual costs thrown in for good measure):
For our party, I decided we would tackle two art projects. Keeping in mind that these were FIVE year old kids, I kept the projects simple and manageable (I might have been a teacher for 8 years, but my husband isn't/wasn't and I needed him to stay sane during the party!).
First, I found these awesome loot bags, that came with a package of markers, for kids to colour.
I laid them out on our kitchen table and, as the kids arrived, had them choose a bag and sit down to colour. This was really smart (if I do say so myself) because it took away the hectic, "go crazy we just arrived at a party sans-parents" atmosphere and got the kids busy with a project they could do independently.
It took about 15-20 minutes to colour, some lasting longer than others depending on their love of art:) We had already set up toys in the living room and, as kids finished, they wandered over to play.
Cost: $11 (each bag was $1- found at the dollar store!)
Pro-Tip: Have each kid write their name on their own bag AND put their markers into their bag once they're done.


About 1/2 hour after all our party guests arrived, my husband played a bean bag toss game with the kids (pro-tip: keep the party moving quickly- move from one activity to the next with as little downtime as possible!) while I cleaned up the loot bag colouring (not much work as they had put their own markers away) and I set up for painting bird houses.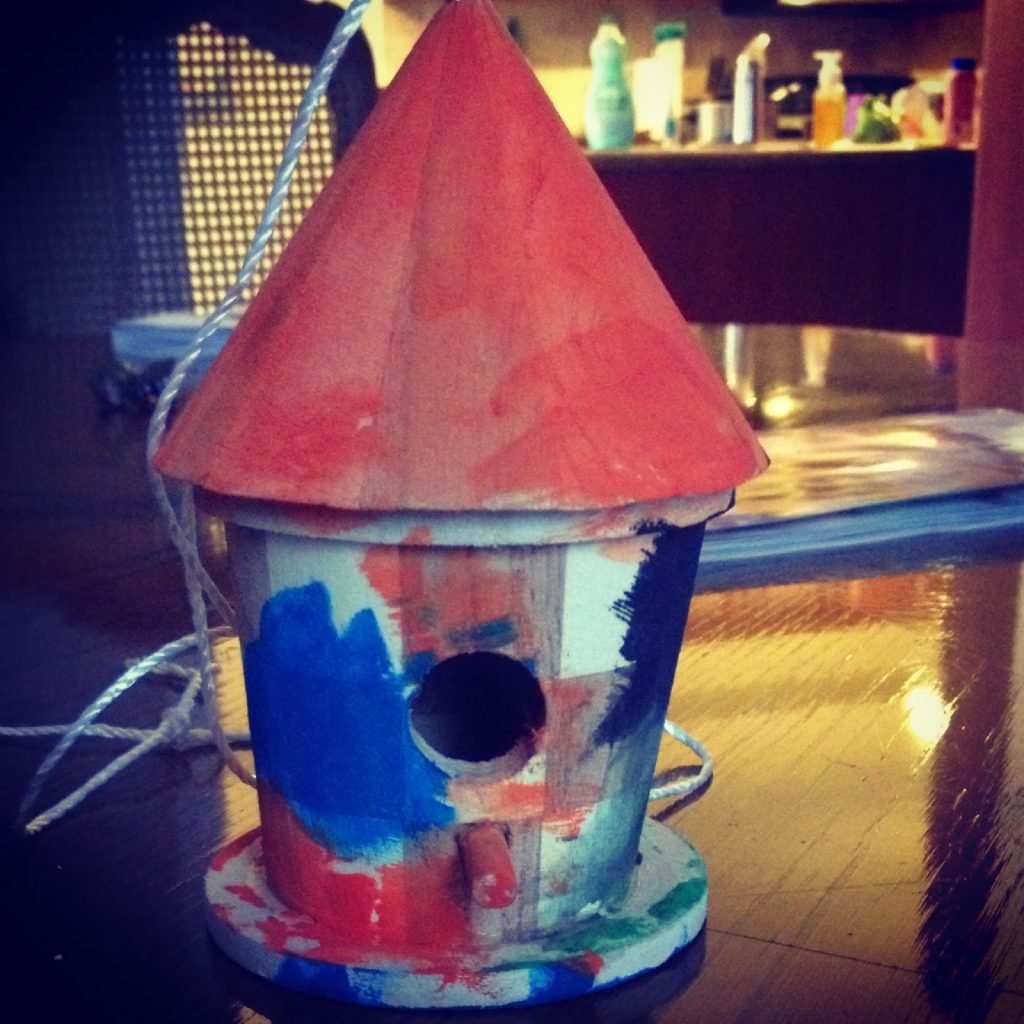 The birthday boy's creation! (remember, he's 5…)
I found small wooden bird houses at the dollar store (SCORE!) for $2.50 each. I purchased a few packages of acrylic paint- with about 10 colours in each package- paint palettes for each guest, and a few packages of paint brushes. I covered the table with a cheap plastic, disposable table cloth, squeezed some paint into each palette, and set up a plastic cup with water for EACH child (limits spilling because they don't have to reach!).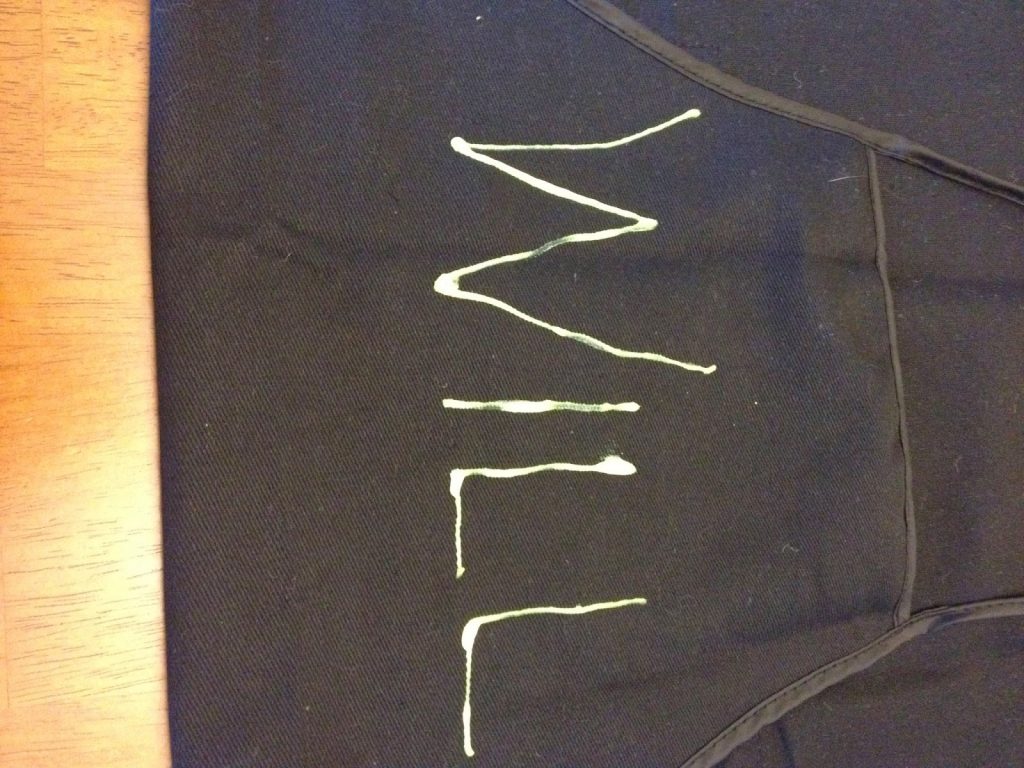 the paint was super puffy to the touch- this is my younger son's apron
All he did was touch it:)
The night before the party, my husband and I used some puffy paint and wrote the name of each party guest on some huge smocks I found at (you guessed it) the dollar store. The kids were really excited to have their own smock- actually they were more excited by the puffy paint, but whatever works!- and it kept their clothes relatively clean!
We aproned up the kids and let them paint away, with my husband watching over the kids at the table (he's much more artsy than I), while I refilled dirty water cups, washed off brushes, washed hands, put pizza in the oven, etc. Again, if kids were done early they went into our living room and played with toys- it worked really well for the kids who painted fast and left time for the "artistes" to really work on their bird house.
Cost: $40 (bird houses, paint, brushes, smocks, puffy paint, palettes)
Pro-Tip: Make sure any painting is done at least an hour before parents are scheduled to pick their kids up! You need time for their creation to dry:)
We left the bird houses on the table to dry (acrylic paint dries fast, thankfully!) and moved to the dining table for pizza (straight from the box…and my oven!), chips, fruit and juice boxes. The kids chatted and made poop jokes (they're five, what else would they do?).
Cost: $6 for pizza, $8 for fruit tray, $2 for juice boxes, $3 for chips (total: $19, feeding 11 kids)


Following lunch, we opened gifts (they were so good), played around – some kids went back to the bean bag toss, some destroyed enjoyed our toys (just kidding, they were all really good), and then we went back to the table for CUPCAKES!
In the spirit of saving money, my husband made the most amazing, colourful, artist cupcakes for my son's party. My son LOVED these, my husband enjoyed making them and the kids devoured them!
Cost: $15 (cupcake mix, two containers of icing, neon food colouring)


And while our sweet party guests mowed down on sugary goodness, I filled their loot bags. I wanted to send them home with items that fit our art theme and were usable!
Each loot bag (coloured by their own hand, of course) included their personalized smock, a package of paint brushes, markers, paint, a pencil, a jar of goo, a bouncy ball, a lollipop and a gummy candy ring. Of course, they also took home their birdhouse.
Cost: $10 (for the paint/pencil/goo/ball/candy/noise maker)- most of these items came in bulk and were quite inexpensive


And two hours after they arrived, they were gone. The kids were excellent, the party moved along well, new friendships were made and (most importantly!) my son had a fantastic day!
Total Cost: $95 (for 11 kids and two hours of fun!)


I am really proud of how this party turned out, so much so that I am considering throwing an at-my-house cooking party next year…we shall see how brave I get!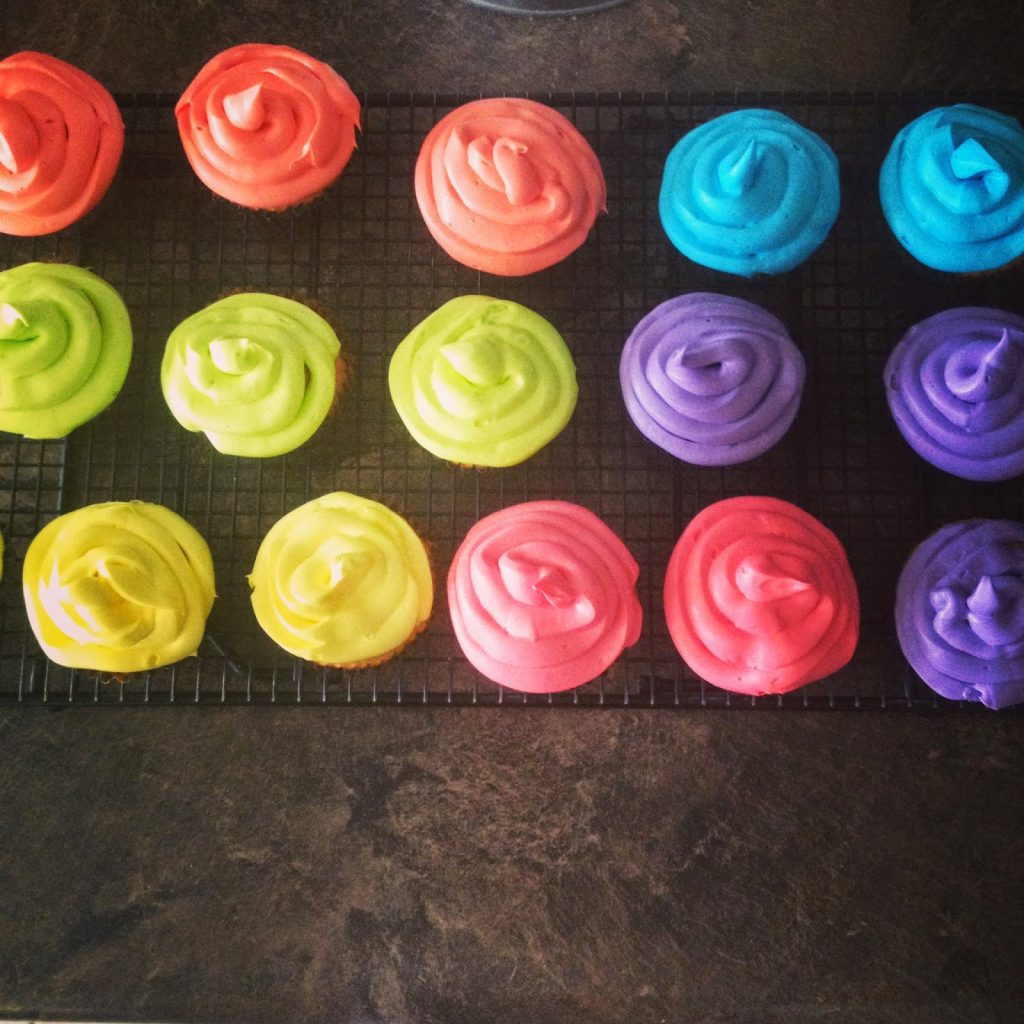 another shot of our awesome artist cupcakes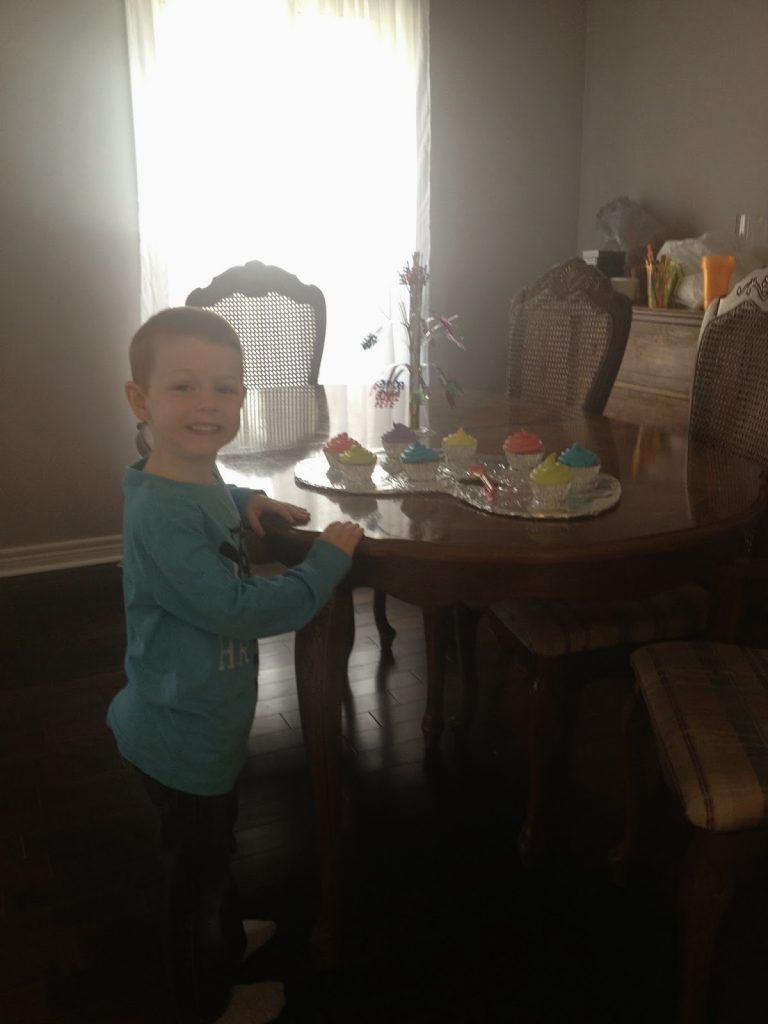 a super happy birthday boy! his dad created a palette out of cardboard (wrapped in tinfoil) to display the cupcakes on.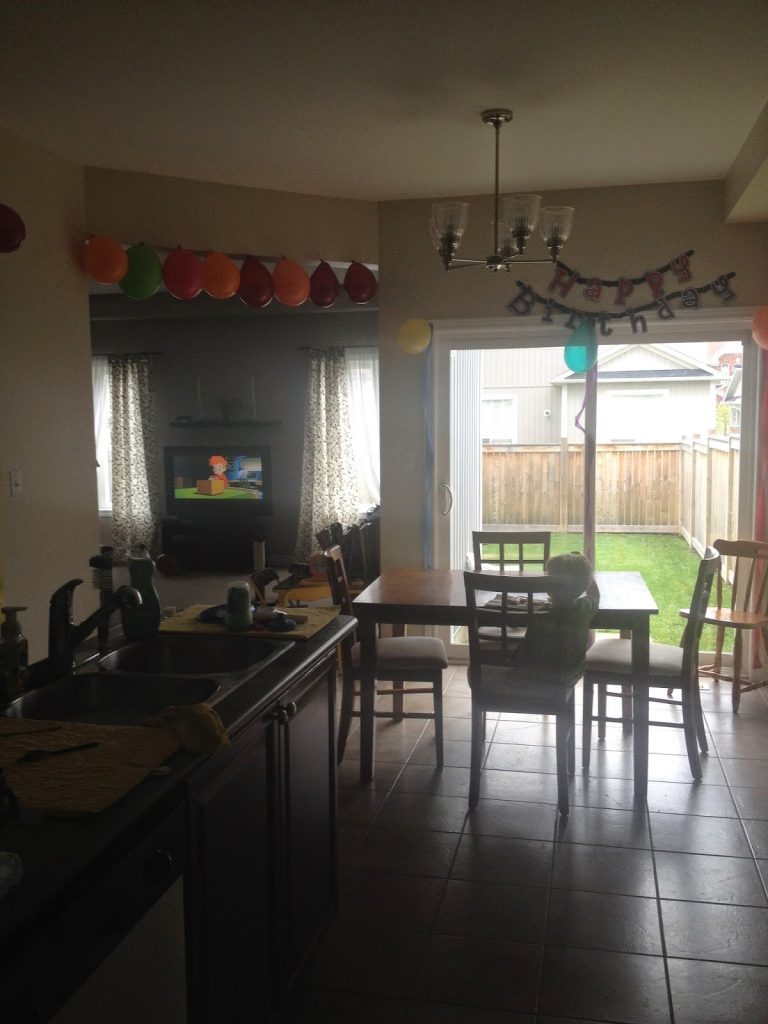 a bit dark, but we set the house up with balloons and a Happy Birthday sign (all of which I had stashed away from previous parties!)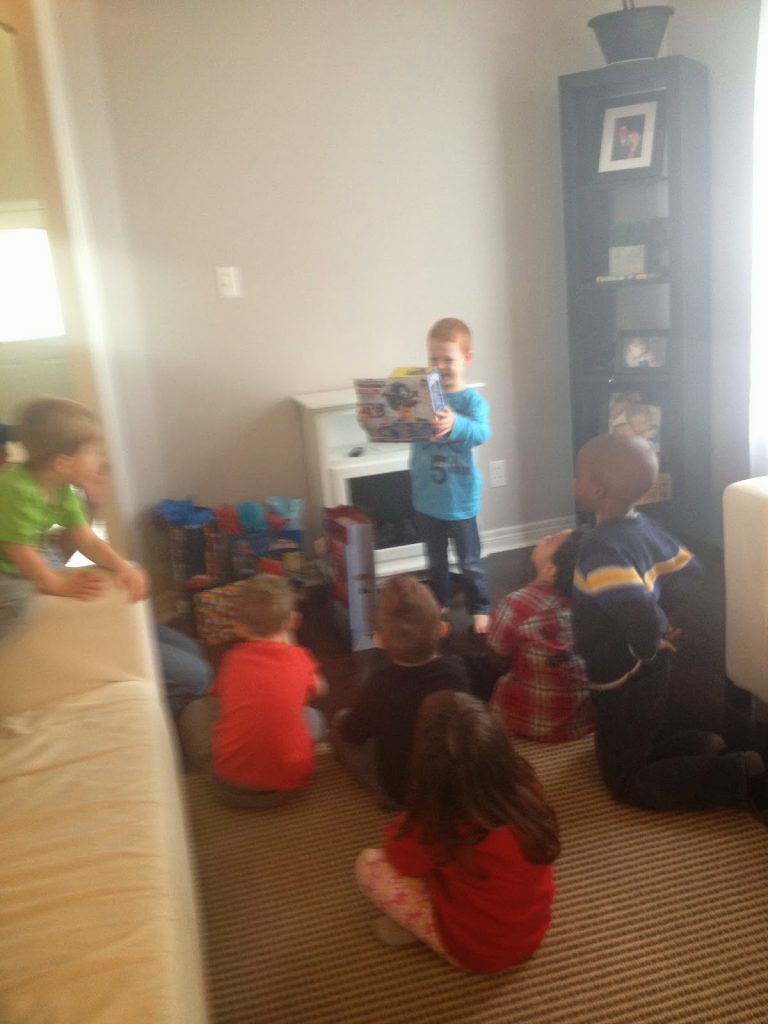 opening gifts!