Today, Zachary, Chris and I braved the chillier temps and got some fall family photos taken. We have only ever done a photoshoot for Zachary before and, while I think Chris was less then thrilled, I really wanted to get some good shots of us and our little boy – he's only getting bigger by the minute! So off we went to a nearby conservation area, in search of some colourful leaves and some big smiles from our little boy!
Now that Zachary can sit on his own (when he feels like it…lol), it's a lot more fun to take him places. He loved sitting in the grass and pulling on it, playing with the pumpkins and gourds (and putting them in his mouth…ewwwwww), and he didn't even seem to mind sitting on the edge of an old bridge. And if you know anything about Zachary, it's that he LOVES the camera! Ever since he was born he has adored getting his picture taken. I'm not sure why, but I'm happy to oblige him- he's so photogenic and good tempered, even though he missed out on a nap and had cold little hands!
I don't want to put up too many photos right now, but here are two of the amazing shots we got! I was suprised at how good Zach was the entire shoot. It was a bit chilly outside and, let's be honest, what kid loves being carted around and made to sit on the ground and hold gourds? But he was great, had a lot of fun, and really loved the photographer, Sarah:) It helps that she's good with kids (and that Chris and I were making darn fools of ourselves to make him laugh!). Sarah really is a great photographer- one that I would highly recommend to anyone thinking about getting photos done in Toronto/Durham Region!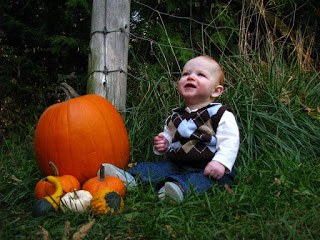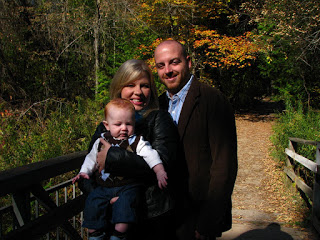 You'll see many more of these pics during Wordless Wednesdays, or when I have nothing else to say..lol! I am just loving looking at them!