Insecurity.
I hope that my boys learn how amazing they are, inside and out, and don't let anyone tear them down. But (sadly) it's probably not likely. We all have insecurities. We all let others tear us down. And I don't think it's until we're much older (like, you know, 30), that we realize that those who make us feel the smallest are often the most insecure of all.
I'm still learning this lesson. When I had one of the most exciting "professional" accomplishments of my life, when I was published in a Chicken Soup for the Soul book (see?? I still have no clue how to flip this photo. I'm awesome at computer stuff. Heh.)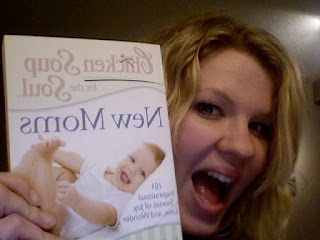 I allowed the words of someone else to make me feel stupid for ever sharing my good news and allowed those words to make me feel less than and unworthy.
I had actually wavered on sharing the news. I kinda thought it would bring out some ugly in some people who had been trying to get published. But I never expected to made to feel so bad and low for having something awesome happen to me.
The email I received from this person pretty much told me I wasn't that great of a writer, I didn't know my place and I shouldn't be "boasting". And I really believed it.
I'm insecure about a lot of things, but my writing is right up there. I was encouraged by a university prof to try my hand at serious writing (she was thinking novel), but I was too scared that no one would like it or read it. I was encouraged by an editor that I freelanced for to pitch a monthly column to a newspaper. But I was too scared that they would think I wasn't a "real" enough writer to be taken seriously.
It's still a shock to me that anyone would read my words, so when I got one of my stories published in an honest-to-goodness-real-book-that-people-might-read-and-like…well, I started thinking that maybe I was a decent writer and should stretch myself the way I'd been encouraged to.
And then I got the email. From someone who I thought knew what they were talking about in the writing/publishing industry. And their thoughts on my writing (me?) made me never want to write again. I didn't want to blog, I didn't want to pitch stories, I certainly didn't want to pick up on writing my unfinished novel (that has 50 pages. ha).
That was a whole lot of months ago and now, in hindsight and with the wisdom of some good friends, I'm realizing that those cutting words were coming from a place of that person's own insecurities. Their own need to feel good and important. And their words had very little to do with me and my writing abilities and WAY MORE to do with this person's fear that THEY weren't ever going to be good enough.
Phew. Wow. Big realization- but enough to make me want to start writing again. And to stop doubting that I do have things of worth to say.
The ones that brag the loudest and make us feel the smallest are usually the most insecure of all. Wish I'd known that in high school…