Yesterday, my friend and I were lucky enough to get tickets to be part of the audience for Cityline. Yeah! A mommy outting:)
For my non-Canadian friends, Cityline is a daily life & style talk show (taped in Toronto, Ontario) that airs in across Canada. It's on at 9am, 2pm and 5pm daily, and features a daily panel of "experts" talking about a variety of subjects. Basically, it's the perfect stay-at-home mom show, and I happen to watch it daily! Tickets can take months to get so it's fun when you do get the opportunity! The audience is shown a lot throughout the show so you're bound to be on camera at some point.
I won't give you a whole long drawn out story about my adventures in trying to get dressed just to be part of the audience. Suffice it to say that extra baby weight plus major PMS bloat do not make for good bedfellows. I went with black- thank you very much.
We were sent to the green room to wait with the rest of the audience, meet with the producers, etc… They take audience questions, check you out- the usual. Here we are waiting: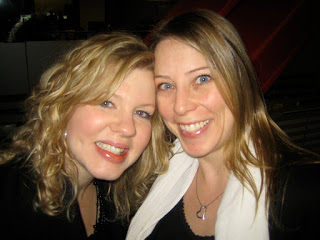 And taking pictures like we were tourists who had never seen a television set before (which I have, for the record):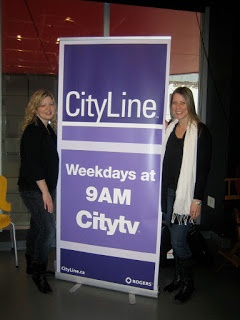 Then, they take you downstairs to the set and you are seated by a floor director. They are very specific about where they want people to sit and they directed my friend and I to sit in the front row, left side. Here was our view: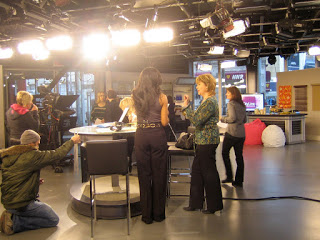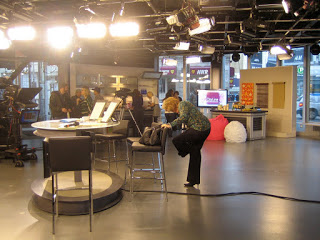 The show tapes in real time, but is shown the following week. It was fun to be part of the audience, but half way through- during a commercial break- my friend leaned over to me and told me that we had been in every single shot of the host thus far. Panic!!!!!!! I was hoping for a quick pan of the audience where I would be clapping and smiling, not being featured in ever host shot! I couldn't see the monitors from where I was sitting so I had no idea! Ya, PMS bloat, 10 extra pounds of baby weight, and not KNOWING you were on camera is never fun. I'm sure I was making the most ridiculous faces, because that's what I do. Should be fun to watch next week.
The show was great. Mostly about home decorating. Good panel, good advice! We went home with an eco-friendly pillow, a curtain rod, a Style at Home magazine, and a gift certificate to an eco-friendly decor store in Toronto. Oh, and a picture with the host Tracy, who is STUNNING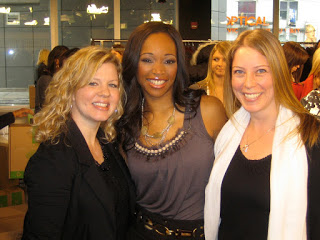 For the record- curly hair wasn't my first choice but the weather wasn't great so it was the better choice. Also, open black blazer…don't know what that will look like on tv…should be interesting to watch next Tuesday, February 2nd.
All in all, fun outing- but I missed Z SO MUCH!!! I couldn't wait to go home and give him a big hug. Makes me wonder how I'll survive going back to work in 2 months!