Probably the #1 question I get from people who find out that I blog for a living (after they get over the shock that "my husband is ok with it" is: "It's such an expensive hobby! How much does it cost you to keep up your blog each month?"
Well, I'm here to tell you, blogging is probably the cheapest hobby you could ever get into [which is why I so highly recommend it!]. And for the record, it's a hobby that totally make you money, so it's an absolute win-win!!!
Let's the take the mystery out of blogging and look at how much it actually costs to start & maintain a blog.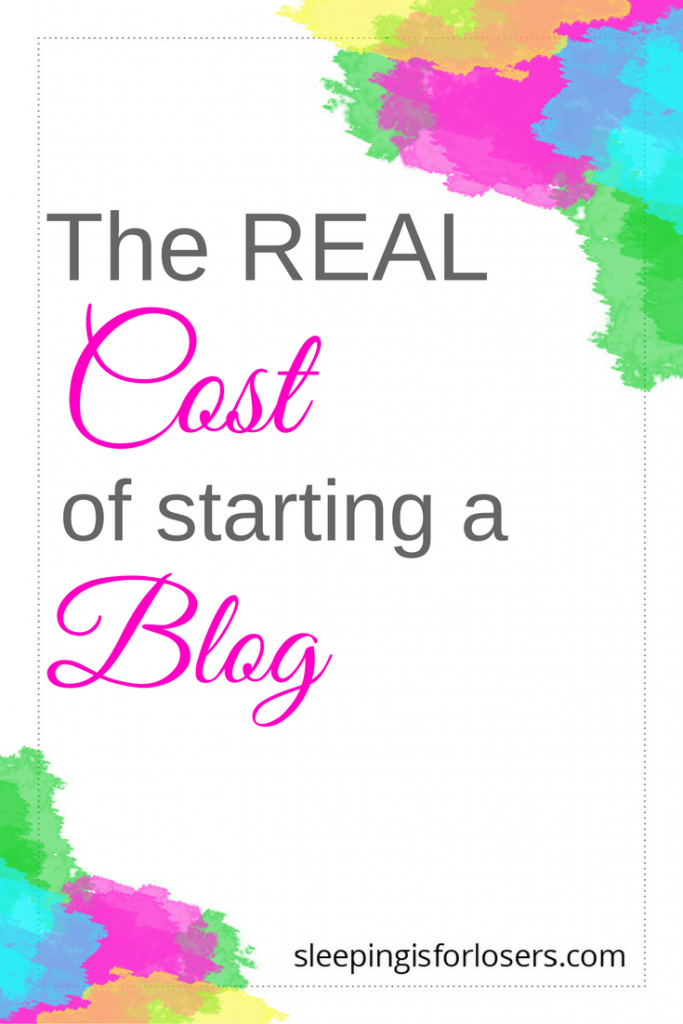 Domain Name
Domain name pricing can vary, but typically you can expect to pay anywhere from $10- $20 dollars per year.  I originally purchased my domain name from Name Cheap, however if you are in the market for hosting I would go with Bluehost, who will give you your domain name for FREE when you purchase hosting with them! [I love a deal!] Total cost: $15/year
Hosting
Pricing for hosting can vary depending on your traffic and how much bandwidth you require. That being said, if you are starting out or don't have massive traffic, I would set my hosting up with Bluehost. They host a lot of blogs, they have really good customer service and quite truthfully their prices can't be beat! Hosting for a year will run you about $28.80 per year (or $2.40 per month…less than one cup of my favourite coffee!). [If you want an easy to follow, step by step tutorial for starting your own blog, visit this post here! I'll make it super easy for you, I promise!] Total cost: $28.80/year
Remember, if you sign up for a year of hosting with Bluehost, you get your domain name for FREE! So you're saving that cost 🙂 
That's it! Really and truly, to run a blog for one year, the minimum cost is around $28.80/year (or $43.80/year if you purchase your domain and hosting individually).
Tell me another "hobby" or business that costs less than $100 per year and give you as much as blogging does [including income potential]!?!
Now, like anything else in life, there are totally places you could spend a little more to improve your blog & your traffic. For example:
WordPress Themes
You can certainly choose a free WordPress Theme (there's a lot of them!) but quite honestly the paid themes are the most beautiful and really give you that polished and professional look. I personally invested in a theme I love from Restored316 and I have never regretted it! Total cost: $75 (one time cost)
Design Elements
Unless you are very familiar with design, I highly suggest you go the free route for any graphics you want to make and utilize Canva! Total cost: FREE!
Stock Photos
Have seen all those gorgeous graphics on other blogs? Chances are they are using stock photos! Check out this post, where I created an epic "life changing" list of FREE stock photos. If you are thinking of investing some money in really quality, stand out photos I highly suggest IvoryMix! Total cost: FREE! (or approx. $10 for a styled stock bundle)
*
So I think it's pretty clear that starting a blog is a really low cost venture with exponential possibilities for returns [monetary and otherwise!]. So what's holding you back from starting yours?
WANT TO WALK THROUGH THE ENTIRE BLOG AND CONTENT CREATION PROCESS TOGETHER!? LET'S DO IT! SIGN UP FOR MY FREE EMAIL COURSE AND WE WILL HAVE YOUR BLOG UP AND RUNNING IN 5 DAYS!