Six months ago today, a screaming, red-haired, scrunchy faced baby boy came into my world and changed it forever.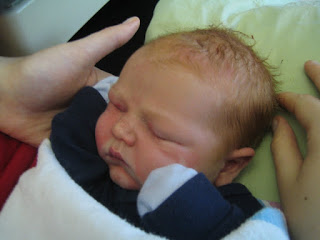 I never thought I would be so happy, feel so much love, be so tired, consume so much caffine, eat take-out even when I am perfectly able to cook, love a very noisy jumperoo, pray for naps, pray for more play time, be so excited over poopy diapers, not mind cleaning up said poopy diapers, cry and laugh at the same time so often.
I never thought that the gift of a baby boy would mean more to me then anything else in this world. That the world as I knew it would cease to exist and that I would love the new one I was thrust into. I didn't realize that having Zachary would make me want to change so much. I would become "that mom"- the one who only wears ponytails, thinks jeans make her look more fancy, has throw-up somewhere on her body at all times, watches the news just for grown-up contact, and adores staying home with her child every single day- but I'm so glad that I am!
You have learned so much in six short months, little boy. You smile, laugh, roll both ways, move objects between your hands, throw things, sit up all on your own,put your arms out for mommy, try to talk, and have just started to crawl. You love to listen to the music in church, know exactly how to get your own way, throw the cutest fits, and love to eat solids! You amaze me at every turn, Zachary.


I cannot wait to see what the next 6 months will bring- how you will grow and learn and develop. But always know that you are the light of my life, I love you through and through, to the moon and back, and always and forever my baby you will be!
xo