I absolutely love seeing my blog grow. LOVE.
In fact I love it so much that I recently quit my job to blog right here full-time and focus on the elements of blogging that help me see true growth and engagement.
But it doesn't feel like that long ago that I was a brand new blogger trying to figure out to get ANYONE to read my writing…anyone that wasn't related to me. And for about a year it felt like I was climbing up a steep cliff with a 20 pound backpack and full snowsuit on (in the summer heat) just trying to get ANYONE to look at my blog and begin to read it consistently.
But here's the thing: blogging is a long game. Very few people scale up quickly (in a sustainable and organic manner) without putting in some serious work. By serious, I mean hours and hours every single day. Getting new eyeballs on your blog (and staying on your blog!) is crazy hard…unless you have a few "seasoned blogger" tips & tricks up your sleeve…
And that's where I come in:)
I remember how it felt when I started getting readers that weren't related to me (hi mom). Truthfully, I became slightly obsessed with getting new readers.  It was all I thought about (yes, even during my full time job!).  And that's where I discovered [through a lot of trial and error, mind you!] some of the best kept secrets to growing your readership in an organic and sustainable manner. They still take work, believe me, but if you put in the time you will 100% reap the rewards!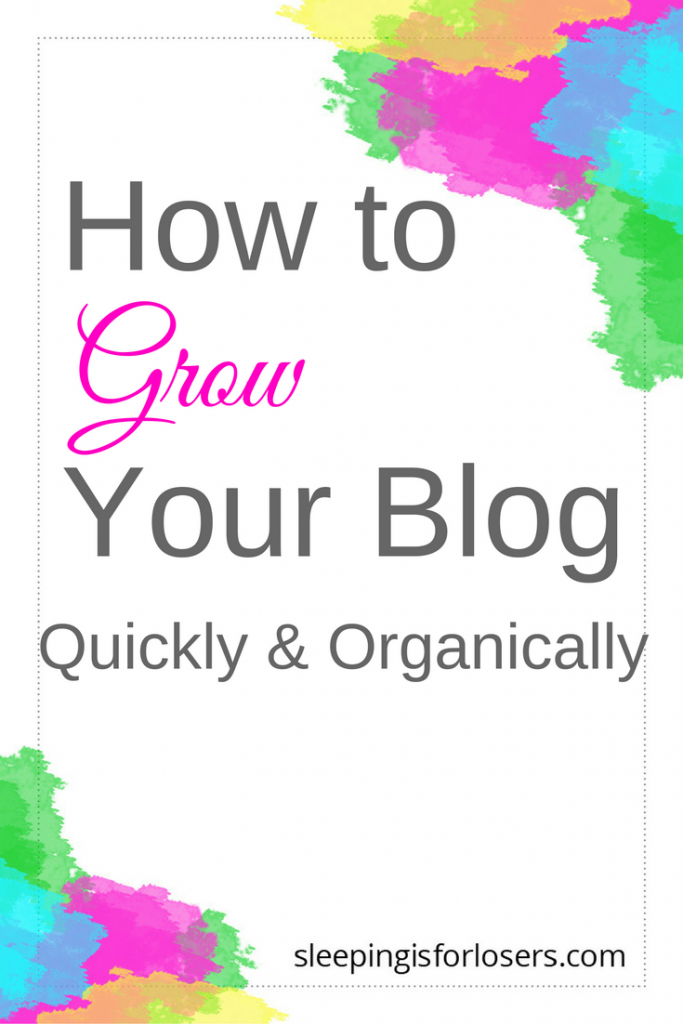 1) Join "Groups"
There are so many "groups" out there in the internet universe that you can join and broaden your readership with. One group that was really useful to me was Mom Bloggers Club (this was before Facebook had all the awesome group options that are now out there). They have a wealth of resources for bloggers and certainly helped introduce me to awesome blogs and introduce awesome bloggers to me. Don't think that there are only groups out there for "mom" bloggers- get Googling or search "mom blog" on Facebook and find groups out there that allow you to link up with other bloggers who write in your genre or niche – it's an excellent tool for learning and growing as a blogger. Pro tip: once you're in these groups, PARTICIPATE! Chat, offer advice, ask questions, be present. Don't drop links to your blog posts and run – engage and grow with others who are engaging and growing as well.
2) Guest Post
I cannot tell you how beneficial this is to you as a blogger. Listen, I personally wouldn't email every "superstar" blogger and beg for a guest post opportunity. However, there are some sites that allow for guest posts (some do it monthly, some do it weekly, etc.) and this is an excellent way to garner new readers and allow you to flex your writing muscles in a different capacity.
Had I not put myself out there and asked UrbanMoms.ca if I could do a guest post about being a new mom, I never would have realized the amazing opportunity I was provided to be a regular (paid) blogger on that site for almost 2 years. Yes, it's nerve-wracking to put yourself out there and send your words to someone else for them to "judge" but it can have awesome results.
Use a guest post opportunity to give blog readers an opportunity to really get to know you and what your blog is all about and grow your audience- and don't be afraid to put yourself out there!! Alternatively, consider having people occasionally guest post on your blog- it's a mutually beneficial opportunity to undertake with some bloggers you enjoy!
3) Utilize Tools
Google Analytics, SEO, Stat counters, etc. (go ahead and google them if you're not sure what they are- I wasn't!  and I don't use them all). They're all really useful tools that allow you to see who is reading your blog, what they enjoy and when they read. For example, using the stat counter that Blogger provides, I know that my posts are most read in the morning, Facebook and Twitter send the most traffic to my blog, posts such as Top 10 Life Changing Books and When You Miscarry have been shared more than any other. The tools I've utilized have allowed me to get a better understand of what people enjoy reading on my blog and, while it certainly doesn't drive or even change my content, it's good information to have in your back pocket.
4) Attend Blogging Conferences
I have yet to follow this advice but I KNOW it's good advice. I've been pregnant or just given birth during "conference season" over the past two years, but I'm sure I will attend at least one blogging conference in the next year or two. But I have been to MANY marketing and communications conferences and know that they are about 80% social and 20% learning. Conferences in general offer an excellent opportunity to meet other bloggers, pick brains, connect with those in the know, make friends and generally gain insight you wouldn't have otherwise. Attendance is always an opportunity to grow, stretch and challenge yourself.
5) Host a Giveaway
When I first started blogging, I was in love with bibs from Sarita Baby and contacted the owner. Lo and behold, she agreed to host a giveaway on my blog. It was a win-win for both of us and the traffic it drove to my blog was awesome! Providing you enjoy the product and think it's of value to your readers, a giveaway is a fantastic way to bring others to your space.
As always, blogging is a constantly growing and changing entity. What worked for me might not work for you. Or it may.
Despite everything I've written here, one of my keys to blogging has been and will always be: Be Yourself. Don't write for others, don't bow to pressure, don't feel boxed in.
Above all, write what you want to write and readers will come.