There is one thing that is sacred to me: time with my friends. Let's face it: I'm a working mom of two who is busy from the moment my feet leave my bed until they slide back into it. And I know you understand what I'm talking about!
We're all busy. We're all exhausted. We all have empty buckets that need to be filled and not nearly enough time to fill them.
I have written about this before, but so much of my life has changed since becoming a mom. One of the biggest changes has been my friendships. Many of my pre-kid friends didn't join me in motherhood for quite a few years. As a result, I felt very alone in this whole 'mom life'. It took many years [and some failed attempts, if I'm being honest] to cultivate new friendships.
Having friends that understand who you are, what struggles you are facing, and what being a working mom is all about can be extraordinarily tough,  but I feel so lucky to have met some other moms who just seem to get the struggle of the juggle.I totally get that our lives are full and it can seem impossible to carve out time to step away from our families and to-do lists.  But I promise you, I SO SO SO PROMISE, that investing in yourself, reconnecting with the ones you love, and tending to your non-parenting needs is so freaking necessary.
So, here's the first thing I need you to do: message a few of your best friends and plan a date for a Girl's Night In. Just choose a date and time already!!!
Then, follow my plan to ensure you have the best night with your girls. No muss, no fuss, nothing fancy or over the top. Throw on your comfy clothes, grab a bottle of Henkell (or whatever you love to sip on, really), and get ready to overflow your bucket and laugh until tears run down your cheeks.
Because that, my friends, is what a great Girl's Night In is all about!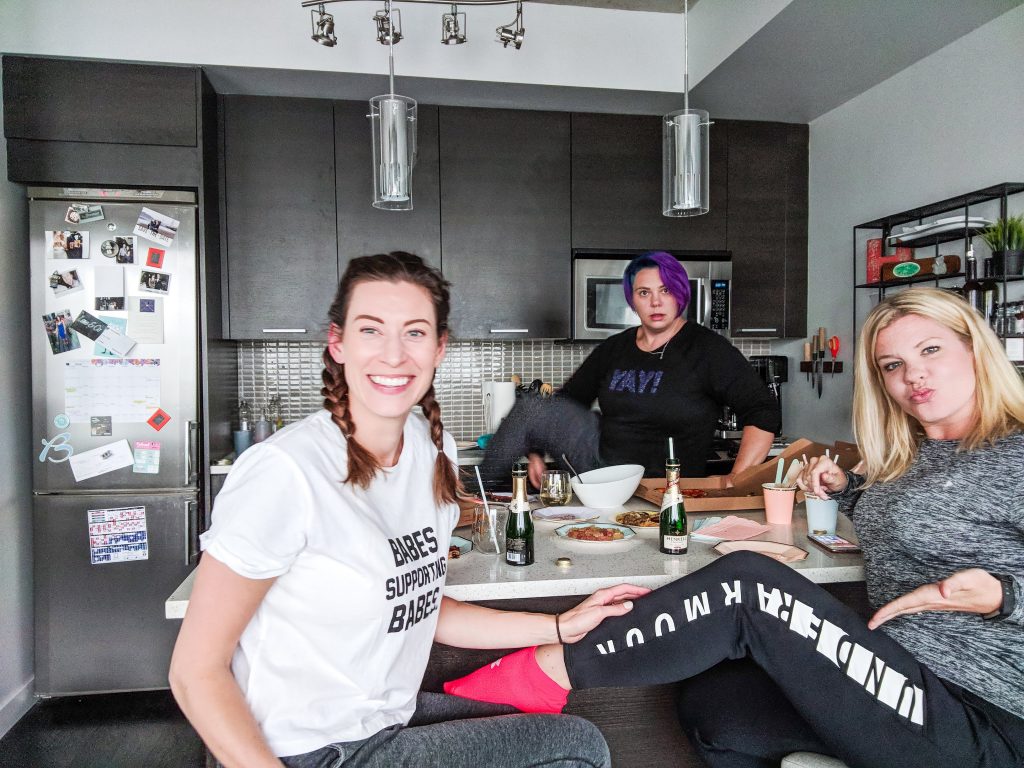 Dress Code: Cozy and Comfy
Make sure all your girls know that cozy is the dress code because nothing is worse than showing up in your sweats and finding out everyone else has dressed up for the occasion (ask me how I know!). Here's the deal: comfy clothes help you relax and unwind. So, before you head out to your Girl's Night In, pick up a pair of sweatpants or a cozy shirt from SportChek. I'm personally a huge fan of Under Armor, but their line-up of amazing brands, at incredible prices, will ensure that everyone is super comfortable (and selfie-ready!). Hair washing it totally optional. Want to make your night even more memorable? Grab a pair of cozy socks for all your girls – the brighter, the better!

Easy is the Name of the Game
Look, who has time to scour stores looking for decor that will make your friends feel special? Not me! That's why I leave it all to Perfect Party In A Box. Their beautifully chic, perfectly planned party boxes will elevate your evening in the best way possible. Find the perfect theme to complement your memorable night and leave the rest to Perfect Party In A Box – they'll deliver a box of high quality party essentials (we're talking plates, cutlery, napkins, stunning decor, and so much more!) to your door. I love hosting parties, but when it comes to having my girlfriends over I tend to just show them where the glasses and plates are and hope for the best. You know that I love you a lot if I'm putting out beautiful things, so using a service like Perfect Party In A Box (they have tons of themes – and would be awesome for birthday parties too!) for our Girl's Night In is a total win-win: it saves me time that I don't have and it lets my friends know that they're important to me! Total bonus: you'll look like the Pinterest-perfect host without having to put in the leg work. I think that's something we can all get behind right!?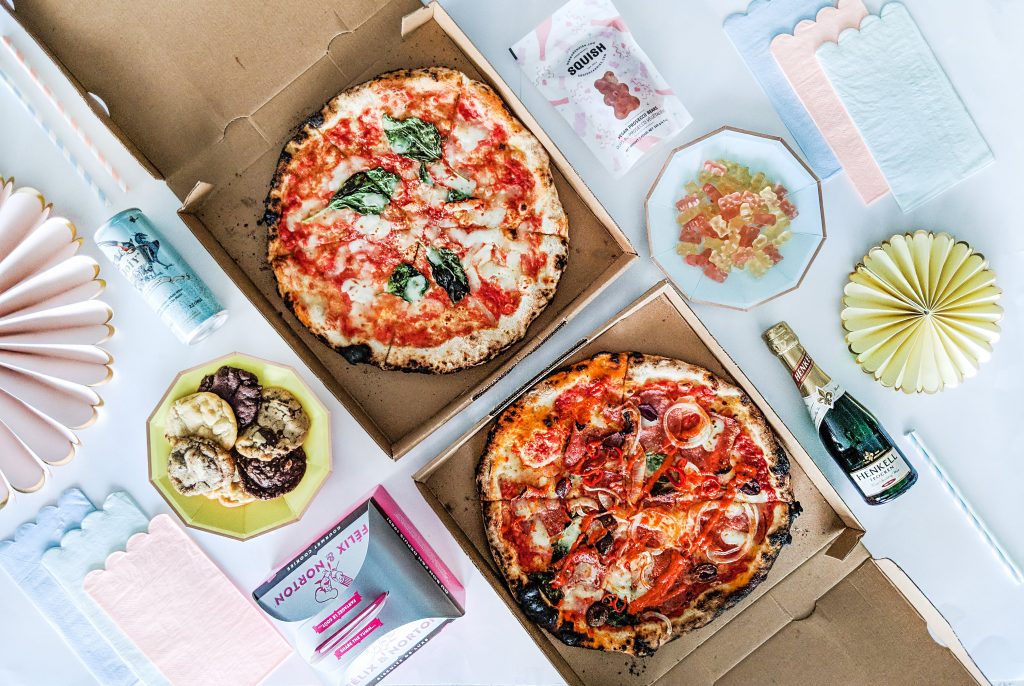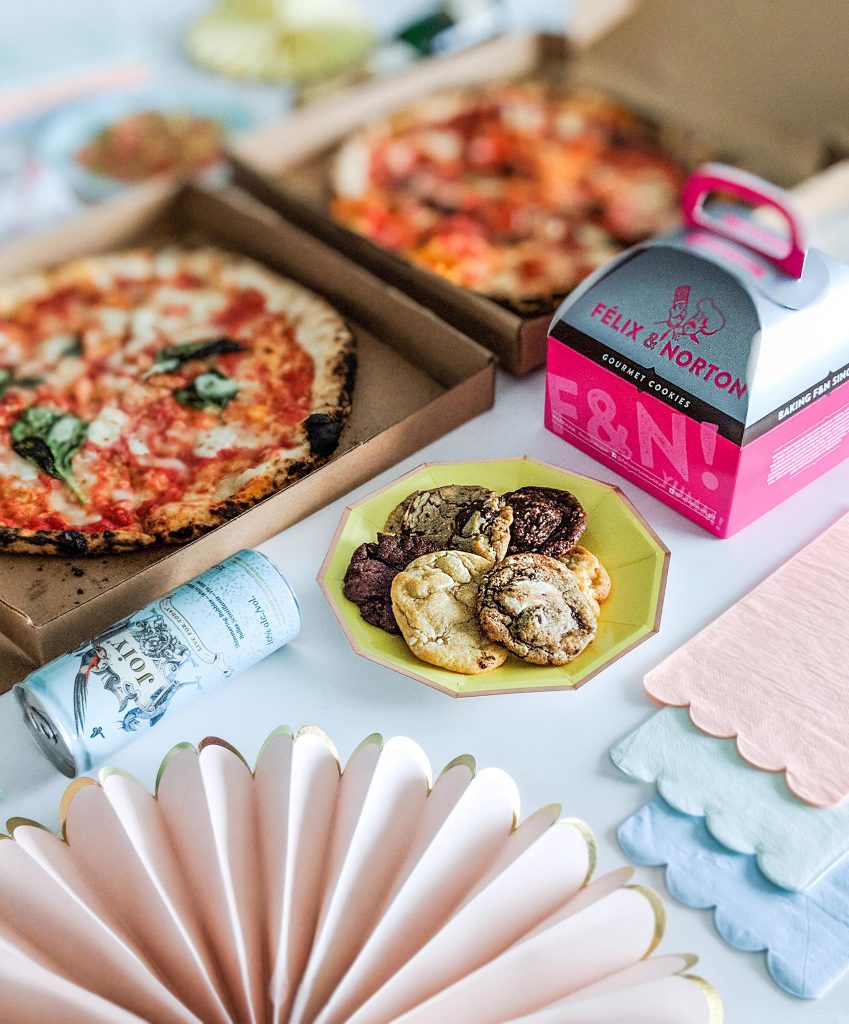 Food is Love
I live by two mottos: food is love and you can never go wrong with pizza. 
Both apply to having the perfect Girl's Night In. It's important to be sure that you are not fussing in the kitchen when trying to have a great night with your friends – enter Foodora. Order from your favourite restaurant on their website and have it delivered straight to your door. No muss, no fuss, just fantastic eats for your entire crew!
For our Girl's Night In, we went with pizza (duh), but then decided to really up the anty and treat ourselves. I mean, when you don't have kids around to steal your food you really need to take advantage. And we did!
Cookies make people happy (it's a fact!), so it's essential that you splurge on Felix & Norton cookies! Prepare for pure pleasure thanks to their Menage a Trois, Caramelt or Bling-Bling cookies. You're welcome in advance because quite truthfully I don't think I've ever eaten anything as amazing as these cookies (I had 4. I know you're wondering!).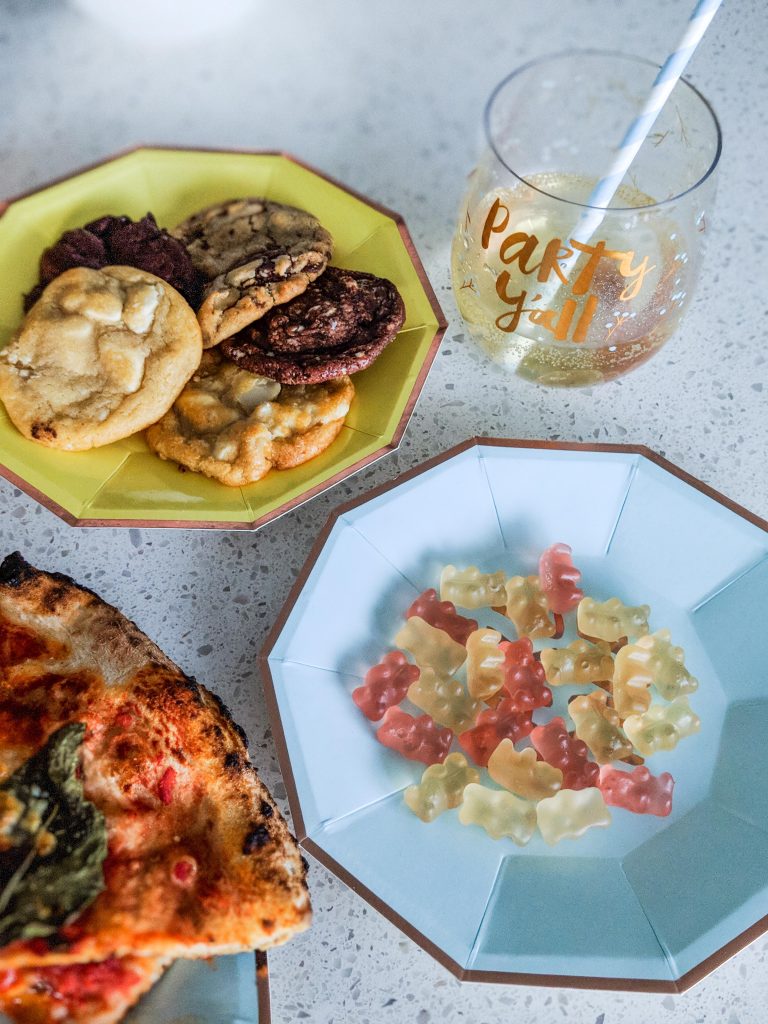 But don't stop there. a beautiful treat (to match your beautiful decor) is a must for any Girl's Night In and Squish Candies truly elevates your candy game in the best way possible. They have about 100 flavours of awesomely delicious gourmet gummies (including VEGAN options – which kicks butt!) and each and every one is delicious. We grabbed the Vegan Prosecco gummies because why the heck wouldn't we? Don't worry, we managed to eat the entire bag…or two.
The Girl's Night In Royal Treatment
You don't have to head out to the spa to enjoy the royal treatment, because your Girl's Night In is the perfect time to bring the spa to you & your friends, thanks to MaskerAide. Canadian-designed & cruelty-free, MaskerAide skin care is the key to creating a full-on pampering party. We indulged in skin care (with a side of fun) thanks to the Sweet Retreat mini sheet masks (I mean, come on!!) but were also huge fans of the Rose All Day rose gold peel-off masks & Bubble Bubble Pop charcoal bubble sheet masks.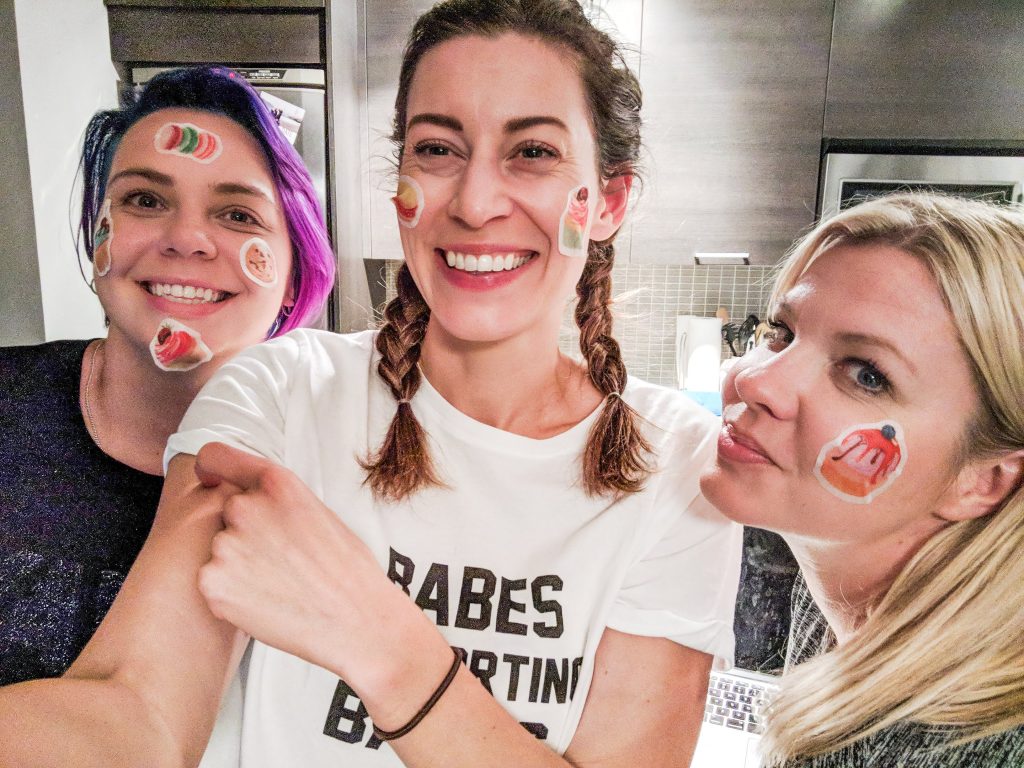 Girl's Night In FUN!
You can't be bored when you're playing games with your favorite people! Having an interactive experience is bound to bring you a little closer together and level up your Girl's Night In big time. There are your old-school classics but these days, games have gotten a little spicier. Hashtag It is just one example of an adult-rated card game that will leave you and your girls in stitches – honestly, we laughed until we cried & we know you will too. I think you can tell from the picture that we had NO FUN AT ALL.